The Haynesworth Dilemma
Anyone watching football this last summer read a headline or two about disgruntled Washington Redskins defensive tackle Albert Haynesworth. Arguably the best defensive player in the league two years ago, Haynesworth signed a record 100+ million dollar contract with the Redskins in the summer of 2009. Expecting a major return on the field, the Redskins were dismayed when Haynesworth proved out of shape and unsuited to their defensive system and came up with the worst statistical season of his career. The organization was overhauled in the offseason and new management paid the defensive tackle a twenty one million dollar bonus in April but, after taking the money, Haynesworth expressed anger at the Redskins switch to a 3-4 defensive alignment, boycotted camp, and was embarrassed and benched upon his eventual arrival.
The chatter on this issue across sports blogs has been constant but opinions on the issue are mixed. Haynesworth apologists state that the defensive tackle was told he would play the tackle position in a 4-3 traditional alignment and rush the quarterback and signed with the Redskins as a result; their decision to switch their system broke faith with Haynesworth and caused the holdout. Moreover, they suggest, players may be paid by franchises but they are not slaves and, if they are unhappy, have a right to hold out and request a move.
However, the reality is that this argument doesn't hold water and perpetuates the overpaid and out of touch athlete that turns so many Americans off to Professional Sports. In the first place, how can one player be allowed to hold an entire team hostage to their own preferred defensive system? The whole idea is ridiculous. Should London Fletcher-who has been a Redskin since time out of mind, led the defense for years, rarely missed a game, and never received a one hundred million dollar payday-be allowed to call for a change to the defensive system because he liked being a 4-3 middle linebacker? Of course not: even Fletcher himself would likely admit that considering that he and other Redskins team leaders publically called out Haynesworth and said that his behavior was disrupting team chemistry. Moreover, Haynesworth decided to take a twenty million-yes twenty-dollar bonus in April before complaining and missing camp. If Haynesworth were really so self-righteous and angry about the Redskins changes, he should have denied their bonus in good faith and demanded a trade. His behavior was childish, immature, and ridiculous.
Here's an article about Brian Orakpo Jersey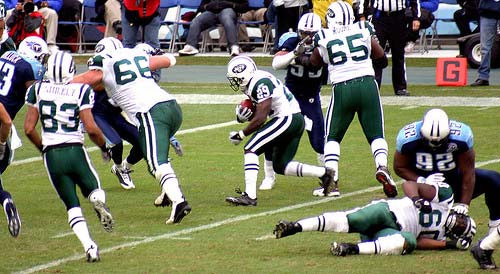 Albert Haynesworth shows a Jets player how soft our Field is.
Thanks to mooney77 at flickr.com for the picture.
---
However, the point of this article is not to condemn Haynesworth's behavior; the point is to look at player's contractual obligations and responsibilities. Haynesworth's case is, in my opinion, the worst example of contract abuse on the player's side: the defensive tackle signed a contract, took almost fifty million dollars in guaranteed money, then failed to perform and complained incessantly. Americans on average make less than fifty thousand dollars a year after taxes; it is inconceivable to many of us that a football player would sign a hundred million dollar contract and refuse to play. Moreover, it is not just inconceivable: it is disgusting and, in the minds of many Americans, showcases how disconnected pro athletes are from the rest of the country.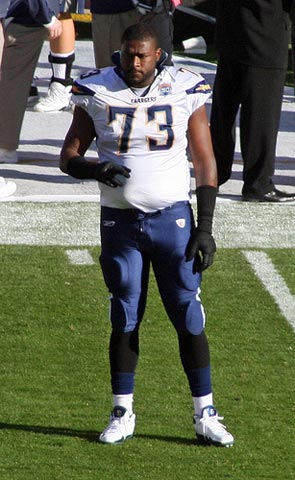 Marcus McNeill during the 2009 NFL season.
Thanks to Jeffrey Beall at flickr.com for the picture.
Indeed, even if he reconciles with the Redskins completely-and he might-the whole episode was a completely embarrassing display. However, on the flip side, some franchises also abuse players and hold them as slaves to totally undervalued contracts. This awful behavior was exposed by the NFL's cap-free 2010 offseason when several top players who would have been eligible for free agency were held to obscenely low rookie contracts that in no way reflected their true value. San Diego's treatment of pro-bowl left tackle Marcus McNeill is an example of this; McNeill refused to sign his lowball three million dollar tender and, as punishment for holding out, the Chargers lowered his tender to six hundred thousand and, with his decision to cave in week three, will force him to play out the season for under half a million dollars total. This kind of behavior is just as disgusting and embarrassing as Haynesworth's treatment of the Redskins and only fosters the player's "me first" attitude while weakening team chemistry and franchise loyalty.
Ultimately, the answer to this question is radically simple: use common sense. Players and owners need one another, ought to be fair to each other, and should embrace a mutual profit model for success. Contrary to popular belief, the Charger's treatment of McNeill and their "victory" by forcing him to play for less than half a million dollars is not a victory at all: McNeill will never hold the same loyalty for the team again. He will never play as hard, never protect with the same hunger and authority, and will look for his first opportunity to leave the franchise that low-balled him and treated him like forced labor. Franchise pro bowl left tackles do not grow on trees so, in the long run, San Diego will pay a hefty price for disrespecting such an essential member of their team. However, on the other hand, Haynesworth will never recover the marketability he lost this summer. Owners and players need to help one another and, if they accept the premise that their mutual happiness will lead to success, both sides will be a lot better off. Figure out a fair contract, sign it, and HONOR it: the solution is that simple.
---
---
What do you think?
We'd love to hear your comments and/or opinions. If you submit them here, other visitors can read them, rate them and comment on them. An e-mail address is not required.
What Other Visitors Have Said
Click below to see contributions from other visitors to this page...

Great, great blog entry and it is right on Not rated yet
There is really nothing to say here, you are exactly right in almost every word. The only thing that I would add is that that Haynesworth was never happy …
---
From The Haynesworth Dilemma to NFL Football Blog | Sports Blog | NCAA Football Blog | NFL Football Archives | College Football Archives | MLB Baseball Blog | College Baseball Blog | MLB Baseball Archives | NBA Basketball Blog | NCAA Basketball Blog | NBA Basketball Archives | NCAA Basketball Archives | Fantasy Football | Fantasy Basketball | Fantasy Baseball | Soccer Archives | Olympics Archives | Stupid Athletes Archives | Other Archives | Football Forum | Basketball Forum | Baseball Forum | NFL Football Store | NBA Basketball Store | MLB Baseball Store | NCAA Football Store | NCAA Basketball Store | NCAA Baseball Store | Fatheads | NFL Football Tickets | NBA Basketball Tickets | MLB Baseball Tickets | NCAA Football Tickets | NCAA Basketball Tickets | NCAA Baseball Tickets |
---
Home Page
About Us | Contact Us | Site Search | Advertise | Terms of Use |
---