The Greatest Game Ever Played: Patriots vs. Broncos
With Denver sitting on a 24-0 lead at halftime, it looked all over for the New England Patriots.

By the time regulation ended, we had been treated to another great Manning-Brady showdown, one worthy of any of their better clashes. This one wasn't mostly about the quarterbacks, though – the Patriots drove themselves into a deep hole early via fumble problems, putting the ball on the turf five times, losing three of them, and basically spotting Peyton Manning and the Broncos a 17-0 lead. Denver didn't need much Manning action, either, with Knowshon Moreno going for 170 yards in regulation.
The Patriots fought back, slowly but surely, throwing three touchdowns before the clocks hit 0:00, bringing things to a head, as they prepared for overtime.

Then the Patriots won the coin toss – and elected to take the wind.

The wind was blowing in 20 MPH gusts, so there was certainly some reasoning behind it, but Belichick knew that whatever the final outcome was, his decision to kick would be discussed and reanalyzed. I don't think, under the circumstances, it was a horrible decision, but giving the ball to Peyton Manning with a chance to put the game away rarely, if ever, seems like the right call.

The wind took the ball out of Manning's hands, however, with the Broncos forced to turn back to their power run game. The Patriots stiffened, preventing the Broncos from marching down the field, and giving the Patriots a chance to win a storybook ending—coming back from huge deficits, bucking conventional wisdom, all the things that Bill Belichick loves. Yet that drive ended in a punt, too, nd things were looking set for a last second Broncos drive, or a tie.

Then a punt bounced the wrong way, and crashed right into Tony Carter. Muffed punt, Patriots ball. Field goal, game over. Patriots win.

Funny how showdowns between two of the league's elite teams can come down to the tiniest role players. Patriots 34, Broncos 31. It puts the AFC West back into jeopardy coming into next week's Denver-Kansas City showdown, leaves the Patriots open for potential Home Field Advantage…all because one player couldn't get out of the way of a football. Crazy game, sometimes.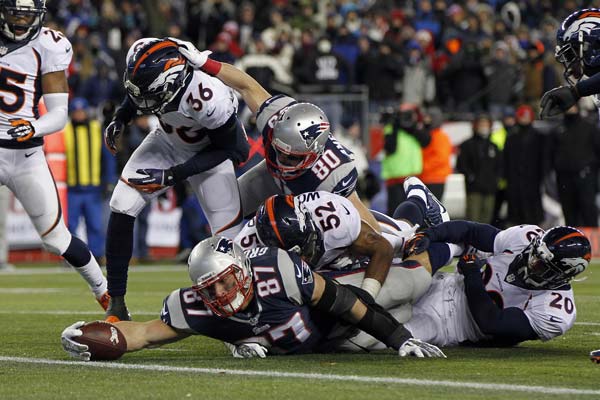 Other observations from Week 12 in the NFL:
Does anyone want to win the NFC North? Chicago laid an egg in St. Louis, physically dominated by a Rams team that has begun to resemble something approaching the form expected when so many experts picked them as their surprise team this season. Chicago's front seven was dominated by Zac Stacy and the Rams running backs all day long, to the tune of 258 yards rushing allowed. Across the Midwest, Detroit came close, but couldn't quite knock off the powerhouse of…Tampa Bay?

An un-Calvin Johnson-like drop sealed their loss. And in the other NFC North showdown, neither the Packers nor the Vikings had enough to earn a victory, resulting in the first tie of the 2013 season. All four teams are still technically still alive for the NFC North title, with the Lions and Packers still controlling their own fate, but Week 12 was a week to forget for everyone involved.


Carolina got to their seventh straight win against Miami, but after two great performances beating San Francisco and New England, this one was a bit of coming back to Earth for Carolina. The Dolphins jumped out to a 16-3 lead in the first half, as Carolina looked listless. Cam Newton and company slowly worked their way back into things, however, gaining ground in bits and pieces. The turning point came with Carolina trailing 16-13 with 2:33 left in the game and only one timeout remaining, facing a difficultfourth-and-ten deep in their own territory. Ron Rivera opted to go for it, and they ended up scoring the game-winning touchdown on that drive. The Panthers have a game lead in the wildcard race, and are eyeing their games with New England closely, pondering a run at the division title itself.


Indianapolis has a problem.Since Reggie Wayne went down with an injury in their win over Denver, their pass offense has fallen off of a cliff. Through the competitive three quarters of their blowout loss to Arizona, Andrew Luck and his receivers had hooked up for only 82 yards through the air. Although TY Hilton has been good, Darrius Heyward-Bey has been well below average, only catching 50 percent of the balls thrown his way and dropping seven balls already. Neither LaVonBrazill or David Reed have stepped up, either. While they still have a comfortable lead in the AFC South, the 40-11 shellacking at the hands of the Cardinals continues to raise red flags as to Indianapolis' potential in this year's playoffs.


In other football news, the Saskatchewan Roughriders won the 101st Grey Cup over the Hamilton Tiger-Cats, 45-23. There is no truth to the rumors that Roger Goodell is looking to slip the Roughrides into the sixth AFC playoff spot, as far as we know.


What do you think?
We'd love to hear your comments and/or opinions. If you submit them here, other visitors can read them, rate them and comment on them. An e-mail address is not required.
From The Greatest Game Ever Played: Patriots vs. Broncos to NFL Football Blog