The Good Deeds of Brandon Jacobs
Running back Brandon Jacobs, formerly of the Giants, has made some news so far this offseason. I'll start at the most recent and then work my way back. This past week Jacobs repaid a young fan of the Giants after he sent all the money in his piggy bank to Jacobs to keep him in New York. Jacobs ended up taking the 6-year-old and his brother to Jump On In bounce house to show his gratitude to the young fan.
This story got me thinking of a few things. First off, it's good to hear that a professional athlete actually opens and reads his fan mail. And the fact he responded to and spent time with one of his fans is even more refreshing. Granted if Jacobs didn't return the youngster's money he would have looked like the biggest jerk in the world. But I have to say this made me think of how innocent and pure young fans are. They don't understand the business side of the NFL and how money and the salary cap play such a big role in what happens. To me that is what being a true fan is. Doing whatever you can to keep your favorite player on your favorite team. I'm sure Joseph Armento (the 6-year-old) will remain a New York fan, I'm sure spending some time with Jacobs was extremely special. It's not every day that a fan gets to see, let alone hangout with a professional athlete.

We always here so many bad or upsetting things regarding athletes, but it seems we rarely see this kind of interaction with fans. I tip my cap to Jacobs for doing something so gracious. I hope other athletes in all sports take note of this and show gratitude to the fans that buy their jerseys, trade their football cards and play as them with Madden. Every sport needs fans like this. This is why all the collective bargaining agreements need to get done as quickly as possible so we can avoid lockouts and delay in the seasons.

No one wants to tell their child why there isn't football on Sunday's, so hopefully athletes keep this act in mind when the CBA is up for renewal again. I know the NFL is a business, but many young fans do not. So if any athletes out there are reading this blog, remember this: with no fans in the seats or buying all the gear, there would be no reason for you to play your respective sport. It'd be like The View, it's always on but nobody watches.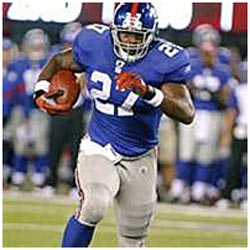 The other exciting part of Jacobs' offseason was landing in San Francisco after he was cut by New York in March. Jacobs spent seven years with the Giants, helping them win two of the last five Super Bowls. He didn't take long to find a new home like some other free agent running backs out there. Jacobs rumbled for 571 yards and seven touchdowns in 2011 as he backed up Ahmad Bradshaw. New York and Jacobs couldn't reach an agreement on a restructured contract. New York's loss was San Francisco's gain. But I have to question why Jacobs chose the 49ers over any other team in the league.

He's now second fiddle to Frank Gore and has to compete with a bunch of young running backs in San Francisco's stable – Anthony Dixon, Kendall Hunter, Jewel Hampton and LaMichael James. While Jacobs has the most experience and will likely stay second on the depth chart, barring injury, but I'm sure he could have gone elsewhere and received more money or a better chance to start. Perhaps he's come to the conclusion that being the No. 2 option on a contending team will prolong his career, which will get him more money and potentially more rings. That the only reasoning I can think of for Jacobs signing with the 49ers.

As for San Francisco I can't figure out what they were thinking. They have some hungry young backs ready to get reps and show what they bring to the table. Hunter was second on the team with 473 yards last year and won't want to give up his carries. I'm assuming the 49ers have something special planned for James, possibly in the slot, to give him more opportunities to play. But when it comes down to it, the 49ers like to pound the ball. With Gore getting the majority of the load the past few years, perhaps they feel Jacobs will also prolong Gore's career. If this is the case, the 49ers should be in the playoff hunt for years to come.

While this duo will probably rumble for close to 2,000 yards combined in 2012 the key to the offense will be Alex Smith's progression. The 49ers are banking on Gore and Jacobs to carry the load, but Smith has to have a stellar campaign or he may be seeing his last season in the Bay area. As for Jacobs, he's got one thing in mind: another championship.

What do you think?
We'd love to hear your comments and/or opinions. If you submit them here, other visitors can read them, rate them and comment on them. An e-mail address is not required.