The Future of the Celtics
By Dennis Berry

What's Next For Boston
The Boston Celtics have to make a choice. They are at the point where they have to decide to either give it one more go with an aging core or begin the process of rebuilding the team.
 
After coming off a 24-58 season in 2007 Boston brought in Kevin Garnett and Ray Allen to turn the team into championship contenders. Before that first season the question was if Garnett and Allen could exist with Paul Pierce. It worked as Boston went 66-16 during the regular season and defeated the Los Angeles Lakers for the NBA Championship.
Since the title run the Celtics have stayed contenders to win the title, but bad breaks have prevented another title run. In 2009 Garnett injured his right knee during the regular season and had to miss the playoffs. The Celtics would lose to the Orlando Magic in the second round of the 2009 Playoffs.

Then in 2010 the Celtics returned to NBA Finals. They would once again face the Los Angeles Lakers. They held a 3-2 series lead going into game six in Los Angeles. During the first quarter, they would lose center Kendrick Perkins to a knee injury. They would go on to lose games six and seven to the Lakers.

In 2011 they would face the new "Big 3" in Miami's Dwyane Wade, Chris Bosh, and LeBron James. The Celtics wanted to prove they were still the best team in the Eastern Conference. During game three of the series, Rajon Rondo dislocated his elbow. Rondo still played and led the Celtics to a win in that game, but the Heat would win the series 4-1. The Celtics still feel like they could have won the series if Rondo had not been injured.

After a slow start this year – and a calling to break up their "Big 3" – the Celtics recovered to make the Eastern Conference Finals. Once again they were far from being healthy. They were without Jeff Green, who had to miss the 2011-12 season because of an aortic aneurysm. They also lost Jermaine O'Neal after just 25 games. In the second round of the playoffs they lost Avery Bradley to a shoulder injury.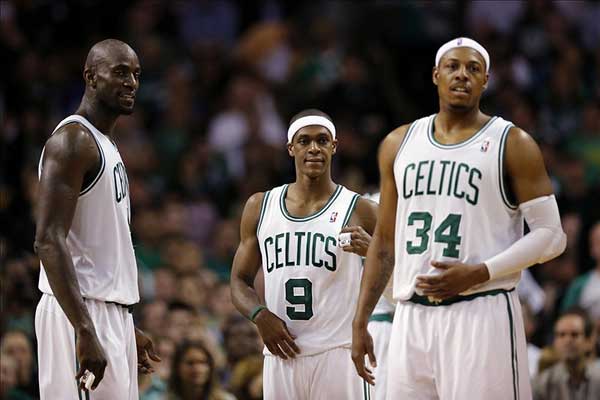 Despite those losses, to go along with Allen and Pierce not being 100% healthy, the Celtics still made the conference finals. They were one game away from making the NBA Finals against the Heat. All it took was a once every 50 years performance from James in game six – 45 points, 15 rebounds, 5 assists – and the Celtics going cold the final eight minutes in game seven to knock them out.

Now we come to the summer of 2012 and the Celtics have to decide what the team will look like next year.

The biggest question will be if Garnett and Allen return. Both of their contracts are set to run out. They both could land on a team that is in position to make championship push next year. Or they can take a pay cut to return to the Celtics next year.

Garnett turned 36 in May. He would be looking a sizable pay cut from his $21 million this past season to return to Boston. Garnett could find another team that would like to add a post player, who can score and defend. He could also choose to retire after 17 years in the NBA.

Allen turns 37 in July. His 45% from behind the three point line is a career best. Yet an ankle injury during the playoffs kept him to just 30% three point shooting in the playoffs. He already a pay cut two seasons ago to stay in Boston. A shooter like Allen can always find work and can probably make more money on a different team.

Do the Celtics try to convince Allen and Garnett to give it one final run?

Boston only has four current players with contracts going into next year. JaJaun Johnson just finished his rookie year. Bradley will be entering his third year in the NBA next season. Rondo will be entering his seventh season next year and has turned into one of the best point guards in the NBA. Finally Paul Pierce just completed his 14th season in the NBA.

Boston does own the 21st and 22nd picks in the NBA Draft this year. They can use those picks to address some needs. What will be available to them remains to be seen with a draft that may not be as strong as it appeared last summer.

There is always free agency, but there are no impactful free agents that could be an impact for Boston.

What the Celtics need to focus on is resigning Brandon Bass, who averaged 11 points, 5 rebounds, and shot 46% from the field in the playoffs. Also bring back Jeff Green, who should be ready to go next year, should be high on the Celtics list.

If the Celtics can convince Garnett and Allen to return at a discounted price, then they would be able to compete in the Eastern Conference.

After Miami the rest of the conference is down. Chicago will be without Derrick Rose until January next season. The Pacers and 76ers are young up and coming teams, but have yet to prove they can put it together over a full season and playoff run. The Celtics could be right there to win the Atlantic Division and be a top seed next year.

If the Celtics do not bring Garnett and Allen back, they can still make the playoffs. They just will not be a title contender. They would more likely be a middle tier playoff team that would lose in the first or second round.

It might be the hardest decision a franchise can make. Stick with an aging core for one final title run or start the process of rebuilding the team.

The Boston Celtics are aging and not going anywhere this season. So, for the right price, Ray Allen, Kevin Garnett, or Paul Pierce can be had. Look for a breakup of the Celtics Big 3 soon.


What do you think?

We'd love to hear your comments and/or opinions. If you submit them here, other visitors can read them, rate them and comment on them. An e-mail address is not required.