The Dwight Freeney Story
It had to happen.

The San Diego Chargers saw outside linebacker Melvin Ingram tear his left ACL in OTAs, and be set to miss essentially the entire 2013 season.  Now, this isn't the biggest blow in history, as he only scored one sack in his entire rookie season, but Ingram is a good player with a bunch of athleticism to spare, so his loss is going to hurt.  Making it worse was the player behind him – Larry English, the 2009 draft bust, was penciled in as the backup after Shaun Phillips left for Denver.  The Chargers had no depth, so they had to make a move.
Enter Dwight Freeney.

The Chargers signed Freeney to a two-year, $13.35 million contract in an attempt to keep some semblance of a pass rush.  It's unclear, at this point, if he'll be playing outside linebacker or defensive end, but if you were looking for a pass rusher, there were few left as good as Freeney, so on that scale, it's a wise pickup.

The issue is the scheme – Freeney just doesn't seem to make any sense in the base 3-4 the Chargers like to run.  He was slid into that role in Indianapolis, and it just didn't seem to match his skillset in any appreciable fashion – he only had 12 tackles and five sacks in 14 games, his worst season in five or six years.  That's why he was available, actually – the Colts didn't see a full time role for the 33 year old veteran and let him go.

You would think, then, that his best fit would have been back in the defensive end position in a 4-3 scheme.  That's where he made his name for himself; that was his bread and butter for years.  Money talks, though, and there didn't seem to exactly be a long list of teams that were jumping at the chance to sign the aging Freeney – at this point, he probably felt that any contract was better than none at all.  So, we get Round 2 of the 'attempting to slide a square peg into a round hole' games with Freeney.

All that being said, Freeney's one hell of a peg, and the Chargers aren't slouches defensively.  First of all, there's some scheme familiarity already, as the Chargers defensive coordinator is John Pagano, brother of Colts coach Chuck Pagano.  The two schemes aren't miles apart, so perhaps there will be less of an adjustment period for Freeney.  In addition, just because the team uses a 3-4 defense as their base, that doesn't mean that they're always in a 3-4 – there will be opportunities, especially on passing downs, to slide him into a four-lineman set where he's most confortable.
Just because Freeney is replacing Ingram doesn't mean he has to be used the same way.  Of course, that still leaves a gap at every-down outside linebacker, but the Chargers have to feel more comfortable with a Freeney/English rotation than they would with English alone.

They have to operate some kind of rotation simply because Freeney is a liability in pass coverage.  As a 4-3 defensive end?  Not a problem.  Outside linebackers, however, are often asked to drop back and cover the flats – tight ends and running backs and the light.  Even in his early 2000s prime, that would have been a mismatch against Freeney, and he hasn't exactly improved there as he's aged.
No, it makes more sense for him to see the field most often in nickel and dime packages, when he can be moved to the line and turned loose on quarterbacks. I think the Chargers will figure out enough ways to get Freeney involved in ways he can be useful to make this a decent signing.  If they're expecting him, however, to fulfill 100% of the role Ingram was going to, they're going to be disappointed.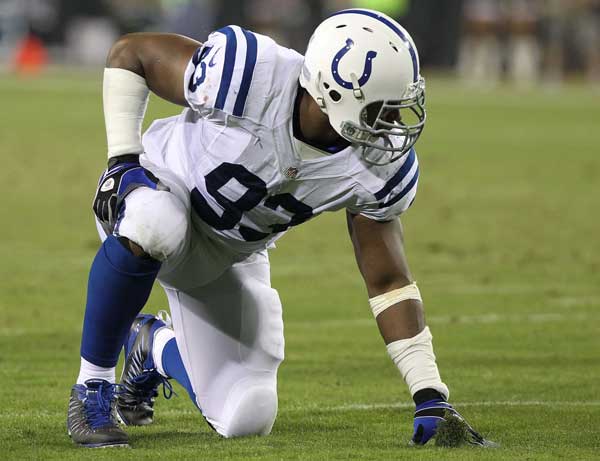 November 8, 2012; Jacksonville FL, USA: Indianapolis Colts outside linebacker Dwight Freeney (93) rushes during the second half against the Jacksonville Jaguars at EverBank Field. Photo Courtesy by Kim Klement-USA TODAY Sports.


Then again, how many choices did the Chargers really have?  This is really an awful time to have to try to replace a pass rush threat.  After Freeney, who else is left?  John Abraham would bring the same schematic problems, without even the one year of experience Freeney has.  Israel Idonije would have been an option, but he, too, has little experience in a 3-4.  Daryl Smith is really more suited for an inside role, where the Chargers had just picked up Manti Te'o.
Ditto Nick Barnett.  The best 3-4 OLB fit out there?  Probably Thomas Howard – and he's coming off of a torn ACL.  There just weren't any great fits out there.  The Chargers were not exactly flooded with a variety of options here – it's not a good fit, but there were no good fits.  Might as well go out and get the best player available and work out how to fit him in than try to make do with a significantly lesser player.

I question this being a two year deal, but perhaps there were some other teams out there interested in Freeney.  It had been all quiet on that front, though earlier this month, there had been rumors that the Lions, Titans, and Broncos were at least somewhat interested.  Perhaps the Chargers felt they had to offer some security in order to ensure that they could lock him up, but Freeney's not a long-term fit in the role, and should step aside for Ingram once he returns.

In short, I don't think this is a great move, but I think it's the best the Chargers could do under the circumstances.  They needed to add someone – they were already thin at the position before Ingram went down – and there just weren't any great options for a plug-and-play solution at the position.  Freeney may no longer be the Pro Bowl lock he was in his prime, but, if the Chargers are able to use him correctly, he can still help offset some of the damage from Ingram's injury.


What do you think?
We'd love to hear your comments and/or opinions. If you submit them here, other visitors can read them, rate them and comment on them. An e-mail address is not required.