The Dark Horses of the NBA Playoffs
By Simon Andras

It is just the beginning of March, but the NBA's second season is just around the corner. In less than six weeks, the NBA's top eight teams from each conference will begin squaring off in the playoffs, and as any fan of basketball knows - this is when it gets exciting. There are four or five teams that everyone has locked to go deep into the playoffs. No one will be surprised to see the Thunder, Spurs, Heat, Pacers, or to a lesser extent, the Clippers, in their respective conference finals. However, there are a few teams out there - especially in the much stronger Western Conference, that could make some noise and go deep into the playoffs, or even the finals, with a little bit of luck.
Ready for Liftoff
If you are a betting individual and want to pick someone outside of the top teams in either conference, look no further than the Houston Rockets who are now only a couple games behind conference leading OKC and San Antonio. Powered by James Harden's stellar play since the break, Houston is rocketing up the division rankings. This is a team that is much deeper than most realize, even Jeremy Lin has been playing well lately. Not to be overlooked is the youth here, some argue it will be an inexperienced bunch come playoff time, but a strong counterpoint is youthful legs might have the extra spring needed to take down an aging team like the Spurs. I'm not saying Houston will win it all, because they haven't proved anything yet, but I wouldn't be surprised at all to see this year's Rockets team show up in the conference finals.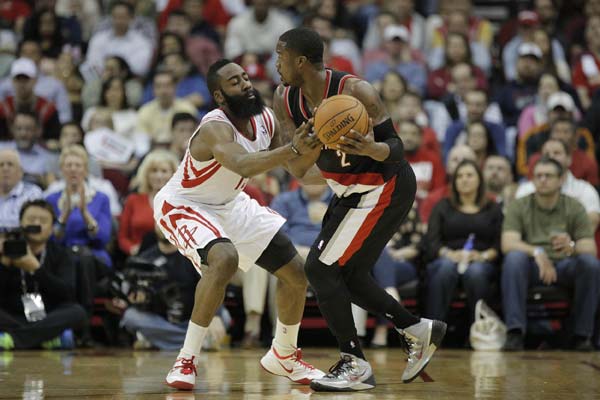 The Wild, Wild West
Also in the West, we have the Golden State Warriors. First off, I love these guys. They are young, exciting and play a brand of basketball that is simply a joy to watch. Marc Jackson has this team playing the right way, and if Steph Curry's ankles can hold together for a couple months longer, don't count them out against anyone. We can expect a fun, high scoring series whoever the play in the early rounds of the playoffs. I'd like to see Andrew Bogut get going again if they are to make a deep playoff push; regardless, they should be good for at least a conference semi-finals run.

Another team I am excited to see in the playoffs is Phoenix, I don't think they have what it takes to advance far this year, but the suns are a young team making great strides. Next season could be their chance to take it to the next level, especially if they land a solid free agent in this coming summer's loaded class.

How bad is the East?
It's hard to pick a dark horse team in the East with Miami and Indiana clearly entrenched as the top two teams (they have both already clinched playoff births). In fact, it's not even close - the East is just flat out awful. At 9 games under .500, Atlanta is currently sitting in the 8th seed. I'm not sure if they should be embarrassed or proud of this honestly. For the sake of argument though, I want to pick the Raptors because I think they might be the best of what's left in the East, but their zero wins against the Heat and Pacers is too much of a concern so my Eastern Conference sleeper pick is going to be the Brooklyn Nets. I don't feel good about this selection, but they've had some success against Miami this year and have enough veterans who know how to play late in April and into May to potentially make a difference.

The guest post was submitted by Simon, a sports writer working for Bigfreebet.co.uk, free bets comparison website.


What do you think?

We'd love to hear your comments and/or opinions. If you submit them here, other visitors can read them, rate them and comment on them. An e-mail address is not required.
The Dark Horses of the NBA Playoffs to NBA Basketball Blog