The Dangerous NBA Playoff Darkhorses
Who are basketball's dark-horse teams?  You know the usual suspects: the Miami Heat, Chicago Bulls, Oklahoma City Thunder, Dallas Mavericks, and San Antonio Spurs.  But which teams are down on their luck but have the firepower to crash the party in the playoffs?
The Memphis Grizzlies are the NBA's biggest dark-horse.  Again.  When Zach Randolph got injured, everyone conveniently forgot about the Grizzlies.  But if he can come back for the playoffs, Memphis will field the same team that was the 2011 playoffs' biggest wildcard.  And, with O.J. Mayo having a strong season as the team's sixth man, the scoring unit now has the punching power it needs to keep up with the heavyweight contenders.
The Los Angeles Lakers went from contender, to pretender, to dark-horse.  The Lakers are no-longer the prohibitive title favorites but the team has great potential to improve.  They have a positive record with the worst 4-12 players in the whole NBA, which means that even picking up a few solid veteran contributors could make a huge difference.  If the Lakers hold on to their three core players, use Lamar Odom's $8.9 million trade exception to pick up two-three league-average veterans, and grab a couple more contributors off of post-deadline buyouts, they will be a very dangerous playoff floater.  Never, ever count out Kobe Bryant.
The Indiana Pacers could be basketball's other big spoiler.  The Pacers don't have a bona fide superstar- though Paul George could develop into one within a few seasons - but they are the NBA's deepest team.  All five starters are excellent contributors at their positions and the backup unit, led by George Hill and Tyler Hansbrough, is the league's best.  So, in a long and tough playoff series following a shortened season, they could be very, very dangerous.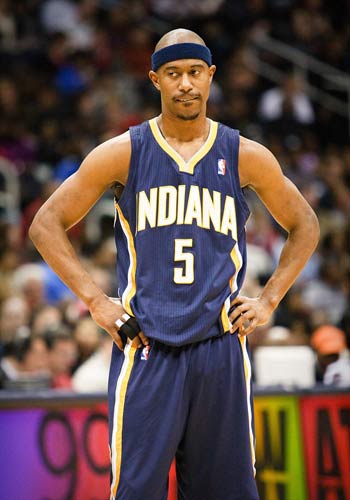 Indiana's T.J. Ford in Atlanta Hawks 97-83 victory over the Indiana Pacers at Philips Arena in Atlanta, GA.
---
It's always tough for dark-horses to win the NBA title. But it does happen: last year's titlist Dallas Mavericks were fringe contenders when the playoffs started. So, make sure to keep an eye on these teams. You never know what can happen!
---
What do you think?

We'd love to hear your comments and/or opinions. If you submit them here, other visitors can read them, rate them and comment on them. An e-mail address is not required.
---
From The Dangerous NBA Playoff Darkhorses to NBA Basketball Blog | Sports Blog | NFL Football Blog | NCAA Football Blog | NFL Football Archives | College Football Archives | MLB Baseball Blog | College Baseball Blog | MLB Baseball Archives | NCAA Basketball Blog | NBA Basketball Archives | NCAA Basketball Archives | Fantasy Football | Fantasy Basketball | Fantasy Baseball | Soccer Archives | Olympics Archives | Stupid Athletes Archives | Other Archives | Football Forum | Basketball Forum | Baseball Forum | NFL Football Store | NBA Basketball Store | MLB Baseball Store | NCAA Football Store | NCAA Basketball Store | NCAA Baseball Store | Fatheads | NFL Football Tickets | NBA Basketball Tickets | MLB Baseball Tickets | NCAA Football Tickets | NCAA Basketball Tickets | NCAA Baseball Tickets |
---
Home Page
About Us | Contact Us | Site Search | Advertise | Terms of Use |
---