The Dan Marino Accidental Lawsuit
How do you accidentally sue someone?

A day after headlines trumpeted a new lawsuit against the NFL led by Dan Marino, it turns out that Marino had somehow seen his name accidentally added to the list of plaintiffs.  He has since withdrawn.
The lawsuit accuses the NFL of concealing information and misleading players as to the lasting effects of brain injuries, but Marino now claims he suffers no ill-effects from head injuries.

"Within the last year I authorized a claim to be filed on my behalf, just in case I needed future medical coverage to protect me and my family in the event I later suffered from the effects of head trauma," Marino said in a statement Tuesday. "I did not realize I would be automatically listed as a plaintiff."

"I have made the decision it is not necessary for me to be part of any claims or this lawsuit, and therefore I am withdrawing as a plaintiff."

Marino suffered two concussions during his 17-year NFL career, and says he doesn't suffer any lingering symptoms from them.

Had Marino's name remained on the list of plaintiffs, it would have made this lawsuit into front-page news.  While plenty of lawsuits have been filed against the league, Marino would be the most high-profile player to lead one.  Not only is Marino a Hall of Famer, but he also has remained in the public eye as a broadcaster on CBS, up through this past season.

Mike Freeman of Bleacher Report said that the lawsuit changes everything back when it looked like Marino was leading the charge.  "Marino isn't some dupe. He wouldn't allow his name to be used unless he believed in the cause," Freeman wrote.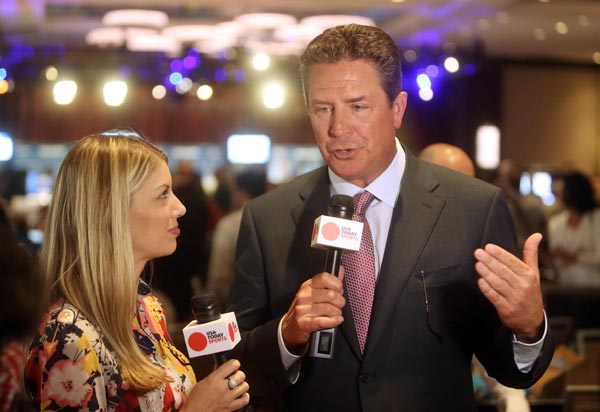 Well, it appears now that Marino had no idea his name was even attached to the cause.  It would have been particularly odd timing, as well, considering Marino has been in talks with the Dolphins about re-joining the front office.  Suing your new employer would seem like an odd choice, even if you enjoy legendary status like Marino does.

None of this, mind you, invalidates the lawsuit itself.  The lawsuit indicates that the plaintiffs - or, at least, the ones that intended to actually sue - have suffered a laundry list of problems, including "headaches, dizziness, loss of memory, dementia, depression, impulse control, impulsivity to anger, cognitive dysfunction, employment impairment, physical activity limitations, embarrassment, loss of the pleasures of life, etc."

There's certainly not much room to say that head trauma doesn't lead to these sorts of things.   The issue is over whether or not the NFL willingly and deliberately misled the players into believing head injuries, and the treatment thereof, were less severe than they actually are.

The NFL has already agreed to a $765 million settlement, but it's been rejected by a federal judge as being inadequate compensation.  The courts continue to consider the precise outcome of the litigation

Marino's involvement in this lawsuit briefly pushed it back to the front pages, but now that it turns out it's all a mistake, the concussion issue will fall back out of the public eye, which is really too bad.  It's an important issue that continues to shape the game, with more and more rules put into place in an attempt to prevent the sorts of hits that cause brain injury, as well as procedures and protocols to help ensure that injured players get sufficient rest time before returning to the field.

Now that Marino's out, however, it will return to being an afterthought in the minds of most fans—at least, until the next major player comes out with a story of the aftereffects of playing football.

What do you think?
We'd love to hear your comments and/or opinions. If you submit them here, other visitors can read them, rate them and comment on them. An e-mail address is not required.
The Dan Marino Accidental Lawsuit to NFL Football Blog