The Cruelest Cuts: The Battle for Gay Rights in Sports
Jason Collins came out to near universal jubilation, with hundreds of supportive social media messages, blog post, and TV commentaries.

Everyone was supportive – at least publically.  But the reality of the gay rights battle in sports is more murky.
Even as Collins basked in the adulation of his colleagues, Chris Kluwe, the NFL's most outspoken (and straight) proponent of gay rights, was cut from the Minnesota Vikings.  Weeks earlier, Brandon Ayebedejo, the NFL's only other outspoken gay rights advocate, was cut by the Baltimore Ravens.
 
The NFL, like the National Hockey League and Major League Baseball, has no openly gay players.  And Jason Collins, the NBA's lone representative, is a free agent.

What kind of a message will it send if Collins goes unsigned and no one picks up Kluwe or Ayebedejo?  How many gay players will follow Collins' league if he ends up on the unemployment line? How many straight players, who have the most to lose and the least to gain by their advocacy, will step forward if the two leaders on the issue end up at home on the couch?

Individually, each of these coincidences can be easily explained away.  Ayebedejo is 36 and a special teams player; the Ravens are cutting spending.  He is also a pro-bowl level special-teamer who played at a career-high level in 2012.  Kluwe is a punter and overpaid at $1.5 million; the Vikings drafted his replacement.  Yet, Minnesota's coaches also expressed frustration at his outspoken advocacy, throwing into question their reasoning for letting go the longtime, productive veteran.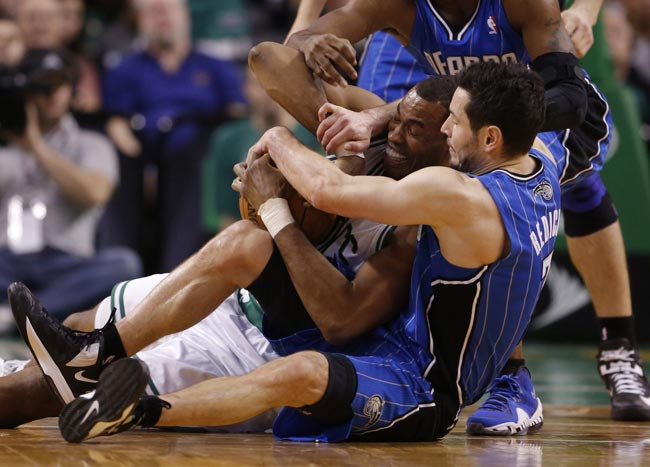 Boston, MA, USA: Boston Celtics center Jason Collins (98) and Orlando Magic shooting guard J.J. Redick (7) work for the loose ball during the second half at the TD Garden. Photo Courtesy by David Butler II-USA TODAY Sports.


And Collins, the lone gay active player, has not averaged more than 3 points per game since 2008 and has played for nearly half the teams in the league.  He is a star in the locker room but no star on the court.

So, America's most popular sports have an insidious, murky question on their hands.  There is no easy answer; these players are hardly stars waiting to be claimed; or even diamonds in the rough waiting to be salvaged.  They are productive spare parts, united in the cause they stand for and by the fact that they have been cast away.
 
Where will they end up?  Where will the gay rights battle be if they remain discarded?  Who will follow in their footsteps?

No one knows – but we will be watching.


What do you think?

We'd love to hear your comments and/or opinions. If you submit them here, other visitors can read them, rate them and comment on them. An e-mail address is not required.