The Cruelest Cut: The Plight of the NFL's Overpriced Veterans
James Harrison is one of the NFL's best feel good stories.  He rose from obscurity and the practice squad to become a Defensive Player of the Year and help lead the Pittsburgh Steelers to two Super Bowl titles.
Harrison was cut today.

In a one paragraph statement, the Steelers speedily divorced themselves from one of the best contributors in their recent history, coldly sending him to the scrap heap to join fellow Steeler greats Hines Ward, James Farrior, Larry Foote, Joey Porter, and countless others.

These veteran castaways are the cruelest cuts in football.

Cutting overpriced, formerly great veterans has become a necessity in a hard-cap football league dominated by consistent injuries and the need for strong team depth.  Unlike in the NBA and Major League Baseball, where contracts are guaranteed and reflect past performance, the NFL doesn't reward the past.  The present, and to a lesser degree the future, are all that matter and the franchise's cap number is king. 

On Tuesday, AnquanBoldin may learn that hard lesson.  The Baltimore Ravens' receiver is overpaid for his production but played a critical role in the team's February Super Bowl win.  Boldin, a future Hall of Famer, still received the cruel ultimatum this week: take a pay cut or be released.

Indeed, while the Ravens and Steelers consider themselves hated rivals, they are brutally similar in this sense: like Napoleon in George Orwell's Animal Farm, they put non-producers out to pasture.

Football's cruelties speak to the fundamental imbalance in sports.  Teetering between sickly-sweet goodness and harsh cruelty, sports and franchises can't seem to get to a fair balance.  In baseball, Alex Rodriguez keeps $100M in future earnings despite years of injuries, weak production, embarrassing immaturity, and polarizing steroid scandals.  In basketball, Gilbert Arenas was paid $40M not to play.  In football, James Harrison was cut because his production justified a $4M salary, not a $6M salary: in short the iconic veteran was cut to save $2M in cap space.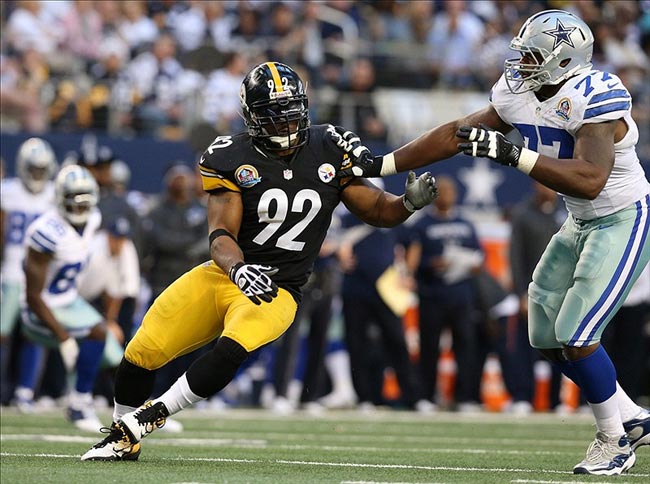 Dec 16, 2012; Arlington, TX, USA; Pittsburgh Steelers linebacker James Harrison (92) in action against Dallas Cowboys tackle Tyron Smith (77) at Cowboys Stadium. Photo Credit: Matthew Emmons-USA TODAY Sports.
Football is America's pastime.  Harrison is beloved by Steelers Nation; he embodies everything Pittsburgh considers to be its franchise ethos: hard work, plain production, and sheer toughness.  His cut, undoubtedly saddening to the Steelers' fan base, represents this polarizing and cruelly vexing problem: how can a top-5 franchise in America's most popular sport cut an icon to save $2M?

Perhaps, while Harrison searches the NFL for a new job, football will search for an answer.
What do you think?
We'd love to hear your comments and/or opinions. If you submit them here, other visitors can read them, rate them and comment on them. An e-mail address is not required.