The Best NFL Defensive Free Agents
Here are the top defensive free agents available in this year's NFL class:
Defensive Ends: Lamarr Houston, Oakland; Michael Bennett, Seattle
If you're looking for a top-flight defensive end, you are in luck.  With the cap space that the Oakland Raiders enjoy, it's surprising they haven't already locked Houston up on a long-term deal.  Houston is a physical specimen at 6'3", 300 lbs.  He can play anywhere on the defensive line, and even as an outside linebacker in a pinch.  He's a solid pass rusher, and angreat run stopper.  Some though the Raiders would slap the franchise tag on him, but the deadline has come and gone.  Because he doesn't put up gaudy sack numbers, someone's going to get a bargain on him, but he's a fantastic player who will be an addition to whichever team gets him.

Bennett is Pro Football Talk's top-rated defensive free agent, and it's easy to see why.  With 8.5 sacks in Seattle, Bennett set himself for a huge pay day in 2014.  The move to sign only a one-year, "prove it" style contract with Seattle looks better and better.  He has a standing offer from the Seahawks, but he's interested in testing the market.  Scuttlebutt has an NFC West bidding war developing, as the 49ers look interested in his services.  The Bears are also a favorite for his services.  Of the three, the Bears are in the best salary cap situation, so we'll see what happens.

Defensive tackles: Arthur Jones, Baltimore; Randy Starks, Miami
Jones is a hybrid player; more of a defensive end in a 3-4 system, he could easily move inside in a 4-3 defense and play tackle.  Such a move seems likely—he doesn't seem particularly inclined to stick in Baltimore, nor do the Ravens have gobs of extra cash to pay him.  He's more of a run stopper than a pass rusher, but it's not like he's deficient in rushing the passer—it's just not his forte.  Expect Indianapolis and New England to make strong runs at Jones.

If you're looking for a "true" defensive tackle, Starks is your man.  He's versatile enough to play the nose in a 3-4 scheme or a three-technique tackle in a 4-3, as well as being able to play out as a defensive end.  Starks, who was playing on a franchise tag this season, was ranked top-10 in both pass and rushing defense by Pro Football Focus, and is the sort of consistent, durable player you can build around.  The larger-than-expected salary cap gives the Dolphins a fighting chance to retain Starks in free agency, but he should be one of the more prized targets this offseason, even at age 30.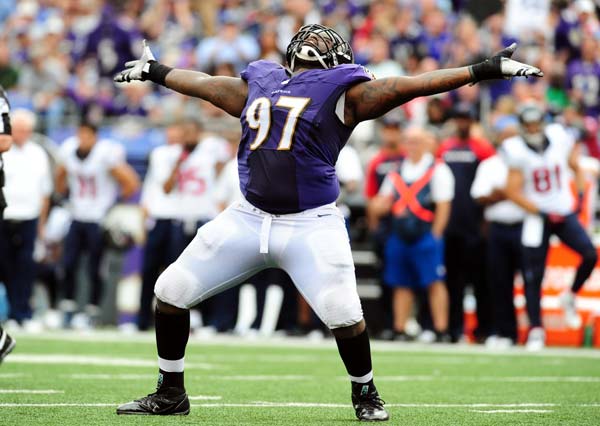 Outside Linebackers: Wesley Woodyard, Denver; James Anderson, Chicago
Don't hold 2013 against Woodyard—he suffered through an injury suffered early on in the season, and never fully recovered.  Assuming he's healthy once more, he's a great option at weakside linebacker.  In 2012, he had 117 tackles, 5.5 sacks, and 3 interceptions—a threat in all aspects of the game.  Denver doesn't really need him anymore—his role in the starting lineup was usurped by Danny Trevathan, making Woodyard expendable.  Woodyard is a leader, and will do whatever is asked of him.  He's a very valuable piece to pick up.

There's a bit of a dropoff after Woodyard, as we go down to the likes of Anderson.  Anderson does well in pass coverage, handling tight ends and running backs fairly well.  He was forced into an unexpected position as a starter, thanks to the injuries Chicago suffered at the linebacker spot last season, and did about as well as you could hope.  He's a complete non-factor against the run, however, and is really just a solid backup at this point.  If he's used solely on passing downs, he has a role in the NFL still.  He's not starting material, however.

Inside Linebacker: Daryl Smith, Baltimore
It's hard to believe that Smith was actually let go from Jacksonville last season.  He may have been coming off of a groin injury, but Smith's always been a solid starter in the NFL, even toiling away on the Jaguars.  Signing with Baltimore, he racked up 123 tackles, 5 sacks and 3 interceptions.  Safe to say, he'll make a little bit more than the $1.125 million he made with the Ravens this past season.  While Baltimore has indicated they'd like to keep him, Denver and Tennessee have also made noise about bringing Smith in.  A bidding war this year will be a nice change over last year's lack of interest for Smith.

Cornerbacks: Vontae Davis, Indianapolis; Captain Munnerlyn, Carolina
Davis is a young, physical corner, with mountains of potential.  He has great man-to-man coverage skills—while he never racks up tons of interceptions, he locks down his man, making throwing in his direction a dicey proposition.  He matched up well with the likes of Mike Wallace, Andre Johnson and Demaryius Thomas last season, and could get serious offers this offseason.  A reunion with his brother Vernon in San Francisco isn't out of the question; the 49ers need serious help in the secondary.

Munnerlyn has burst onto the scene in the last season and a half.  At 5'8", Munnerlyn's a bit smaller than you'd like in a corner, but he's a fantastic tackler and a threat with the ball in his hands—in both 2012 and 2013, he returned two interceptions for touchdowns.  Munnerlyn didn't get a huge offer in free agency last season, but as a nickel corner, he has significant value, and keeps proving it in Carolina.  With another year of starting experience under his belt, Munnerlyn should get a nice pay raise somewhere—though likely not in Carolina, who is fighting through salary cap ramifications.

Safeties: Jairus Byrd, Buffalo; TJ Ward, Cleveland
Byrd's the best safety in the league right now.  He has more interceptions and forced fumbles than any other safety in the league over his career—he's a turnover-forcing machine.  His instincts and ball awareness are off the charts; a truly game-changing play-maker in the secondary.   That's not to say he's not a generational talent in terms of athleticism or anything like that, but there isn't anyone else out there with a better sense of how to play the game.  He'll break the bank—possibly getting over $9 million a year from a team desperate to help shut down athletic tight end weapons.

Ward is another player without any real weaknesses—he excels at stopping the run, but is a top-five safety overall.  He's a leader in Cleveland's secondary and a potential perennial Pro Bowler.  He even saw some snaps as a linebacker last season, proving his versatility.  He's only getting better, too, having received a better overall grade from Pro Football Focus in each of his NFL seasons so far.  There was some talk about Cleveland franchising him, but that came and went without any action, due to the need to tag center Alex Mack.  That means Ward will hit the open market, and a safety-needy team like San Francisco could take a pass at him.


What do you think?
We'd love to hear your comments and/or opinions. If you submit them here, other visitors can read them, rate them and comment on them. An e-mail address is not required.
The Best NFL Defensive Free Agents to NFL Football Blog