The Best Franchises in Each Sport in the Past Ten Years
By Jason Fryer

I wanted to examine the best sports franchise from the NBA, NFL, NHL, and MLB since the 2003 season. In my mind, I believe teams needed to be able to show they can build their roster via the draft, doesn't depend on free agents, win multiple championships, rarely miss the playoffs, and have a successful organization from the top to bottom.
MLB:
St. Louis Cardinals (2 World Season Titles): Most great teams start with a number of high draft choices at the top of their roster and then fill in the rest of their team with key role players and free agents...not the Cardinals. In fact, St.Louis is only one of two franchises (Yankees the other) to not have a top 10 pick since the 2003 season and though the Cardinals spent a good deal of money each year on their roster (averaging a 94 million dollar payroll over the past 11 years) but have never been in the top 5 highest payrolls for a single season. So what about their draft's? How many free agent pickups have they had? Did they depend on trades?

We'll, like all great MLB organizations, it was a combination of all three. First, lets start with the key free agent signings they made were Chris Carpenter and David Eckstein. Most would say Carpenter was one of the top pitchers of the past decade making him a significant pickup... not quite. In Toronto, Carpenter was an often injured (missed the entire 2003 season) and below average starting pitcher (never had an era below 4.00 during his tenure there), but when he went to St. Louis, he turned into one of the best pitchers of the past decade, wining two world series titles, a Cy-Young Award, and never had an ERA above 3.50 in St. Louis. As for Eckstein, though he did win a World Series Title (2002) prior to joining the Cardinals, before the 2005 season he was let go by the Angles for Orlando Cabrera. The player that the Angels had no problem letting go went on to hit .364 en route to winning the 2006 World Series MVP.

St. Louis has had four key trades that helped lead them to their 2006 and 2011 World Series Championships. The first significant trade was for All-Star third baseman Scott Rolen for 2 average pitchers (Bud Smith and Mike Timlin) along with a solid infielder (Placido Polanco). To follow up that trade, in December of 2003, they decided to trade outfielders J.D. Drew and Eli Marrero for pitchers Jason Marquis, Ray King and some prospect named Adam Wainwright. Since being traded to St. Louis, Wainwright has recorded the final out of a world series (remember he was the teams closer for the 2006 playoffs), named to an all-star, win a gold glove, and twice finished in the top two for the Cy-Young Award.

The third key trade came when Cardinal management decided to trade a Cardinal legend in Jim Edmonds for a no name 24 year old 9th round draft pick named David Freese. Freese would only go on to win the 2011 NLCS and World Series MVP Awards, and had one of the most memorable game's (Game 6 of the 2011 World Series) in baseball history. Following that, St. Louis decided to make their biggest trade deadline deal (since acquiring Mark McGwire during the summer of 1997) when they traded Clayton Mortensen, Shane Peterson, and top ten prospect at that time Brett Wallace for Matt Holliday who was in the final year of his contract. The Cardinals definitely won this trade as Holliday went on to have a great 2nd half of the 2009 season (helping the Cards reach the playoffs), and on top of that St.Louis and Holliday were able to reach a long term extension following that season.
Holliday would go on to make the All-Star game in the three seasons and be a huge part to the Cardinals success as they won the 2011 World Series. For one of the rare occurrences, the Oakland Athletics were on the losing end as this deal as Clayton Mortensen is with his 4th MLB organization, Shane Peterson is 25 years old and has had only 7 major league at-bats, and then top 10 prospect Brett Wallace was later traded to Houston for Michael Taylor. The remainder of their roster has been developed via the draft and international free agents:

1999: Albert Pujols (13th round)
2000: Yadier Molina (4th)
2003: Jason Motte (19th)
2005: Jamie Garcia (22nd)
2006: John Jay (2nd), Allen Craig (8th)
2007: Pete Kozma (1st), Daniel Descalso (3rd)
2008: Lance Lynn (1st)
2009: Shelby Miller (1st), Joe Kelly (3rd), Matt Carpenter (13th), Trevor Rosental (21st)

International Signings: Fernando Salas

Runner up: San Francisco Giants

Franchise to watch the next 5 years: Chicago Cubs

NFL:
Pittsburgh Steelers: Forget the past 10 years, when was the last time the Pittsburgh Steelers were seen as a poor franchise...the 1960's? But enough about the distant past, let's look at the short term past. Like the St. Louis Cardinals, the Pittsburgh Steelers are the only NFL franchise to not have a top 10 draft choice since the 2002 NFL Draft (the highest player they drafted was Ben Roethlisberger with the 11th overall pick in the 2004 NFL Draft). If that wasn't impressive enough, since 2002, the Steelers appeared in four AFC Championship Games (also went to the 2001 AFC Championship Game), made three Super Bowls, and won Super Bowl's XL and XLIII.

For a team to be consistent for a long period of time, you can't depend on free agency, instead, teams need to make sure there successful with draft choices throughout the early and late parts of a draft. Don't believe me, just look at the variety of depth that Pittsburgh has drafted since 2002:

2002: Kendall Simmons (1st round), AntwaanRandel El (2nd), Larry Foote (4th), Brett Keisel (7th)
2003: Troy Polamalu (1st), Ike Taylor (4th)
2004: Ben Roethlisberger (1st), Max Starks (3rd)
2005: Heath Miller (1st), Trai Essex (3rd), Chris Kemoeatu (6th)
2006: Santonio Holmes (1st), Willie Colon (4th)
2007: Lawrence Timmons (1st), LaMarr Woodley (2nd), Matt Speath (3rd)
2008: Rashard Mendenhall (1st), Ryan Mundy (6th)
2009: Evander Hood (1st), Mike Wallace (3rd), Keenan Lewis (3rd)
2010: MaurkicePouncey (1st), Emmanuel Sanders (3rd), Antonio Brown (6th)
2011: Cameron Heyward (1st), Marcus Gilbert (2nd), Cortez Allen (4th)
2012: David DeCastro (1st), Mike Adams (2nd), Chris Rainey (5th)

This shows that the Steelers have been successful with all their first round draft picks in this timeframe in addition to finding a number of successful players during the earlier and later rounds of the draft. Pittsburgh has been great at drafting players in the first round as shown by not having one legitimate "bust" or significant bug name free agent signing since 2002. The front office, player personal, and ownership of the Pittsburgh Steelers has been at the top of the football week for a long period of time.

Runner Up: New England Patriots/Baltimore Ravens

Franchise to watch the next 5 years: San Francisco 49ers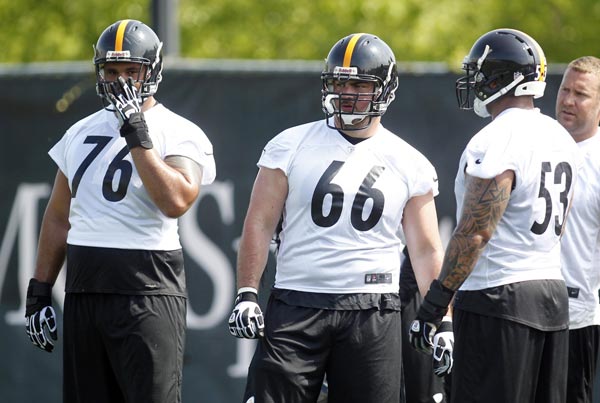 NBA:
San Antonio Spurs: (3 NBA Championships) This was the toughest one to chose as both the Lakers and Spurs have been consistently great for a number of years. With that said, I feel the Spurs have done more with less and in fact, though the Spurs haven't won a championship since 2007 (and collapsed in the 2013 Finals), there tied with the Heat for the most championships won since 2005 with three, and have won 50+ games every season since 2002. Los Angeles has been able to sign and trade for a number of future hall of famers and excellent players to help them win their 3 championships since 2002 (Shaquille O'Neal, Robert Horry, Glenn Rice, Ron Harper, Pau Gasol, Ron Art...I mean Meta World Peace, and Dwight Howard...ok that one didn't work) while only drafting a few of their core players to their championships (Kobe Bryant, Derrick Fisher, and Andrew Bynum).

San Antonio on the other hand drafted the core of their 3 championships (Tim Duncan, Manu Ginobili, Tony Parker, Steven Jackson, Malik Rose) along with signing free agents Steve Kerr, Bruce Bowen, Brent Barry, and Michael Finley to fit in as the key role players with San Antonio. The Lakers, Heat and Spurs have made the most Finals appearances (4) since 2003, however the Spurs have been the most successful NBA drafting franchise, creating a dynasty through the draft, something that hasn't been done since the Chicago Bulls first dynasty of the early 1990's (the Bulls second dynasty had a number of free agents in Dennis Rodman, Steve Kerr, Ron Harper, Luc Longley, and Bill Wennington).

Runner Up: Los Angeles Lakers

Franchise to watch the next 5 years: Oklahoma City Thunder (OKC's GM is Sam Presti, the assistant GM in San Antonio from 2005-2007) /wherever LeBron James signs next season.

NHL:
Chicago Blackhawks: (2 Stanley Cups): Red Wings fans, if you want to disagree with me I have no problem, everyone else has no validity. Since the inclusion of the Salary Cap preceding the 2006 season, the Chicago Blackhawks have been the only team to win multiple Stanley Cups. The other winners during this time frame include Carolina (2006), Anaheim (2007), Detroit (2008), Pittsburgh (2009), Boston (2011), and Los Angeles (2012). Prior to the inclusion of the salary cap, teams were able to keep their core and depth parts of your roster for over a decade...not anymore. Since the 2007 season, the Blackhawks have done a complete transformation and gone from one of the worst franchises in sports to the 16th best franchise in 2010, and who knows, maybe the best franchise in 2013 when ESPN the Magazine releases their Ultimate Standings 2013 article later this month.

Following another lockout to start their season (4th in 20 years), the NHL needed a big market team with elite stars to step up so everyone could forget about the 2012 lockout. Fortunately enough, it was Chicago that had their answer. But enough about how the Blackhawks saved the 2013 NHL season, why do I feel they are the most successful team over the past decade? Following the passing of longtime owner Bill Wirtz, Chicago decided to completely transform their organization with a new owner (Rocky Wirtz), new president John Mcdonough(longtime Cubs executive), and roster that featured two first round draft picks (Jonathan Toews and Patrick Kane).

With Kane and Toews, Chicago decided to reassess the rest of their roster and build their team around their young core (Kane, Toews, Keith, Seabrook, Sharp) and add veterans to them to help makeup their rest of their roster (Cristobal Huet, Brian Campbell, Andrew Ladd, Marian Hossa, Tomas Kopecky, and John Madden). The recipe worked for two seasons (reached the 2009 Western Conference Finals, and won the 2010 Stanley Cup), but following 2010 Stanley Cup, Chicago had to decide which was more important to keep: their core or depth on their roster. Chicago decided to keep their core and build within the draft as they traded all but one (Marian Hossa) of their key free agents they signed prior to the 2010 Stanley Cup Championship.

To show how successful the Blackhawks were, in 2013, 13 of the teams 23 players that appeared in a Stanley Cup Playoff were drafted by the organization. Chicago decided to completely change their approach with how to build a championship organization and have two Stanley Cups to show for it. With the majority of the Blackhawks core locked up for a few more seasons and their two best players 24 (Kane) and 25 (Toews) respectively, I believe the Hawks will win at-least 1 more Cup before the end of this decade.

Chicago Blackhawks thirteen drafted players that played during the 2013 Stanley Cup Playoffs:

2002: Duncan Keith (2nd Round)
2003: Brent Seabrook (1st), Corey Crawford (2nd)
2004: Bryan Bickell (2nd), Dave Bolland (2nd)
2005: NiklasHjalmarsson (4th)
2006: Jonathan Toews (2006)
2007: Patrick Kane (1st)
2008: Ben Smith (6th)
2009: Marcus Kruger (5th)
2011: Brandon Saad (2nd), Andrew Shaw (5th)

Undrafted Free Agents: Brandon Bollig

Runner Up: Detroit Red Wings


What do you think?

We'd love to hear your comments and/or opinions. If you submit them here, other visitors can read them, rate them and comment on them. An e-mail address is not required.