The Anti 2014 NFL Draft: Picking the Best Players Every Team Doesn't Need
NFL draft coverage can be so negative.

We're always talking about what teams don't have, where they're missing key players.  We highlight and dwell over a team's shortcomings, all the while ignoring the strengths they have.
With that in mind, and with apologies to Sports on Earth's Mike Tanier, let's try to construct a bizzaro-world, worst possible mock draft.  We're giving each team players they frankly don't need—the worst pick they could make in each slot, while still taking first-round-caliber talent.

Why do this?  It's a way of turning the offseason on its head; even teams like the Texans and Jaguars have areas of strength that should be celebrated and built around.  It's also a way to imagine what could happen if things were slightly different—which players would see their stock rise or fall dramatically if the early teams just had a slightly different set of needs?

This mock draft does the best job it can at keeping the elite players from falling unrealistically far, while still having teams pass over their biggest needs.  I've taken extra care to highlight picks that I've actually seen going around in mocks, to further suggest  where mistakes may be made.

1. Houston Texans: Sammy Watkins, WR, Clemson

In a different world, it's not so difficult to imagine the uber-talented Watkins going off the board with the first possible pick.  In reality, though, this is probably the one area where the Texans aren't deficient.  Andre Johnson is still an all-world caliber receiver, even if he's beginning to show signs of age, while DeAndre Hopkins is a very solid #2 option.  It's difficult for the Texans to go wrong in this year's draft, but this would be a very good attempt at it.

2. St. Louis Rams: JadeveonClowney, DE, South Carolina

It's similarly difficult to find a team where Clowney wouldn't be a good fit; while I think he's not quite the once-in-a-lifetime prospect some evaluators think, he's still the best player in the draft by a decent margin.  The team that couldn't use Clowney would need to already have a pair of great defensive ends—and with Chris Long and Robert Quinn manning the outside, the Rams come remarkably close to having that pair.  That's a fearsome pass rush already, meaning Clowney would have a lesser impact than, say, patching their offensive line.

3. Jacksonville Jaguars: Greg Robinson, OT, Auburn

Whoever ends up starting for the Jaguars at quarterback this season can rest somewhat easy, knowing they have protection already in place on the offensive line.  Luke Joeckel will be back from his ankle injury to man the left tackle position, while Austin Pasztor played well enough in relief last year to get a full year's starting role at right tackle.

4. Cleveland Browns: Khalil Mack, OLB, Buffalo

We still have the top four talents in the draft going with the top four picks, just to the worst possible combination of teams.  A player of Mack's talent would help any team, including Cleveland, but with so many other holes on the roster, taking him would be a bit of a luxury selection.     The Browns were horrible on offense last season, but only below average on defense, making this the closest thing they have to an area of "strength".

5. Oakland Raiders: Mike Evans, WR, Texas A&M

The ghost of Al Davis interferes with this pick.  With James Jones, Andre Holmes, Rod Streater and Denarius Moore under contract, the Raiders have actually assembled a pretty decent receiving corps.  Now if only they had someone to throw them the football.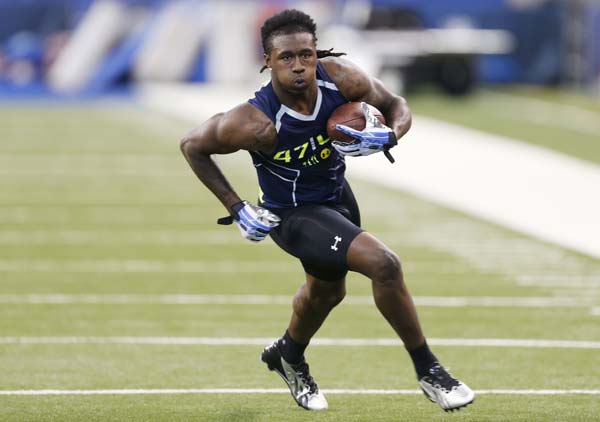 6. Atlanta Falcons: Blake Bortles, QB, UCF

It's rare that a team drafting in the top 10 has a top-10 quarterback like Matt Ryan under center.  The Falcons are expecting this high draft choice to be a one-year aberration.  Drafting Bortles would essentially involve blowing up the team and starting over; the team's not in that position yet.

7. Tampa Bay Buccaneers: Jake Matthews, OT, Texas A&M

The interior of the Tampa Bay line is probably their biggest need, but at the edges, they're actually doing alright.  Anthony Collins and Demar Dotson aren't going to keep opposing defensive coordinators up at night, but they've got larger needs all over the place.  Matthews is going to be a starter wherever he goes, but the Buccaneers would be better off fixing a position of greater need.

8. Minnesota Vikings: Taylor Lewan, OT, Michigan

The Vikings already have Matt Kalil and Phil Loadhoat at tackle.  They need someone behind them to protect, not a third player for two slots.

9. Buffalo Bills: C.J.  Mosley, ILB, Alabama

Before this offseason, Mosley would have been a fairly solid pick here, actually.  But Buffalo added Brandon Spikes and Keith Rivers to go alongside Kiko Alonso, making Mosley a bit extraneous at this point.

10. Detroit Lions: Ha Ha Clinton-Dix, S, Alabama

Similarly, the Lions would have been fine grabbing Clinton-Dix to improve their secondary before free agency started.  They had to cut Louis Delmas, after all.  However, they then went out and signed James Ihedigbo to fill the gap, so they're good for now.

11. Tennessee Titans: Eric Ebron, TE, North Carolina

The Titans already boast the talented Delanie Walker at tight end.  While he's not an NFL super star by any stretch of the imagination, he's a very solid player in his own right.  Besides, the thing holding Jake Locker down isn't a lack of weapons, it's his health—you can have all the pass catchers in the world, but if you can't stay healthy…

12. New York Giants: Darqueze Dennard, CB, Michigan State

The Giants went out this offseason and signed Dominique Rodgers-Cromartie.  Then, they signed Walter Thurmond.  They also re-signed Trumaine McBride.  They're really just fine at cornerback, unless they're planning to play nothing but dime sets this season.

13. St. Louis Rams: KonyEaly, DE, Missouri

If taking one defensive end would be a luxury selection, taking two would be outright disastrous to the team.  Pass rushers are always nice to have, but 100 sacks does not a successful team make, all by itself.

14. Chicago Bears: Odell Beckham Jr, WR, LSU

The Bears need is "anything on defense".  Adding Beckham to Brandon Marshall and Alshon Jeffery doesn't help; they already are fine on offense, they just can't stop anybody.  How weird is that to type in relation to the Monsters of the Midway?

15. Pittsburgh Steelers: Aaron Donald, DT, Pittsburgh

Bringing in the local Donald might cause Pitt fans to be happy, but the team did just add Cam Thomas to the roster.  Besides, Donald's short stature makes him the least suited of all the top defensive tackle prospects to play in a 3-4 system, like the Steelers use.

16. Dallas Cowboys: Morgan Moses, OT, Virginia

With Doug Free and Tyron Smith on the edges, the Cowboys actually have two solid, verging on high-quality offensive tackles.  They need interior linemen, and defensive linemen.  I'm all in favor of the Cowboys adding a big player to their squad, but a tackle is the one slot where that wouldn't actually help.

17. Baltimore Ravens: Teddy Bridgewater, QB, Louisville

The Ravens extended Joe Flacco for roughly eight trillion dollars just a season ago.  There's no way they could justify taking a high-round pick, even if Bridgewater falls this far, to secure their backup quarterback position.

18. New York Jets: Ra'Shede Hageman, DT, Minnesota

Sheldon Richardson just earned defensive rookie of the year honors at defensive tackle.  The Jets have more pressing needs than adding another high-profile defensive lineman to the mix.

19. Miami Dolphins: Calvin Pryor, S, Louisville

The Dolphins did just lose Chris Clemons in the offseason, so they needed a replacement here.  Then they went out and signed Louis Delmas, so they're alright for now.  They need linemen, not players in the secondary.

20. Arizona Cardinals: Justin Gilbert, CB, Oklahoma State

The Cardinals signed Antonio Cromartie to line up alongside Patrick Peterson and Tyrann Mathieu in their secondary.  With the NFC West not exactly offering a huge number of talented receiving corps, they're more than settled here.

21. Green Bay Packers: Zack Martin, OT, Notre Dame

Football Outsiders ranked the Packers' offensive line as the fifth-best run blocking line in football last season.  While they could stand to be a bit better at pass protection, the Packers are pleased with David Bakhtiari and Bryan Bulaga on the outside.

22. Philadelphia Eagles: Johnny Manziel, QB, Texas A&M

The Eagles have decided to cast their lot with Nick Foles, who had a great second half last season.  Manziel might not even be an upgrade over Mark Sanchez, who was brought in to back Foles up.  Either way, he doesn't seem to be a good fit in Chip Kelly's up-tempo offense.

23. Kansas City Chiefs: Timmy Jernigan, DT, Florida State

What, precisely, would the Chiefs do with Timmy Jernigan?  Rotate him with the already excellent Dontari Poe?  Have him sit and watch as the offensive line turns to string cheese, while receivers crawl towards their targets?

24. Cincinnati Bengals: Ryan Shazier, OLB, Ohio State

Shazier might start for Cincinnati, over Jayson DiManche, but it's far from certain.  Meanwhile, the secondary is falling apart, and the offensive line needs an overhaul.  Picking Shazier would be adding to the team's strengths while ignoring its weaknesses.

25. San Diego Chargers: Stephon Tuitt, DE, Notre Dame

The Chargers need help on the interior of the defensive line, where Cam Thomas left in free agency.  They do not need an upgrade over either Corey Liuget or Kendall Reyes on the outside, and none of the three players would be logical choices to slide inside.

26. Cleveland Browns: Louis Nix III, DT, Notre Dame

Much like with their fourth overall pick, the Browns need to add talent on offense with much more speed than they need it on defense.   Nix probably doesn't beat out Phil Taylor for starting nose tackle.

27. New Orleans Saints: Bradley Roby, CB, Ohio State

The Saints just signed Champ Bailey, and have Keenan Lewis ready to man the other side.  That would make Roby an odd man out.

28. Carolina Panthers: Dee Ford, DE, Auburn

After spending the money to franchise Greg Hardy, the Panthers need replacements for all the receivers and corners they had to let go, not yet another pass rusher.  It would be fiscally irresponsible.

29. New England Patriots: Kyle Fuller, CB, Virginia Tech

The Patriots went out this offseason and added DarrelleRevis and Brandon Browner to replace the departed AqibTalib.  What has been a position of weakness for them for years has suddenly become a position of strength.

30. San Francisco 49ers: Cyrus Kouandijo, OT, Alabama

With Joe Staley and Anthony Davis manning the outside, the 49ers have one of the top offensive tackle duos in the league.  A guard wouldn't be out of the question, due to Mike Iupati's expiring contract, but a tackle would just be wasted.

31. Denver Broncos: Brandin Cooks, WR, Oregon State

Too many Cooks spoil Peyton Manning's broth?  Yes, the Broncos lost Eric Decker this offseason, but they've made up for it by both signing Emmanual Sanders and re-signing Andre Caldwell.  Manning doesn't need first-round receivers to look good, anyhow.

32. Seattle Seahawks: Anthony Barr, OLB, UCLA

The Seahawks have put together one of the top defenses in the history of the game.  Adding more talent to it, while the offensive line could use an influx of talent and more weapons are needed at the skill positions, would be a waste of everyone's time.


What do you think?
We'd love to hear your comments and/or opinions. If you submit them here, other visitors can read them, rate them and comment on them. An e-mail address is not required.
The Anti 2014 NFL Draft: Picking the Best Players Every Team Doesn't Need to NFL Football Blog