The Aldon Smith Saga: Hope for Treatment and Recovery
Aldon Smith is, without a doubt, one of this most talented players in the NFL today, and an early candidate for defensive player of the year. He's a key cog in the 49ers pass rush, and a budding young star with the sky as his limit.

He's also, apparently, lacking any sort of common sense or self-preservation instincts away from the football field.
Early Friday morning, Smith was arrested on suspicion of DUI in San Jose. He was involved in a one-car accident in which no one was hurt, but a breath sample taken was over the legal limit for driving. He was also reportedly found with marijuana – which he has a prescription for – and pills of some nature in the car.

This would be bad enough on its own – there is absolutely no excuse for drinking and driving. None. Yes, it seems somewhat likely, albeit speculative, that he was drinking the night before, as opposed to having a couple beers before work, and still had alcohol in his system in the morning. That still doesn't excuse it – the rest of adult society seems to manage to get to work each morning without crashing into any trees. However, if this was his first incident or the only off-field situation he had ever found himself involved in, perhaps you could say thank god no one was injured, now let's treat this alearning experience and a teachable moment.

This isn't Smith's first run-in with the law, however. Nor is it his first situation involving alcohol and cars.

In January 2012, Aldon Smith was in Miami, and was arrested for DUI. The charges were later reduced to reckless driving after he took a course involving alcohol education, community service, and fines. It's still on his record, however, and could lead to enhanced penalties for this DUI arrest, assuming it stays as such as the story develops. Apparently, the alcohol education didn't stick – or at least, he skipped the part about how long it takes the body to process alcohol and return your blood alcohol content to safe levels.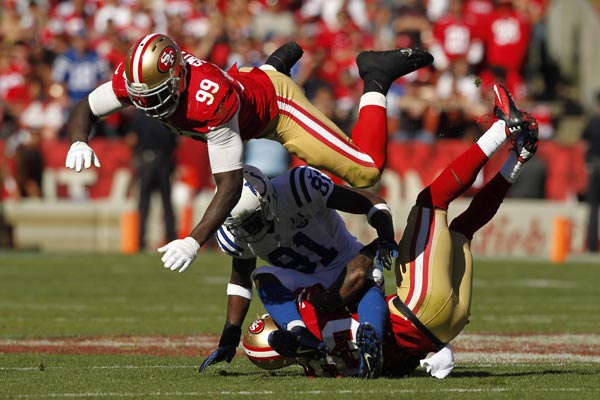 That's just scraping the surface, however. Smith's been involved in at least five off-field headline grabbing incidents just since being drafted. In June of 2012, he was stabbed while fighting at a party in his house. In September of 2012, he was involved in a car wreck as a passenger when they had to swerve to avoid a deer. In September of this year, he was sued for creating a situation that resulted in a shooting – at the same house party he was stabbed at, the lawsuit alleges, Smith knew there were gang members and people armed with weapons at the party. He's also under investigation by the Santa Clara police about some assault weapons, which he purchased legally in Arizona but did not modify to meet California's stricter gun laws.

It is possible to explain away most of these incidents in a vacuum, or at least see them in the most positive light – he was stabbed trying to prevent a fight from escalating, for example, or may not have known about the rules about modifying weapons and thus made an honest mistake. When put all together, however, it creates a disturbing pattern of someone who keeps placing himself in dangerous situations – situations where he is fortunate that no one else has been seriously injured, much less himself. He's not the only 49ers player to have incidents involving alcohol and cars – even head coach Jim Harbaugh, when he was coaching at San Diego State, was caught with alcohol in his system – but he is the only one with a repeated history of doing so.

There's just no excuse. The NFL Player Association provides a special car service for players who are too drunk to drive, available 24 hours a day, seven days a week, 365 days a year. That's even excluding the more common-man options, such as using a taxi. Smith's already been busted once for drunk driving; you'd think that would make more careful about avoiding that in the future. Instead, he seems to have extended his repertoire – not only is he a danger to quarterbacks on the field, he seems dead set on becoming a danger to everyone off the field. There is simply no excuse for anyone to have this many incidents, or to ever get behind the wheel of a car while intoxicated.None.

What will happen to Smith now?

Last season, 49ers player DeMarcus Dobbs was arrested after a single-car accident for driving under the influence. He was subsequently not brought to the 49ers next game, essentially serving a team-imposed one game suspension. He was later suspended by the NFL for one game. The circumstances ended up slightly different this time around – Dobbs missed team meetings and practices, giving the 49ers reason under the CBA to suspend him, while Smith did not.
Smith still should not have played on Sunday – it sends a bad message – but the team took the right steps after the game, putting Smith on the injured/non-football injury list and forcing him to go to rehab.  It will hurt the 49ers defense in the short term, but on-field considerations aren't the priority here – Smith's long-term future is.  It's the right decision, albeit with the wrong timing.  Here's hoping, for his sake if not San Francisco's, that Smith gets his life straightened out and his career back on track.

Perhaps some on-field punishment for his transgressions will help Smith learn that his off-field incidents are simply not acceptable. He needs to stop putting himself into situations where bad things happen, and he needs to make smarter choices. The only thing, it seems, that can stop Smith from being a force on the field is his own choices off of it.


What do you think?
We'd love to hear your comments and/or opinions. If you submit them here, other visitors can read them, rate them and comment on them. An e-mail address is not required.