The 2014 NFL Draft Quarterbacks Review
The Cleveland Browns finally finalized first-round quarterback Johnny Manziel's contract, signing the ex-Texas A&M player to a four-year deal worth about $8.25 million, plus a fifth-year team option.

With Manziel under contract, the rookie quarterback with the best chance of starting in 2014 is now fully ready to begin working out with the team.  While the Browns management continues to insist Brian Hoyer will be the starting lineup, Manziel's talent and the expectations of being a first-round pick, will likely see him behind center sooner rather than later.
There were 14 quarterbacks taken in the 2014 draft, ranging from Blake Bortles taken with the third overall pick, down to Garret Gilbert, who went in the sixth round to St. Louis.  Let's rank them in the order of how likely-and how soon-they'll become contributors in the NFL.  The player ranked first would get the starting nod the soonest and develop into a regular player the fastest, while the player ranked last is a longshot to ever see significant action in the NFL.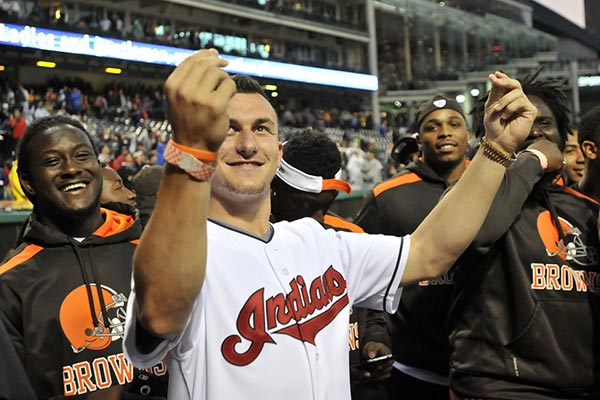 Johnny  Manziel (1st round, Cleveland Browns)
Yes, the Browns continue to insist that Brian Hoyer is the starter, but he missed all of OTAs with a torn ACL.  That's led to Manziel taking most of the first-team snaps during OTAs and minicamp.  Cleveland coach Mike Pettine said that Hoyer's lead isn't "insurmountable", so the only question is whether or not the Browns will go wait until halfway through the season or so before handing over the keys to the future of their franchise.

Offensive coordinator Kyle Shannahan, who worked with Robert Griffin III in Washington, has said that he sees some of RGIII in Manziel, and that he'll implement some zone-read plays to utilize Manziel's legs.  The odds of him repeating RGIII's amazing rookie season is low, but he should be the first contributor in this rookie class.


Teddy Bridgewater (1st round, Minnesota Vikings)
While the Vikings say they don't want to rush Bridgewater onto the field too soon, neither Matt Cassel nor Christian Ponder seem long for the starting job in Minnesota.  Bridgewater also was receiving first-team reps in OTAs, and has thus far shown no issues picking up Norv Turner's offense.
It's still stunning that Bridgewater fell down from the first quarterback taken in the draft, as he was expected to be for most of 2013.  He's already ready to work the short game, and has a great football IQ.  I know he's not of an ideal size, but he has the chance to be the best quarterback taken.


Blake Bortles (1st round, Jacksonville Jaguars)
The three first-round quarterbacks are the top three players in these rankings, albeit not in the order they were taken.  Bortles falls behind Manziel and Bridgewater because he's sitting behind Chad Henne.  While that's not enough to keep Bortles from the starting spot for any significant period of time, the Jaguars have counted on Henne to take over from Blaine Gabbert for most of the past two years, and they've been fairly comfortable with him.

I expect Bortles to get starts in 2014, but not until the end of the season, when the Jaguars have been eliminated from playoff contention.  At that point, they can start looking towards 2015 and beyond, and that's when Bortles should step into the driver's seat.  They may be hesitant on pulling the trigger on Bortles, considering the failure of Gabbert, so it's possible he could wait until 2015 to see his first start.  I doubt it, though.


Derek Carr (2nd round, Oakland Raiders)
The Raiders brought in Matt Schaub this offseason to be the starter for 2014, so I don't think Carr will see the field at all this year, barring injuries or other disasters.  Carr's been looking good in OTAs, but I don't think the Raiders would have spent the money on Schaub just to see him riding the pine for a second-round rookie.

Obviously, though, Schaub's not the future, so it's only a matter of time before Carr steps in.  Ideally, he'll spend 2014 as the second-string quarterback, working on his reads and ability under pressure, before stepping into the starting lineup  next season.


Tom Savage (4th round, Houston Texans)
Savage is definitely a developmental prospect, but he has the biggest upside of all the day-three prospects.  He also only has Ryan Fitzpatrick to beat out for a starting job, after the Texans released T.J. Yates.  He had a miserable college career, having to transfer multiple times, but he's got arm strength and size to succeed in the NFL.  He's too developmental to get on the field right away, though.


A.J. McCarron (5th round, Cincinnati Bengals)
The Bengals have an upcoming contract decision to be made on Andy Dalton, who is average in the same way that standing in lava with your hands in liquid nitrogen means that, on average, you're comfortable.  Dalton alternates brilliance with disaster, and if they can tone down some of the latter, he's worth a pretty decent contract extension.  McCarron projects to be more of a game-manager type, but if Dalton completely implodes, he could step in.  Jason Campbell's th likely backup in 2014, however.


Zach Mettenberger (6th round, Tennessee Titans)
If Jake Locker could ever stay on the field, the Titans might know what they have in him.  With weapons around him, the Titans are counting on this season being the one that finally puts Locker's lights on, and sees him develop into the player they were counting on him being.  Mettenberger is still recovering from his ACL tear, and may not be fully healthy in 2014.  If Locker doesn't turn it on this season, though, we could be looking at Tennessee's 2015 starter, or at least a competitor for the role.


Jimmy Garoppolo (2nd round, New England Patriots)
I like Garoppolo a lot.  He may not be the best under pressure, but he was efficient in college, with a good all-around athletic profile and the ability to read defenses.  He gets the ball out quick, and in an offense based around short passes, he could develop into a star player.  He's also sitting behind Tom Brady, and thus will likely never see the field in New England.  It may take until his rookie contract expires in 2017 before he sees the field anywhere.


Tajh Boyd (6th round, New York Jets)
Will Boyd see the field in 2014?  No; Geno Smith was a first-round pick last season, and they just added Michael Vick for depth as well.  He also needs to work on his mechanics significantly, to the point where he almost has to start from scratch.  On the other hand, as recently as last offseason, Boyd was viewed as a top-ten pick, and I think he's got the raw talent to find his way onto a roster at some point.  He's a huge project, but one that could pay large dividends in the long run.


Logan Thomas (4th round, Arizona Cardinals)
Carson Palmer isn't going to stick around forever.  He's due $10 million in 2015, and a cheaper replacement would definitely be a good thing for them-Palmer's average at this point in his career, but no more than that.  Is Thomas that cheaper quarterback?  It's hard to say; he has enough accuracy issues that it's a serious consideration to convert him to tight end.  If he does stay at quarterback, however, he's got a canon for an arm, and if he's coached up right, could develop into something.


Aaron Murray (5th round, Kansas City Chiefs)
Alex Smith's contract situation is up in the air, making the quarterback situation for the 2015 Chiefs a question mark, as well.  In the absence of Smith, it would more likely be Chase Daniel than Murray taking over right away, though Murray is recovering well from his torn ACL.  He's undersized for the NFL, and while the success of Russell Wilson makes that less of a concern, Murray's average arm, small hands, and lack of mobility might limit his ceiling in the NFL.


Keith Wenning (6th round, Baltimore Ravens)
Wenning actually has a decent shot to win the no. 2 quarterback job behind Joe Flacco, as he's only battling with Tyrod Taylor.  The Ravens aren't going away from their $120 million quarterback any time soon, however, so that's about Wenning's ceiling.


David Fales (6th round, Chicago Bears)
Similar to Wenning, Fales can battle his competition (Jordan Palmer and Jerrod Johnson) for backup duties right out of the gate.  Jay Cutler is also financially locked in as a starter, and is a better player than Flacco to boot, so he has even less of a chance of seeing the field.


Garret Gilbert (6th round, St. Louis Rams)
The last quarterback picked, Gilbert is by far the least likely player of the bunch to develop into a pro backup, much less a starter.  He has no experience in a pro-style offense, and lost his job in Texas.  He was a five-star recruit out of high school, but he's a longshot to make the Rams roster, much less contribute on the field.

What do you think?
We'd love to hear your comments and/or opinions. If you submit them here, other visitors can read them, rate them and comment on them. An e-mail address is not required.
The 2014 NFL Draft Quarterbacks Review to NFL Football Blog