Terrelle Pryor Shows the Heartless Side of the NCAA
"I was telling the NCAA, 'Please, anything that you can do. I gave my mother this so my sister wouldn't be cold, so my mother wouldn't be cold.' They didn't have any sympathy for me."
With his words, Terrelle Pryor instantly struck back at the NCAA and indicted the heartlessness of a system that puts many college stars in an impossible position.
The NCAA's rules forbid any kind of transaction by college players to raise additional money for their own upkeep or that of their families. In theory that is because their full-ride athletic scholarships will suffice for their needs and college sports should be free of capitalism by individual athletes. But in reality, the scholarships are not even enough to pay for the athlete's own cost of living, let alone of their often struggling families.
Pryor admits to selling memorabilia to, in his words, "to pay my mother's gas bill and some of her rent." Exactly how much money he earned is in dispute; Pryor admits to earning a few thousand dollars but other informants claim it may have been $20,000 or more over the course of the year. What is clear is Pryor felt his family was suffering and he could not stand aside and watch while doing nothing.
But, as he said, the NCAA had little sympathy. Rules are rules. He broke them, setting off a chain of events that led to the NCAA's investigation into Ohio State, the dismissal of longtime coach Jim Tressel, and the sanction of a legendary program.
All that for less than the price of one full year of athletic scholarship. Isn't it necessary, then, to explore ways to make the NCAA's rules less heartlessly broad and thorough?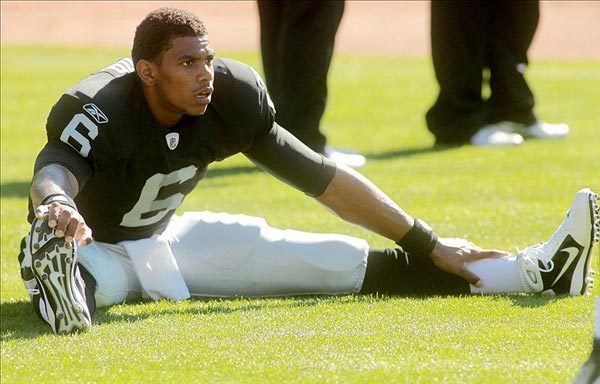 Oakland Raiders quarterback Terrelle Pryor (6) stretches before the start of the game against the New Orleans Saints at O.co Coliseum. Photo Courtesy By: Cary Edmondson-US PRESSWIRE.
---
There are many potential solutions to the NCAA's growing compliance problem. On the extreme side, some suggest paying college athletes like their professional counterparts. But that would take away college football's unique factor: it's college and it is about schools, loyalty, and love of alma mater. Turning the college game into a less skilled version of the NFL isn't the answer.
Instead, a more nuanced application of the NCAA's rules would provide the same solution without the drastic cost to the popularity of the college game. Providing an annual expense stipend could be part of that answer. Letting students sell their services in a limited way to raise cash, autographs and small appearances for example, could be another harmless way to let athletes protect themselves without harming the sport.
The potential solutions abound. But right now, there is only heartlessness.
And that needs to change.
---
What do you think?
We'd love to hear your comments and/or opinions. If you submit them here, other visitors can read them, rate them and comment on them. An e-mail address is not required.
---
From Terrelle Pryor Shows the Heartless Side of the NCAA to NCAA Football Blog | Sports Blog | NFL Football Blog | NFL Football Archives | College Football Archives | MLB Baseball Blog | College Baseball Blog | MLB Baseball Archives | NBA Basketball Blog | NCAA Basketball Blog | NBA Basketball Archives | NCAA Basketball Archives | Fantasy Football | Fantasy Basketball | Fantasy Baseball | Soccer Archives | Olympics Archives | Stupid Athletes Archives | Other Archives | Football Forum | Basketball Forum | Baseball Forum | NFL Football Store | NBA Basketball Store | MLB Baseball Store | NCAA Football Store | NCAA Basketball Store | NCAA Baseball Store | Fatheads | NFL Football Tickets | NBA Basketball Tickets | MLB Baseball Tickets | NCAA Football Tickets | NCAA Basketball Tickets | NCAA Baseball Tickets |
---
Home Page
About Us | Contact Us | Site Search | Advertise | Terms of Use |
---