Teams in Turmoil: The Brooklyn Nets and Washington Wizards
By Lorenzo Tanos
Looking at the NBA scene right now, two of the most underwhelming teams right now that aren't the Los Angeles Lakers are both in the Eastern Conference. And one of them, at least for the time being, has a winning record.
Expected to really come together in 2012-13 and make a huge push in their new city, the Brooklyn Nets have been all over the place. And I mean this in terms of chemistry, in terms of lineup rotations, in terms of off-court incidents. After 25 games, Deron Williams is playing some of the most inconsistent basketball of his life, is evidently pressing in many cases, and simply not playing like the franchise point guard he should be. Joe Johnson isn't playing that bad, but his rebounding is down and he's yet to consistently pick up the slack should teammates underperform. And there are the usual injury issues with Brook Lopez, who's still a very poor rebounder for a starting center. However, the biggest letdown on the Nets this year, and the biggest clubhouse cancer, might I add, is Kris Humphries. Just recently, he was demoted to the bench in favor of Reggie Evans, a man who's almost useless on offense but very valuable as a defender and especially as a rebounder.
Humphries, a double-double machine in previous years, is an average defender at best. But the main issue here, as I see it, is his conduct. On court, he played a key role in the Celtics-Nets brawl last month. Off court, he's bragged about his "battle scars" from aforementioned fracas and just this week made a scene in a New York club when a DJ taunted him by playing one Kanye West song after another; West is the new boyfriend of Humphries' ex-wife Kim Kardashian. I've yet to dig up any news on why Humphries currently isn't playing in the ongoing Nets-Sixers game, but I won't be surprised if it'll turn out to be a DNP-CD. K-Humph's sudden trip to Avery Johnson's doghouse, to summarize, is shocking and disappointing.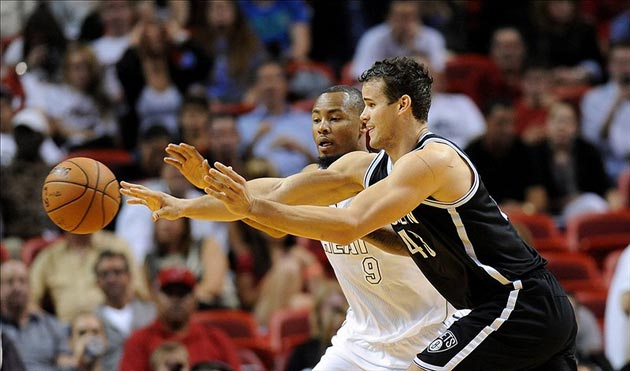 ---
Moving over to the Wizards, they're 3-22 and struggling with all sorts of injury problems. Only Jordan Crawford and EmekaOkafor have played all 25 games, and while Crawford's playing solidly (if mouthing off too much about his abilities), Okafor's slide to obscurity is continuing. Perhaps the Wizards should give Kevin Seraphin a full-time starting job? Hopefully John Wall's eventual return, which may not be too far off, would help the Wizards at least avoid a win total in the teens for 2012-13. But what's puzzling is why Washington, a team that desperately needs depth in its lineup, waived Earl Barron and Shaun Livingston.
Granted, Barron is a certified NBA journeyman and Livingston isn't half the player he was before his career-threatening injury several years back, but they did play key roles off the bench. Maybe Shelvin Mack, recently called up from the D-League, would do better than Livingston in providing that much-needed point guard depth. Oh, and before I forget, Jan Vesely is looking more and more like the next NikolozTskitishvili.
It's not too late for Humphries to make an attitude adjustment and Deron Williams to regain his form, and it's not too late either for the Wizards to find a lineup that works and survive this round of injury woes. Here's hoping they're able to do that before the 2012-13 season reaches its halfway mark.
---
What do you think?

We'd love to hear your comments and/or opinions. If you submit them here, other visitors can read them, rate them and comment on them. An e-mail address is not required.
---
From Teams in Turmoil: The Brooklyn Nets and Washington Wizards to NBA Basketball Blog | Sports Blog | NFL Football Blog | NCAA Football Blog | NFL Football Archives | College Football Archives | MLB Baseball Blog | College Baseball Blog | MLB Baseball Archives | NCAA Basketball Blog | NBA Basketball Archives | NCAA Basketball Archives | Fantasy Football | Fantasy Basketball | Fantasy Baseball | Soccer Archives | Olympics Archives | Stupid Athletes Archives | Other Archives | Football Forum | Basketball Forum | Baseball Forum | Sports Trivia Questions | NFL Football Store | NBA Basketball Store | MLB Baseball Store | NCAA Football Store | NCAA Basketball Store | NCAA Baseball Store | Fatheads | NFL Football Tickets | NBA Basketball Tickets | MLB Baseball Tickets | NCAA Football Tickets | NCAA Basketball Tickets | NCAA Baseball Tickets |
---
Home Page
About Us | Contact Us | Site Search | Advertise | Terms of Use |
---