Tale of a Top Prospect: Andrew Wiggins
By Aaron Sass

If you look at most NBA mock draft boards, you'll see on almost every single one of them that Andrew Wiggins is expected to be a top 3 draft choice if he's not taken number one overall.
After Kansas lost to Stanford on Sunday, Wiggins faced a lot of criticism based on his performance, and how he seemingly disappeared and was shut down. Wiggins only attempted 6 field goals, making just 1, and went 2 of 2 from the free throw line. He finished with just 4 points.

One of the labels on Wiggins is that he's too passive, and that was clearly apparent in what was the biggest game of the year for the Jayhawks.

Because of his lackluster performance, many people are calling for Wiggins to stick around for one more year, which is unlikely. He's still going to be a top 3 draft choice in June.

Do I think Wiggins should stay another year? No. Although I'm a big proponent of players staying in school and developing their skills for at least three years because you get more polished pros that way, I think Wiggins needs to leave, and he probably will.

One of the arguments for him leaving is that playing for KU coach Bill Self is somewhat of a negative, as Self preaches more of a team style rather than showcasing his superstar. Also, it's been a very long time since Kansas has produced an all-star caliber player.
 
The last player who was a Kansas alum that turned out to be an all-star was Paul Pierce, who was drafted in 1999, and is currently on his last leg. Under Self, the program has never produced an all-star player. Self took over in 2003, and Kirk Hinrich has arguably been the best player to come out of Kansas since that time.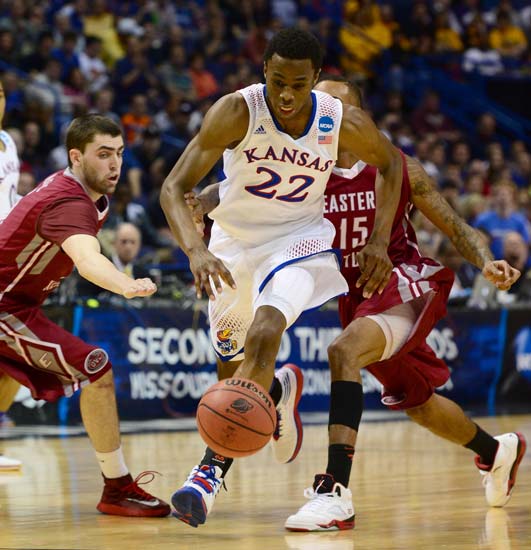 Staying at Kansas would either hurt Wiggins's draft stock, or at the very best it just won't change. I'm of the belief that no matter how long he stays in school, he'll never end up being the obvious number one pick, and if you're not the obvious number one pick, you can't get much better than being projected in the top 3.

Former KU power forward Darrell Arthur argues that playing for Bill Self makes players a better long-term pro. And when you look at the players Self has coached, that seems to be the case. Even though Kansas hasn't produced any stars under Self, they've produce some pretty good NBA players.

Teams aren't drafting Wiggins to be a pretty good pro, they're drafting him and expecting him to be a star. In the 11 years that Self has coached at KU, players who decided to stay saw their draft stock plummet. While I'm not too sure if that will happen to Wiggins if he stays, I have to believe that it will based on the history of it happening.

In most cases, the people arguing for a player to stay in school would be correct. However, in Wiggins's case, they're not. He needs to get out of there and start his NBA career. If he goes to the right team, like Philadelphia for example with Michael Carter-Williams and a healthy Nerlens Noel, he could very well make a big impact right away.

It's pretty much a slam dunk (pardon the pun) that Wiggins is heading to the NBA. But if I was advising him and he was still pondering it, I'd tell him to enter the draft. Things aren't going to get any better for him if he stays in school.


What do you think?

We'd love to hear your comments and/or opinions. If you submit them here, other visitors can read them, rate them and comment on them. An e-mail address is not required.
Tale of a Top Prospect: Andrew Wiggins to NBA Basketball Blog