Super Bowl XLV Review
30-4. The statistics don't lie. Midway the third quarter, as Green Bay led Pittsburg 21-17, FOX broadcasters Troy Aikman and Jon Buck told viewers that teams who turn the ball over three times or more were 4-30 in Superbowl games. The comment came moments after Rashard Mendenhall fumbled a carry well inside Green Bay territory and squandered the Steelers' last serious opportunity to take the lead and bring the Lombardi Trophy home. After it, Pittsburg never seemed to really be capable of coming back.
That 4-30 statistic may not have buried the Steelers by itself but it makes one crystal clear point: sloppy play loses football games. It's that simple: the Steelers didn't take care of the football and that is why they went home losers. Pittsburg did not play an awful game. Ben Roethlisberger had his moments of brilliance. He even through a laser pass to Mike Wallace late in the fourth and then tossed a two point conversion pitch to bring the Steelers within three. That said, the Steelers committed three turnovers. The first, a sloppy throw that turned into a pick six, came in the first quarter and set the early tone. The other two were little better and the twenty one points that Green Bay scored off those turnovers clearly decided the game. All the other statistics; combined yards, passing yards, total sacks, and the rest, paled in comparison to that one mark: 0-3. Even with everything else fairly close, those turnovers kept Green Bay ahead throughout and left them enjoying the confetti shower.
We've got your Aaron Rodgers Jersey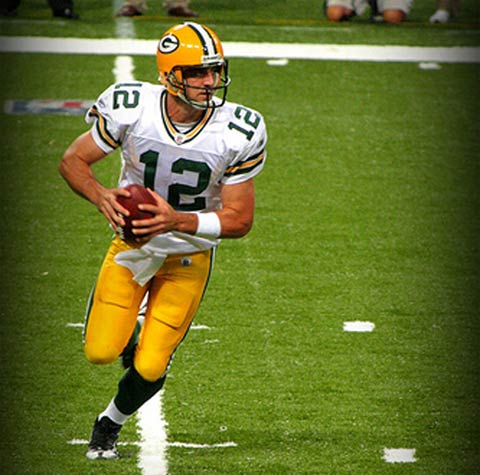 Thanks to Darin House - MOmilkman from Flickr.com for this great picture of Aaron Rodgers.
---
Green Bay played a clean, well executed game. The Packers were not exceptionally brilliant or historic, they did not score touchdowns on several possessions in a row, and they certainly did not embarrass the Steelers defense. But they didn't make any crucial mistakes and managed to shred Pittsburgs' defensive schemes for big plays when they needed them. Taking advantage of the Steelers' uncharacteristic mistakes, Aaron Rodgers used his excellent field position to put up twenty-one points after turnovers and another touchdown on top of that. Along the way, he racked up over three hundred yards passing and three touchdowns without a single interception or fumble and won a Superbowl MVP for his efforts. The game was about execution, Rodger's executed, and now the Lombardi Trophy is returning home…for the year at least.
Visit Ben Roethlisberger Jersey
Looking forward, this could be the last football game played for quite a while. Although Roger Goodell, the NFL Commissioner, told reporters this week that talks between the NFL and the Players Union were progressing, a lockout remains very possible. Most players simply do not want biting salary reductions and an eighteen game season. Unless they change their bargaining position quickly, the NFL owners may simply lock them out. After all, polite commentary aside, the owners must love the potential opportunity to crush the Players Union once and for all. Very few players save their money properly and NFL owners know it. A lockout presents them with the chance to push the players to sign any agreement out of desperation. Fans should not underestimate the chance that a lockout will really happen and there won't be any football next season.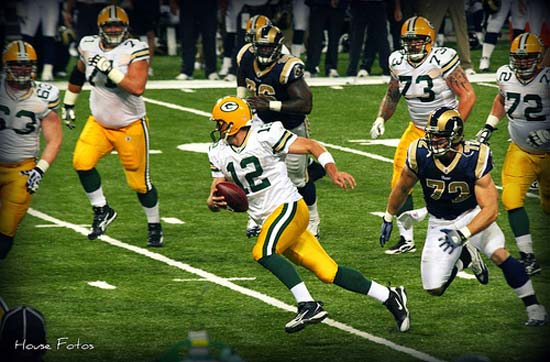 Thanks to Darin House - MOmilkman from Flickr.com for this great picture of Aaron Rodgers (#12).
---
Here's an article about Greg Jennings Jersey
That said, enough gloom and doom. Football may be gone for a good part of next season but we don't know that yet. In the meantime, we can congratulate the Packers on a tough win in a compelling game and salute the NFL for presenting us with an excellent Superbowl XLV. After all, even the halftime show was decent this year!
Looking for a Troy Polamalu Jersey
Let everyone in The Best Sports Community know what you thought of Superbowl XLV! Post in the forum, write comments, and tell us what you would like commentary about. Also, make sure to look out for The Best Sports Blog's offseason articles on NFL Free Agency, the NFL Draft, and other major issues in the football world!
Check out our hot Super Bowl articles: Steelers - Packers 2011 Super Bowl Preview; Super Bowl Trivia Questions; and Top Super Bowl Ads.
Check out our Best All Time Pro Sports Team
---
What do you think?
We'd love to hear your comments and/or opinions. If you submit them here, other visitors can read them, rate them and comment on them. An e-mail address is not required.
---
From Super Bowl XLV Review to NFL Football Blog | Sports Blog | NCAA Football Blog | NFL Football Archives | College Football Archives | MLB Baseball Blog | College Baseball Blog | MLB Baseball Archives | NBA Basketball Blog | NCAA Basketball Blog | NBA Basketball Archives | NCAA Basketball Archives | Fantasy Football | Fantasy Basketball | Fantasy Baseball | Soccer Archives | Olympics Archives | Stupid Athletes Archives | Other Archives | Football Forum | Basketball Forum | Baseball Forum | NFL Football Store | NBA Basketball Store | MLB Baseball Store | NCAA Football Store | NCAA Basketball Store | NCAA Baseball Store | Fatheads | NFL Football Tickets | NBA Basketball Tickets | MLB Baseball Tickets | NCAA Football Tickets | NCAA Basketball Tickets | NCAA Baseball Tickets |
---
Home Page
About Us | Contact Us | Site Search | Advertise | Terms of Use |
---