Strategizing for the NFL Draft
Do you often wonder how your team should pick in the NFL draft? What the right strategy should be for your franchise?
Every NFL team has a different drafting strategy. Former Oakland Raiders owner Al Davis was famous for valuing speed, agility, and pure athleticism over every other trait. Former Chicago Bears GM Jerry Angelo targeted talented defensive linebackers and ends in the mid-rounds. But some strategies are better than others so how do you know if your team is performing well on draft day?
The best draft strategy is one that mixes core rules with flexibility. The first core rule should be that several positions are more valuable than the others; more essential to building a good team. They are, in order, quarterback, left offensive tackle, and defensive pass rusher (either a defensive end or outside linebacker depending on the system). These are the critical positions: if you don't fill them with a good player there is little chance that your team will advance deep into the playoffs.
Think about it: what team can win without a quarterback? If that quarterback's blindside is not protected, how can he be consistently effective? And, if you cannot put pass rushing pressure on the opponent's quarterback, you will get shredded by elite passing teams. That is why the top picks are usually quarterbacks, blindside protectors, and elite pass rushers; terrible teams picking in the top-five of the draft usually have a critical need at one of those positions.
In this draft, there are four elite players at these positions: quarterbacks Andrew Luck and Robert Griffin, left tackle Matt Kalil, and pass rusher Quentin Couples. It's no coincidence that Luck, Griffin, and Kalil should go 1-2-3 in the draft order and Couples will be a top-10 selection. In previous years, when even better pass rushers were available, they went higher; for example outside linebacker Von Miller went No. 2 overall to the Denver Broncos last year.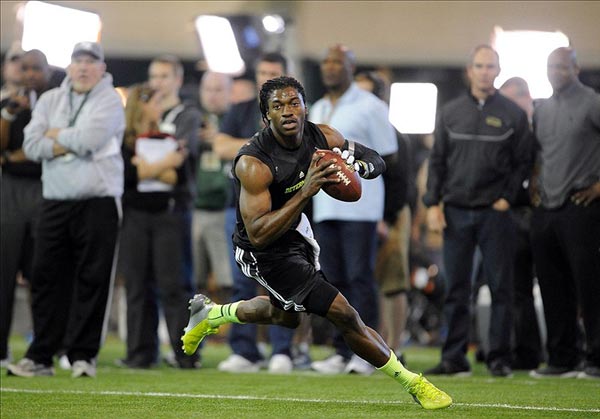 Baylor Bears quarterback Robert Griffin III (10) rolls out during the Baylor pro day at the Allison Indoor Facility. Photo Courtesy By Jerome Miron-US PRESSWIRE
---
So, NFL draft strategy begins around the offensive and defensive lines. Teams need to secure the critical spots there, along with quarterback, to be effective. After that, they can look at specialized positions and team needs. Beyond the lines, the next two critical positions are cornerback and wide receiver. While not foundational, these skill positions are very important and teams that fill them with elite players have a much better chance at success.
For example, Detroit's top-notch offense depends heavily on super-star wide receiver Calvin Johnson while Chicago Bears quarterback Jay Cutler struggled without a top pass catcher. Cornerbacks are equally important: New England realized how much they needed an elite defensive back when Eli Manning shredded them in the closing minutes of the Super Bowl.
It's only after filling these critical positions that teams should look strategically at individual needs for other spots on the field. Some positions, like guard, full-back, tight end, linebacker, and safety can usually be targeted later in the draft; teams can look at this position in Rounds 2-3 and still find a difference-making player to draft. For example, Seattle drafted guard John Moffitt in the fourth round last year and he could be a 2012 opening day starter.
So, watch and tell us: did your team draft strategically this year?
Check out the Articles
---
What do you think?
We'd love to hear your comments and/or opinions. If you submit them here, other visitors can read them, rate them and comment on them. An e-mail address is not required.
---
From Strategizing for the NFL Draft to NFL Football Blog | Sports Blog | NCAA Football Blog | NFL Football Archives | College Football Archives | MLB Baseball Blog | College Baseball Blog | MLB Baseball Archives | NBA Basketball Blog | NCAA Basketball Blog | NBA Basketball Archives | NCAA Basketball Archives | Fantasy Football | Fantasy Basketball | Fantasy Baseball | Soccer Archives | Olympics Archives | Stupid Athletes Archives | Other Archives | Football Forum | Basketball Forum | Baseball Forum | NFL Football Store | NBA Basketball Store | MLB Baseball Store | NCAA Football Store | NCAA Basketball Store | NCAA Baseball Store | Fatheads | NFL Football Tickets | NBA Basketball Tickets | MLB Baseball Tickets | NCAA Football Tickets | NCAA Basketball Tickets | NCAA Baseball Tickets |
---
Home Page
About Us | Contact Us | Site Search | Advertise | Terms of Use |
---