Steve Nash NBA
In his decade plus in the NBA, Steve Nash has become a basketball icon. He is a rather unique Hall of Fame player even before he steps onto the court-he's clean-cut, Canadian, and vegetarian (doesn't exactly bring Allen Iverson to mind does it?)-and when he actually begins to play he converts even the naysayers. Even if Nash does not win an NBA championship, he still deserves credit for changing what point guards mean to the game of basketball. Let's take a closer look at Steve Nash's incredible career:
Steve Nash was actually worn in Johannesburg, South Africa but he settled in Canada at an early age. After a successful high school basketball career where he showed speed and an uncanny ability to pass the ball, Nash was awarded a scholarship to Santa Clara University. In his four years there, the school made three NCAA tournament appearances (unprecedented for Santa Clara) and Nash was universally recognized as one of the best players in the college game. After winning two West Coast Conference Player of the Year awards Nash declared for the 1996 NBA draft. However, despite his speed and special passing ability, scouts were concerned about his size, speed, and athleticism so he slid all the way to the Phoenix Suns at the 15th pick in the NBA Draft.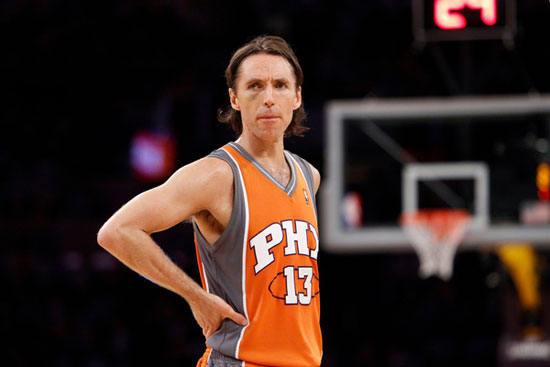 Steve Nash (13) during game 2 of the NBA Playoffs Western Conference Finals between the Phoenix Suns and the Los Angeles
Lakers at the Staples Center in Los Angeles, CA.
---
Early on, Nash seemed to prove his naysayers correct because he failed to make an impact in his first two years in the NBA. However, after Phoenix traded him to Dallas, Nash began to emerge. He became an NBA All Star with the Mavericks and led them to regular playoff appearances. But, in 2004, Nash became a free agent and the Suns offered him a massive contract. In a surprising move, Mavericks owner Mark Cuban refused to match the contract and Nash departed. Since, Cuban has admitted that letting Nash go was a catastrophic franchise mistake but lamented, "why couldn't he play like an MVP for us?
After his return to Phoenix, Nash truly came into his own. Freed to play in Mike D'Antoni's fast-paced offense and constantly nursed by the Sun's legendary training staff, Nash began to put up incredible numbers. He won back-to-back league MVP awards in 2005 and 2006 by averaging over 18 points and 10 assists with incredible shooting percentages and leading his team to over sixty wins. However, the Sun's aversion to defense, lack of size in the post, and inability to close out games against top teams limited their ceiling and they failed to ever advance to the NBA Finals. In 2008, Mike D'Antoni left for New York and, with Amare Stoudemire's departure in free agency in the summer of 2010, Phoenix's title window officially closed.
Steve Nash (13) and Derek Fisher (2) during game 2 of the NBA Playoffs Western Conference Finals between the Phoenix Suns
and the Los Angeles Lakers at the Staples Center in Los Angeles, CA.
---
We've got your Steve Nash Jersey
However, despite his advancing age, Nash has not yet slowed down. He continues to put up All Star level numbers and has only one year remaining on his contract. Many Nash fans hope that he will finally leave Phoenix and try to win an NBA title elsewhere just before the end of his career. Indeed, Nash is so popular and considered so loyal that Phoenix fans are often reported to say that they would feel no animosity whatsoever if he chose to leave to finish out his career. That loyalty alone makes him an incredible player and, when he does retire, basketball will lose a unique icon.
---
What do you think?

We'd love to hear your comments and/or opinions. If you submit them here, other visitors can read them, rate them and comment on them. An e-mail address is not required.
---
From Steve Nash NBA to NBA Basketball Blog | Sports Blog | NFL Football Blog | NCAA Football Blog | NFL Football Archives | College Football Archives | MLB Baseball Blog | College Baseball Blog | MLB Baseball Archives | NCAA Basketball Blog | NBA Basketball Archives | NCAA Basketball Archives | Fantasy Football | Fantasy Basketball | Fantasy Baseball | Soccer Archives | Olympics Archives | Stupid Athletes Archives | Other Archives | Football Forum | Basketball Forum | Baseball Forum | NFL Football Store | NBA Basketball Store | MLB Baseball Store | NCAA Football Store | NCAA Basketball Store | NCAA Baseball Store | Fatheads | NFL Football Tickets | NBA Basketball Tickets | MLB Baseball Tickets | NCAA Football Tickets | NCAA Basketball Tickets | NCAA Baseball Tickets |
---
Home Page
About Us | Contact Us | Site Search | Advertise | Terms of Use |
---