NFL Football: Solving the Minnesota Vikings' Problem with Percy Harvin
The football year is just in the beginning stages, but there are already players that are unhappy. One such player is Vikings receiver Percy Harvin. Harvin, who has two years left on his rookie contract, isn't just unhappy about money. According to multiple sources he's not pleased with the direction Minnesota is going. Harvin is a big part of the Vikings offense, along with running back Adrian Peterson. Both are recovering from offseason surgery, Harvin coming off shoulder surgery. Peterson is hoping he can talk Harvin into wanting to be part of the future in Minnesota, but it is unclear if Harvin wants to be part of this franchise anymore.
Harvin reportedly has requested a trade from Minny, who would be losing its No. 1 wide receiver. According to ESPN, the Vikings have "no interest" in trading the former Florida Gator. At this time no one knows exactly what Harvin is upset about, but it has to be big if he has requested a trade or a bunch of small issues that have just piled up. Harvin tweeted that his problem isn't about money; he's scheduled to make around $2.5 million over the next two years. He did report to minicamp on Thursday, so things are starting to get back to normal for the Vikings, but I'm sure this issue hasn't disappeared. Harvin also tweeted this from his official Twitter account after practice on Thursday: "I'm really clueless on the crazy reports...had great prac today ....to all my real fans and real vikes fans see u at Mankato..salute"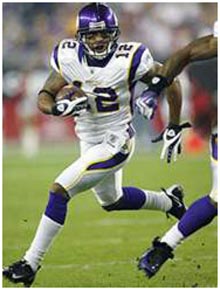 Courtesy of www.sportsillustrated.cnn.com
Minnesota could always franchise Harvin after his contract runs out, but we all know that's not an automatic fix for a team. With his nagging migraines and this shoulder surgery, signing Harvin long-term isn't a slam dunk for the Vikings or else they might have already wrapped him up for a few more years.
I'm not saying it's the right move to trade the star receiver – who also aids Peterson in the running attack – but if he holds out he doesn't help out the team. With Minnesota rebuilding on offense around second-year quarterback Christian Ponder, Harvin may not want to be part of this rebuilding process. This is bad news for the Vikings as Harvin was the team's leading receiver with 87 catches for 967 yards and six touchdowns. No one else on the team reached 40 receptions or 500 yards, so they'd have a big void to fill if they do decide to trade Harvin.
And while the smart decision will be keeping Harvin, knowing he isn't happy general manager Rick Spielman has to explore the possibility of shipping Harvin to a team that can give the Vikings something substantial in return. Obviously Harvin is a versatile player who can help out the passing and running game of any team in the NFL. So what would the asking price be for Harvin? I'm guessing it'd be pretty steep, say a first round pick paired with a second or third rounder. The team that would make this trade would be in dire need for a receiver and willing to give up a lot to improve. Minnesota likely won't make a move anytime soon, but with two years left on his contract the Vikings risk losing Harvin and getting nothing in return – if they can't fix whatever issues the receiver has.
So for the sake of speculation, what teams in the league would make this move for Harvin? I can think of a few teams that could be a potential destination for Harvin. While there are plenty of teams that would love Harvin's talents, these are just a few that have big hole that needs to be filled at the receiver position.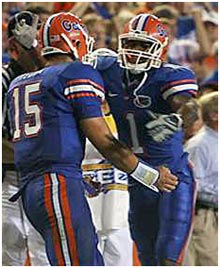 Courtesy of www.gatorcountry.com
The New York Jets could use another receiver alongside Santonio Holmes. They did draft Stephen Hill out of Georgia Tech in April's draft, but he can't be counted on to be an instant star. Having a legitimate threat teamed up with Holmes would make the Jets a contender, especially with Harvin helping out the running attack too. And remember Harvin lined up with Tim Tebow at Florida, so if he somehow takes over as the starter, his favorite target would be his old friend from college.
Another team that needs help at receiver is the Broncos. Denver has some young receivers and quarterback Peyton Manning will make them all better. But if he can get a proven receiver like Harvin, Manning and the Broncos would a player in the AFC West.
Cleveland is reloading on offense – drafting Trent Richardson and Brandon Weeden in the first round of this year's draft – but don't have a go-to receiver. Harvin would make the younger receivers on the Browns better, but not make them a playoff contender.
Carolina would be an interesting fit for Harvin. Teaming up with future Hall of Famer Steve Smith and second-year signal caller Cam Newton. Seeing how the Panthers don't seem to be interested in veteran Plaxico Burress, they still have a void in the receiving corps.
The Texans would love to have another playmaker in the passing game, especially with Andre Johnson having some injury concerns. Houston wouldn't need Harvin to produce on the ground though, so this may not be the best fit for him; but I'm sure the Texans would welcome him with open arms.
---
What do you think?
We'd love to hear your comments and/or opinions. If you submit them here, other visitors can read them, rate them and comment on them. An e-mail address is not required.
---
From NFL Football: Solving the Minnesota Vikings' Problem with Percy Harvin to NFL Football Blog | Sports Blog | NCAA Football Blog | NFL Football Archives | College Football Archives | MLB Baseball Blog | College Baseball Blog | MLB Baseball Archives | NBA Basketball Blog | NCAA Basketball Blog | NBA Basketball Archives | NCAA Basketball Archives | Fantasy Football | Fantasy Basketball | Fantasy Baseball | Soccer Archives | Olympics Archives | Stupid Athletes Archives | Other Archives | Football Forum | Basketball Forum | Baseball Forum | NFL Football Store | NBA Basketball Store | MLB Baseball Store | NCAA Football Store | NCAA Basketball Store | NCAA Baseball Store | Fatheads | NFL Football Tickets | NBA Basketball Tickets | MLB Baseball Tickets | NCAA Football Tickets | NCAA Basketball Tickets | NCAA Baseball Tickets |
---
Home Page
About Us | Contact Us | Site Search | Advertise | Terms of Use |
---