San Francisco 49ers Quickly Right the Ship to Contention
The sky is falling! The sky is falling! It's the first losing streak in the history of the Jim Harbaugh era, and the San Francisco 49ers are falling under the horrific Super Bowl losers curse. Clearly, they should have kept Alex Smith and traded Colin Kaepernick, and this team is going nowhere this y...
One moment while the hyperbole realigns itself after a 35-11 rout over St. Louis...

Take that, non-believers! The San Francisco 49ers have clearly fully recovered from what will be regarded as a minor blip on their way to their sixth Lombardi trophy. Frank Gore isn't washed up at all – you saw him rumbling for 153 yards like a young kid out there. He could have had 300 had they not taken their foot off the gas at the end of the game. No one can stop this team this year..

Alright, now that we've gotten all of that out of our systems...

The 49ers certainly helped calm down some panicking fans with their Thursday night trip to St. Louis. Over the past two weeks, they had been outscored 56-10 and looked to be floundering in every aspect of the game. They were in the bottom quarter of the league in both points scored and points allowed, and were beset by missing players, either by injury (Michael Crabtree, Patrick Willis, Vernon Davis) or off-field concerns (Aldon Smith). It wasn't just the fact that they lost games – after all, Seattle and Indianapolis were both playoff teams last season – but it was how they lost them.

The Indianapolis game in particular was terrifying for a fan, because the Colts just took over in the second half in San Francisco – they dominated the pace, imposing their will on a team that just has not gotten beaten around like that in recent history, especially at home.

The easy narrative, then, is that the 49ers are now back, but is that an overreaction to one game against a team like the Rams, who do not appear to be very good this season? For that matter, isn't it an overreaction to say they ever went away in the first place?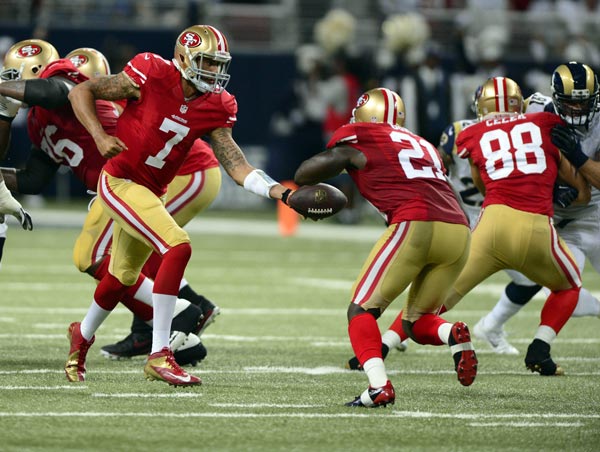 Coming into this game, I felt like the 49ers were playing like a 6-10 squad, and I stand by that.  When you turn the ball over seven times in two games, and throw zero touchdown passes, you're not going to win very many games, even if that is against two playoff teams from last year. What that hides, however, is that most teams have games where they play like 6-10 teams. Take last year's 49ers squad, for example, and reshuffle the schedule somewhat. Say, after Alex Smith gets injured in week 10, Kaepernick comes in and, instead of playing the banged up Bears, has his first game against the Seahawks, where the 49ers got crushed to the tune of 42-13.

The next week, they get a rematch with the Rams rather than the Saints game, and lose a squeaker in overtime. Over those two games, the 49ers threw one touchdown while turning the ball over three times. The rushing game was entirely non-existent in the Seahawks game, and the loss to the Rams had people calling for the return of Alex Smith. If you're evaluating the squad the morning after two such losses, what can you say? Without knowing how the rest of the season turns out, you'd have to chalk things up to the team not being as good as initially thought.

Every team goes through moments when they don't look like contenders, including each and every playoff team from 2012. The fact that an injury-ravaged 49ers squad – a situation they have yet to go through in the shockingly healthy Jim Harbaugh era – would lose back to back games against a couple of playoff squads from a year ago doesn't all of a sudden make them a bad team – it means they played like a bad team. It was something that absolutely had to be corrected if they want to call themselves contenders, but if these losses had happened in, say, weeks 4 and 14, we wouldn't draw any conclusions from them. It's the small-sample size problem – we see two data points, and we try to make a trend out of them. Sometimes, you just have two bad days in a row.

So, with the rout, we can say everything's fixed, and they're fine, right? Well, not so fast.The Rams aren't exactly the '72 Dolphins out there – while a lot of people had them as their sleeper team entering the season, they barely squeaked past the Cardinals, allowed 182 receiving yards to Julio Jones, and allowed 175 rushing yards to DeMarco Murray. A three-or-more score victory is exactly what's expected out of a team with Super Bowl aspirations.

Nor did the game start out looking like anything out of the pattern of the past two games – the 49ers managed a whopping 25 yards in the first quarter, falling behind the Rams on a Greg Zuerlein kick. Nor was the fourth quarter anything to write home about offensively, with two punts and a fumble to go alongside touchdown drives on shortened fields – though that is somewhat chalked up to some of the starters being out of the game as the 49ers attempted to run down the clock.

Those second and third quarters were absolutely fantastic, however – as soon as Frank Gore burst through the line on fourth-and-inches and made his way towards the end zone, the 49ers found the gear they'd been lacking since week 1. They don't need Kaepernick to throw for 300+ yards when the ground game is chewing up 200+ -- without any sign of the read-option, it should be noted – and the defense is stifling the opponents, holding the Rams to only 18 yards rushing and allowing NaVorro Bowman to make plays all over the field.

What the game was, really, was getting their feet back underneath them. They took two body-blows in a row, with an expected loss in Seattle and an unexpected one against the Colts. They knew, coming in, that the schedule would be rough to begin the season, and that things would let up a bit starting now. They played poorly, and it was time to put that aside and move forward, and Thursday night's game was exactly that – not a revitalization of a moribund team, not some secret sauce they were lacking, but putting the mistakes of the past behind them and going back to playing safe, technically sound football, with a punishing ground game and defense augmented by individual success at the quarterback position.

Again, it's only one game and this could be a small sample size thing in two weeks – "remember when we thought they righted the ship against St. Louis? Losses to Houston and Arizona say otherwise...", but there's a huge difference between being 2-2 and 1-3. The former, coupled with the quasi-bye after the Thursday game, gives everyone a chance to catch their breath and move forward. The latter would have brought with it innumerable questions and hiked the pressure up to 11.

There are still causes for concern, of course – they're still without their top receivers from last year, and Boldin can't do it all by himself; Vernon Davis isn't 100% healthy and won't be for a few weeks; Aldon Smith is likely gone for a month and Ian Williams is out for the year, and so forth. But the 49ers did what they had to do on Thursday night, and, for the next 10 days at least, San Francisco fans can breathe easy.


What do you think?
We'd love to hear your comments and/or opinions. If you submit them here, other visitors can read them, rate them and comment on them. An e-mail address is not required.