Ryan Clady and the Offensive Linemen Behind NFL Success
It doesn't turn to many heads when a team resigns their big-time skill players.  The Giants signing Victor Cruz to a long term extension?  Expected.  The Lions backing up a dump truck of money to Matthew Stafford's house?  Perhaps a bit premature, but certainly not out of the blue.  It makes sense – these star players are often the faces of their franchise, and that status brings with it a certain level of media coverage and respect.  The coverage is certainly worth it in the case of the quarterback, too, as they're the single most important players in all of football, often being the determining factor deciding whether a team is a playoff contender or an also-ran.
However, the over-emphasis on the fantasy players sometimes hides deals that are just as important; for instance, after the quarterback, one could argue that there is no more important position on the football field than a big time offensive tackle.  You need one to keep your quarterback upright, and with them the big monetary investment you paid out to get him.

That was the thinking, at least, behind the Broncos decision to give Ryan Clady a massive payday, ending up agreeing upon a five-year, $57.5 million contract that should see him watching out for Peyton Manning's back for the rest of his career, and presumably, Brock Osweiler's after that.  It's always good to get a deal like this done with someone you've slapped the franchise tag on, and Broncos fans should breathe a sigh of relief that the long, back and forth negotiations resulted in this successful deal.  There were concerns about Clady's injury history – he's recovering from offseason should surgery, and had a torn patellar tendon a few years back, though he has never missed a game.  His numbers in 2012 were outstanding by any reasonable standard, allowing only three sacks all season long, with only one being a result of a blown block.  Now, his numbers were lower in 2011, but that can partially be explained by the difference between Peyton Manning and Tim Tebow.

After all, it's easier to protect a quarterback who a) will usually be in the same place, meaning he won't scramble himself into trouble, and b) is a genius at reading and dissecting defenses before the snap, neither of which were Tebow'sstrong points.  I think you can therefore say that the concerns people had after his 2011 season were unfounded – the 12 sacks he gave up, and the double-digit holding penalties he suffered, were a result of the quarterback, not the tackle.  That's why he took a gamble and didn't sign the five-year, $50 million deal the Broncos had offered him last season – he wanted to prove that he could still play like a top tackle, and hopefully get some more money in the process.  No, the contract offer didn't skyrocket, but I think he did show that 2011 was more or less a fluke.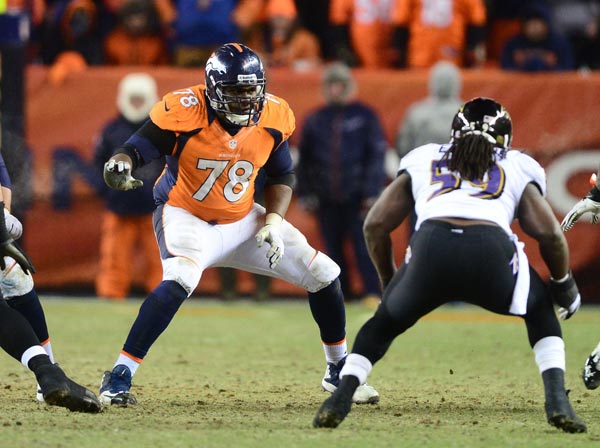 Both sides have to be thrilled with the deal, as it works out quite nicely for both of them.  For Clady, it's a huge payday – he's now the third-highest paid offensive tackle in all of football, only behind Joe Thomas and Jason Peters.  Quite a chunk of contract is guaranteed, too-- $33 million of it, as a matter of fact.That's often the true measure of how valuable a contract is; the unguaranteed money often falls by the wayside if a player's production levels off.The Broncos get the peace of mind in having their $18 million a year stud quarterback being protected by arguably the top left tackle in all of football – you can't put a price on that, because if Manning were to go down, the Broncos Super Bowl hopes would be dead on arrival.The contract only goes until Clady's 32 years old, too, meaning both that Clady can get another large contract if he stays healthy and productive, and that the Broncos won't be on tap for anything, money wise, if he doesn't.Really, a fantastic deal for both sides.

It sets a benchmark, too, as there aren't a lot of deals out there for multiple-all-pro, 26 year old, franchise tackles.Potential free agents next season, such as Jared Veldheer of the Raiders or Eugene Monroe of the Jaguars, could use Clady's deal as a starting point in their negotiations.They're obviously leagues below Clady, however – players Clady's caliber just do not become available, all the more reason the Broncos had to lock him up now, rather than risk him entering the free agent market next season.

Due to the lack of stats available, it can be difficult at times to find comparisons; indeed, the method we used with Cruz and Stafford brings us 25 similar players, but a little common sense can help us narrow that down to the upper tier, for two reasons – first of all, Clady was named 1st team all pro, so he wasn't just a cog on a great line (which wouldn't show up statistically in this method), and second of all, if we assume that his Tebow-era numbers were deflated by the quality of the quarterback play, we can assume that he will continue to perform at a higher level with Manning behind him in his immediate future.The players on that comparable list that were also named an all-pro in their third-through-fifth seasons include three Hall of Famers in Gary Zimmerman, Willie Roaf, and Jonathan Ogden, a very strong candidate in Walter Jones, and then Kyle Turley, who's somewhat controversial career was beset by injuries.

He's probably the worst case scenario for Clady, in terms of performance if not personality – the injuries that Clady has had to deal with flaring up and limiting his production on the field.Obviously, it's too early to say that Clady'll one day join these comparables with a bust in Canton -- five years production is nowhere near enough to say that – but it's a good list to be compared to, at any rate.Broncos fans need to keep an eye on Clady's shoulder and knee, to make sure that he really is fully recovered from all the various dings and knocks he's gotten over the first five years of his career, but barring a flare-up of those injury concerns, the sky is the limit for Clady and the Broncos.


What do you think?
We'd love to hear your comments and/or opinions. If you submit them here, other visitors can read them, rate them and comment on them. An e-mail address is not required.