Rookies Who Will Make the Biggest Impacts in the NFL in 2013
By Zach Gilliland

These days it is very common for rookies to come into summer camps and find themselves competing for starting jobs or solid playing time. Many rookies over the past few seasons such as Cam Newton, Robert Griffin III, AJ Green, and Luke Kuechly have come into the league looking like star veterans from the beginning. This year's draft figures to have some star rookie talent as well. I have broken down the draft round-by-round to predict which stars will have the biggest impacts this fall.
Round 1:
Tavon Austin, WR Rams - Austin will immediately give Sam Bradford a go-to receiver and will be electrifying in the return game as well.
Lane Johnson, OT Eagles - While Joeckel and Eric Fisher will be solid starters in the league, I think the poor quarterback play in Kansas City and Jacksonville will not allow their impact to be felt right away. Johnson will provide protection for Michael Vick, who was plagued by turnovers last season, and may just revamp his career to new levels in the Chip Kelly offense.
Desmond Trufant, CB Falcons - The need for a younger Falcons secondary was on display in last year's postseason as Russell Wilson tore apart Atlanta through the air. Trufant will supply the Falcons will a much-needed shutdown corner.
DeAndre Hopkins, WR Texans - Hopkins will take some of the attention away from Andre Johnson that opposing defenses give him and will give Matt Schaub another weapon in the passing game. Hopkins' impact may be seen more by the rise in Andre Johnson's numbers because of more open looks, then by his own statistics.
Bjoern Werner, DE Colts - Werner is just a monster of a defensive end, and I just have a great feeling about this guy. Werner will cause havoc in many backfields this season, and I predict that he will be named the defensive rookie of the year and be top five in the league in sacks.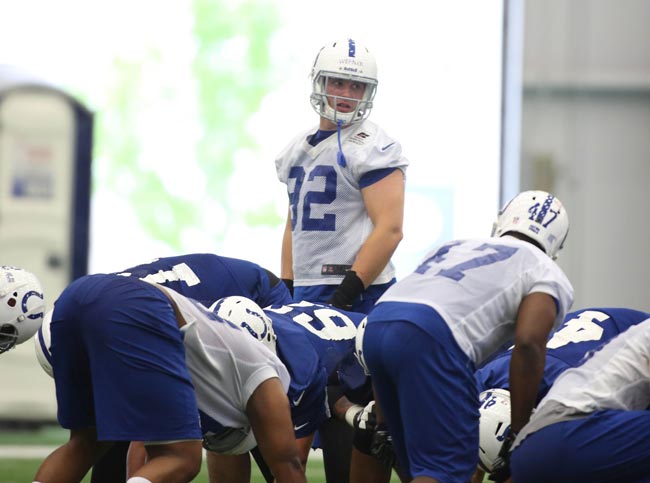 May 10, 2013; Indianapolis, IN, USA: Indianapolis Colts linebacker Bjoern Werner (92) lines up on the line of scrimmage while practicing in the Colts Rookie Minicamp at the Indiana Farm Bureau Insurance Football Center. Photo Courtesy by Brian Spurlock-USA TODAY Sports.


Round 2:
Zach Ertz, TE EaglesErtz was arguably the best tight end in this draft and will give the Eagles another great option to throw to. I think Chip Kelly's offense will do great things and Ertz will be a big part of the success.
Montee Ball, RB BroncosThis powerful back will win the starting job by Week 1 and will make the Broncos not so one-dimensional, in turn giving Peyton Manning more opportunities through the air.
Arthur Brown, LB RavensWhile I like Manti Teo for next year also, Arthur Brown will have the bigger impact at linebacker because he will be a solid replacement for Ray Lewis. I really like the way this guy plays and he will fit right into the Ravens defense.

Round 3:
Tyrann Mathieu, CB CardinalsThe "Honey Badger" figures to be explosive in the return game just as he was at LSU, and with his play-making ability it is hard to keep him off of my list.
Terrance Williams, WR CowboysWilliams' deep threat potential should be scary for NFC East defenses. Williams will be a deep-ball threat like Dez Bryant and may be his replacement if Bryant lands himself in off the field trouble again this year.

Rounds 4-7:
 Barrett Jones, OL RamsBarrett Jones will be one of the most mature rookies on the field. His intelligence for the game is through the roof, and I think the Rams will find him a spot somewhere on the line where he can make a huge impact his rookie season.
Johnathan Franklin, RB PackersThe Packers took both Franklin and Eddie Lacy in this year's draft, but I think it is Franklin that will take the majority of the touches and ultimately win the starting job. His impact will be felt by Packers fans who are dying for an elite running back to open up things for Aaron Rodgers.
Kenny Stills, WR SaintsWith Drew Brees at quarterback any wide receiver could figure to have monster numbers, but I really like Kenny Stills' upside. I think he will become one of Drew Brees's favorite targets this season and will turn heads in his rookie season.
Dustin Hopkins, K BillsHopkins was very impressive at Florida State and I figure that Hopkins will have as much impact as rookie kickers such as Blair Walsh had a year ago. Hopkins has a bright future ahead of him and will make a Pro Bowl his rookie season.
Kenjon Barner, RB PanthersThe read-option offense is becoming more and more prevalent in NFL offenses, so it only makes sense to draft a running back that came straight from the read-option system at Oregon. I think Barner will push DeAngelo Williams and Jonathan Stewart for carries and will also have an immediate impact in the return game.
Devonte Holloman, LB/S CowboysHolloman was impressive in college and plays at a high-intensity level every time he takes the field. I think the Cowboys received a late-round gem in Holloman and I think he will find a comfortable spot in the Cowboy's defense this fall.
Justice Cunningham, TE ColtsIn an offense where the tight end can be a main receiver, Cunningham will fit right in with the Colts. Andrew Luck loves throwing to the tight end and Cunningham will battle for position this summer with Dwayne Allen and Coby Fleener.

Whether a player is drafted in the first round or the seventh round, they enter the NFL with bright eyes and dreams of showing out as soon as possible.  Some will be busts, but I feel that this group of guys will show the NFL world their impacts as rookies this coming fall.


What do you think?
We'd love to hear your comments and/or opinions. If you submit them here, other visitors can read them, rate them and comment on them. An e-mail address is not required.