Review of Week 3 in College Football
By Matt Green
Week 3 was a doozy. A lot of great games and a huge upset in the process. I don't know what else to say about it. It's a great segway as me move forward into conference play. So what did we learn?
#1 AS I PREDICTED, USC HAS FLAWS
USC is good, don't get me wrong, but, as projected coming into the season, they have some major flaws that were exposed by Stanford on Saturday, the most notable of which was the offensive line play. The Cardinal put pressure on Matt Barkley all night, not letting him breathe. In the end, there was simply too much pressure on Barkley for him to find his talented receivers.
#2 WILL MUSCHAMP IS COMING INTO HIS OWN AS A HEAD COACH
Before last weekend, Muschamp had never won a game at Florida when trailing at half. After coming back from a 7 point deficit to beat A&M on the road, they came back once again at Tennessee, to get out of Knoxville with a win and move to 3-0. They look dangerous and Muschamp is settling in and getting off the hot seat.
#3 THIS NOTRE DAME TEAM IS NOT TYPICAL NOTRE DAME
Year after year, we see Notre Dame fail, mostly early in the season, and ruin the predictions of the many analysts that projected them as a BCS team. But this Irish team is different. They finally have a good defense led by future first-rounder Manti Te'o, and Everett Golson has been quite impressive running the offense. They have another tough one this week with Michigan, should be fun.
#4 FLORIDA STATE IS THE 3RD BEST TEAM IN AMERICA
Obviously LSU and Alabama occupy the top 2 spots, but Florida State, despite only one game against an FBS opponent, look very good. They beat the absolute tar out of Wake Forest on Saturday, and their defense is as good as it gets. If they can stay healthy, they could wind up in the National Title game.
#5 TEXAS' OFFENSE MAY BE BETTER THAN I ORIGINALLY THOUGHT
Obviously, they must run the ball well to be at all successful, but their offensive line has been blocking well and they have a stable of backs they can throw out there. If Ash can just avoid mistakes from the QB position and Texas can control the line of scrimmage, they have a chance to win the Big 12.
#6 THE NEXT 4 YEARS AT TEXAS A&M WILL BE FUN
As they transition to the SEC, excitement on campus could hardly get any more crazy. But, after watching two weeks of Johnny Manziel and Trey Williams, fans in College Station are starting to get excited. Both are incredible playmakers who can single-handedly win a game for you.
#7 JOHN L SMITH HAS NO CLUE WHAT HE'S DOING
Arkansas is coming off a terrible loss to Alabama in which they couldn't even get on the scoreboard. He wasn't even a good coach at Michigan State, so to think he could be good moving to the SEC was a bit of an oversight. I feel sorry for Hog fans as this season continues.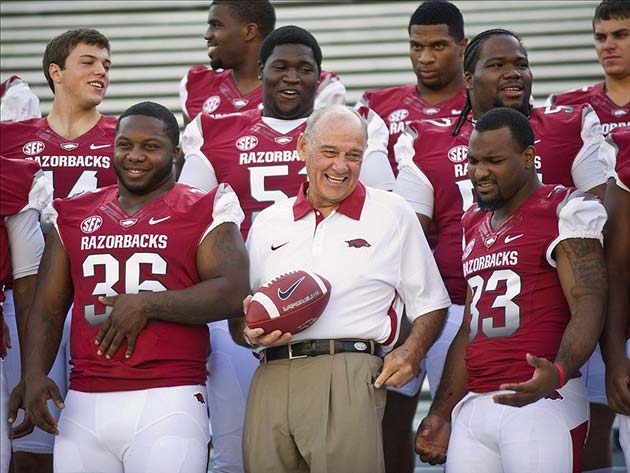 ---
#8 UTAH'S STUDENTS ARE FOOTBALL-STUPID
If you didn't catch the Utah-BYU game the other night, Utah's fans almost cost the team the game, as they forced the officials to throw a flag, a 15-yarder for the fans storming the field. Even though BYU missed the ensuing game-tying FG, it was still a disgrace. Not only the penalty, but why are you rushing the field when you are a Pac-12 team that just won a game against a should-be inferior opponent.
#9 ALABAMA WILL WIN THE NATIONAL CHAMPIONSHIP, AGAIN
If there is any question as to which team is the best in America, the questioners have not been watching football. An experienced QB, an ultra-talented defense and a coach that just never quits leads to a championship.
#10 THE PAC-12 MAY BE SLIGHTLY DEEPER THAN I THOUGHT
Obviously, Stanford is better than they looked in Week 1, giving the Pac-12 another team relatively high in the rankings. Arizona smashed Oklahoma State and look ahead of schedule in the Rich Rod-era. And Arizona State, led by journeyman-coach Todd Graham have been competitive, and could have, and probably should have, beaten Missouri on the road this weekend. O, and UCLA is quite dangerous.
#11 IT'S HARD TO GET MOTIVATED WITH NOTHING TO PLAY FOR
We've seen it the last couple years with USC, and now with Ohio State. A Cal team that they should have beaten handily came into Columbus this weekend, but they didn't. It's hard to blame them, when they know they are playing for nothing but pride. I can imagine that is quite difficult.
#12 THE BIG TEN IS JUST PLAIN BAD
This is my 3rd week in a row to pick on the Big Ten, but it's hard not to. Ohio State struggled, Wisconsin barely beat Utah State at home. Michigan State was anemic offensively against Notre Dame. I have seen this conference be bad before, but this is a new low.
#13 THIS WEEKEND IS GONNA BE AWESOME.
Strap up your seatbelt and get ready for Saturday night. Kansas State-Oklahoma, Clemson-Florida State and Michigan-Notre Dame under the lights are coming your way. I'm excited already.
#14 THE PLAYOFF SYSTEM WON'T SOLVE MANY PROBLEMS
For years, people cried for a playoff system, but, even though I wanted it because it's more fun, I stated that it won't solve any controversy. And it won't. Will it be conference champions or just the top 4 teams? Will 2 SEC teams be allowed in? Who knows, and no matter what happens, it will be controversial throughout the nation.
#15 NON-BCS CONFERENCE TEAMS ARE TAILING OFF
When BYU, Utah and TCU left their respective non-AQ conferences, we knew the non-AQ field would diminish quite a bit, but maybe not this much. The only teams that are real threats as non-AQ are Ohio, Northern Illinois, Boise State and, if you want to throw one more in, Utah State would be correct. Still, it's slim pickins.
---
What do you think?
We'd love to hear your comments and/or opinions. If you submit them here, other visitors can read them, rate them and comment on them. An e-mail address is not required.
---
From Review of Week 3 in College Football to NCAA Football Blog | Sports Blog | NFL Football Blog | NFL Football Archives | College Football Archives | MLB Baseball Blog | College Baseball Blog | MLB Baseball Archives | NBA Basketball Blog | NCAA Basketball Blog | NBA Basketball Archives | NCAA Basketball Archives | Fantasy Football | Fantasy Basketball | Fantasy Baseball | Soccer Archives | Olympics Archives | Stupid Athletes Archives | Other Archives | Football Forum | Basketball Forum | Baseball Forum | NFL Football Store | NBA Basketball Store | MLB Baseball Store | NCAA Football Store | NCAA Basketball Store | NCAA Baseball Store | Fatheads | NFL Football Tickets | NBA Basketball Tickets | MLB Baseball Tickets | NCAA Football Tickets | NCAA Basketball Tickets | NCAA Baseball Tickets |
---
Home Page
About Us | Contact Us | Site Search | Advertise | Terms of Use |
---