Rash of Preseason Injuries Shakes the NFL
Although there had been a rash of injuries this offseason, the preseason games themselves had been thankfully mostly injury-free.

Saturday night changed all that.

In Seattle, Derek Wolfe, the second-year defensive end for the Denver Broncos, suffered a neck injury when blocked high-low, and had to be taken from the field in an ambulance. He was taken to a local hospital, and evaluated for a cervical spine injury. Officials first feared the worst, but Wolfe passed a battery of tests – MRIs, X-Rays, CT scans, and so on. He was also reported to have feeling in all of his extremities, another very good sign – what could have been a career-threatening injury does seem to have dropped several magnitudes in severity. It is even possible he could rejoin the Broncos for their flight home, though as of press time, he had not yet been cleared to leave the hospital.
In Houston, it was Dolphins tight end Dustin Keller who found himself being carted off-field after taking a brutal, if legal, shot to the knee from Texans rookie safety DJ Swearinger. The knee bent back awkwardly, and Keller was in obvious pain as he was carted off the field. Keller is undergoing an MRI, and while the results are not in yet, things look very bad for the tight end, who was expected to be Ryan Tannehill's safety blanket this season.

It's a painful reminder that, no matter how many steps the league takes to make the game safer, the NFL is first and foremost a violent contact sport, and injuries like this are going to happen. That they happened in a meaningless preseason game adds extra sting – no one's going to remember next week that the Texans won 24-17, just that the Dolphins starting tight end had to be taken to a hospital with what is, in all likelihood, a season-ending knee injury, and one of the Texans starting receivers (DeAndre Hopkins) had to be taken out with a concussion. The NFL will, no doubt, use this as more evidence that the preseason should be reduced, but that's not first and foremost on the minds of the injured players, their teammates, or their fans.

As for the on-field repercussions of Saturday's injuries:

The Broncos seem to have mostly dodged a bullet.While it's obviously too early to declare Wolfe fine and ready to go, the fact that he could be released from the hospital so soon after his injury bodes very well for his recovery – there's even rumors going around that he could return for next week's preseason game versus the Rams, though that should be taken with several gallons of salt. If Wolfe misses time, it's a surprisingly big loss for a second-year player – he led the Broncos defensive line in snaps as a rookie, with 40 tackles and six sacks to his name. With Elvis Dumervil out of town, Wolfe's role was supposed to increase this season – working on the strongside with great movement skills, there was nothing but positive news about his development this offseason.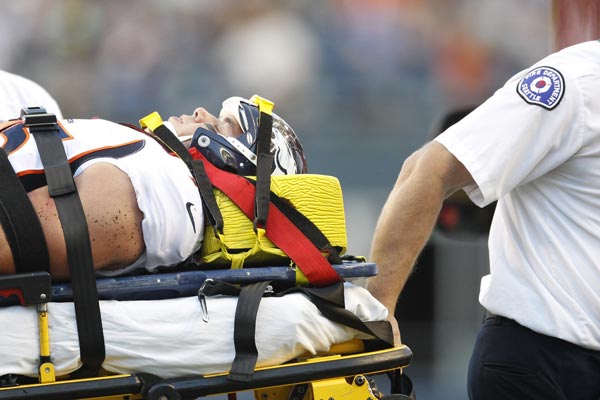 When he went down against Seattle, he was immediately replaced by a combination of Malik Jackson and Mitch Unrein – Jackson's a fifth round rookie selection who would slide in to the starting left defensive end position if Wolfe misses time, while Unrein'sa regular in the rotation, albeit a reserve. Either way, it would be a drop-off for a front seven that's already trying to avoid a drop-off after the departure of Dumervil and Keith Brooking. Thankfully, again, Wolfe's injury does not seem to be nearly as serious as first feared.

Keller's injury seems precisely as serious as first feared, with everyone in Dolphins camp fearing the worst. Assuming the worst, it's a damaging blow to the Dolphins offense – Keller was penciled in for somewhere around three or four catches a game as a safety blanket and aid for Tannehill's development. His backups as of right now are Dion Sims and Charles Clay, neither expected to do much this season – both are lauded more for their blocking ability than their ability to catch the ball, with Sims being a rookie and Clay recovering from a torn knee ligament.

Presumably, the Dolphins would test the free agent waters for a replacement for Keller's receiving value. One such name is familiar – former Dolphins tight end Randy McMichael is one of the best remaining players out there, but he, too, is mostly a blocker, catching only nine passes last season for San Diego. Evan Moore, the ex-Eagles tight end, is my favorite of the limited selection, but he never was able to translate his considerable measurable into production. Kevin Boss and Todd Heap are also available, though there are reasons for both of those, as well.

In all likelihood, there is no replacement for Keller – at least, none currently available. That means even more pressure will be dumped onto the shoulders of the receiving corps – we know what Mike Wallace is capable of, but Brandon Gibson or Brian Hartline is going to have to step up to provide some of the shorter routes, the more comfortable routes – the screens and checkdowns. It's not ideal for a second-year quarterback's development.

Here's hoping that Keller's injury isn't as bad as it seemed, that Wolfe continues to clear all checkpoints, and that these are the last major injuries of the 2013 preseason.


What do you think?
We'd love to hear your comments and/or opinions. If you submit them here, other visitors can read them, rate them and comment on them. An e-mail address is not required.