Ranking the NFL Football Hall of Fame Semifinalists
The Pro Football Hall of Fame released its list of 25 semifinalists, which will be cut down to 15 in January before up to five names from this list will get measured for tacky golden jackets.  Here's a quick and dirty power ranking of the 25 nominees:
25. Morten Andersen, K

Andersen faces the problem of being a kicker in a world where special teams just are not as important to a team's success.  The all-time leading scorer in NFL history is still unlikely to get picked over, say, Tim Brown.  He doesn't have the legend of 'clutch' kicks like Adam Vinatieri either, despite making plenty of crucial kicks over the years.

24. George Young, General Manager

The Hall of Fame needs to take a page out of baseball's playbook and create a special category for off-the-field contributors, rather than have them battle with on-the-field players for coveted spots.  Young helped create one of the dominant teams of the 1980s, but he'd have a hard time in a head-to-head battle with Bill Parcells for taking credit for that, much less any on-the-field player.

23. Steve Atwater, DB

There are eight true safeties in the Hall of Fame; it's just not regarded as highly as a shutdown cornerback.  Atwater only has 24 career interceptions, so he's lacking a lengthy highlight reel to be burned into voters' memories.  He has a real uphill slog.

22. Paul Tagliabue, Commissioner

Presided over an era of incredible success and expansion for the NFL, going to free agency, expanding to 32 teams, etcetera.  He did not come off too well in the recent PBS documentary on head injuries, so that will hurt his candidacy, as well competing with on-the-field contributors.

21. Karl Mecklenburg, LB/DE

He's stuck behind a logjam of defensive players, with plenty of talented pass rushers on this year's ballot and more to come.  Mecklenburg was more versatile than any of the other defensive names on the list, but sacks bring recognition, and he's lacking in that department.  If his Broncos had won one of the three Super Bowls they went to, this could have been a different story.

20. Don Coryell, Coach

Much more known as an innovator as opposed to on-field success – doesn't have the Super Bowl rings to match with some of the other coaches on this list.  Still, he's the father of the modern passing game, and should make it in for his innovations, if not necessarily his coaching career.  Another nominee hurt by competing with players.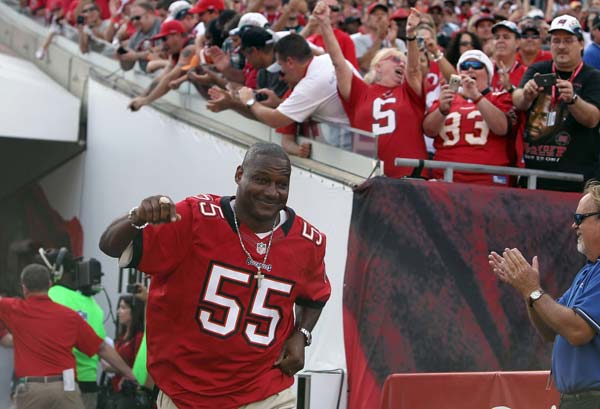 19. Steve Wisniewski, OG

Offensive linemen never get their due.  And if the '80s Raiders have struggled to put in Tim Brown, a more deserving candidate, getting a lineman in – a guard, not even an offensive tackle – is going to be an impossible task.

18. Jimmy Johnson, Coach

You can't argue with the success in Dallas, but the relative shortness of his career, and a lack of similar success in Miami, is going to be Johnson's anchor around his candidacy.  The ultimate 'peak' candidate, as opposed to career totals, among contributors.  He's well regarded by his peers, though, so he could surprise some.

17. John Lynch, DB

Lynch is one of the three key members of the Tampa-2 defense that was so dominant in the '90s and eventual spread throughout the league – being part of a named defensive scheme always helps your odds.  The fact that he was arguably the third key member might keep him out until both of the others – Sapp, who made it last year, and Brooks, a first-time nominee this year – make it in.

16. Terrell Davis, RB

In the four seasons he was effective, there was not a better running back in football.  The two years the Broncos won the Super Bowl, there was not a better player in football.  What hurts Davis is the fact that there is no back-end to his career; he plummeted off of a cliff due to injuries.  You wouldn't put someone in the Hall of Fame if they had one all-time great season, but where is the cut-off for "OK, that's enough production"?  A case being held out more due to philosophical issues than any problem with what little body of the work that's there, which was fantastic.

15. Aeneas Williams, DB

He'd have one of my five votes for induction, but toiling away in Arizona for the majority of your career is not the way to get noticed.  He also doesn't have the flash of some of his contemporaries (read: Deion Sanders).  He's the best cornerback of his era and deserves a slot; I just don't see it happening this year.

14. Andre Reed, WR

Now that Cris Carter has finally broken through, perhaps the wide receiver logjam can begin to break free.  The problem is, Reed again finds himself the third-best receiver in the nominated class.  Do the '90s Bills deserve five Hall of Famers?  Is four Super Bowl losses worth that much recognition?  Can they justify putting him in over Brown or Marvin Harrison?  Tough calls.

13. Joe Jacoby, OT

He's helped by the reputation of his line as a unit – the Hogs are arguably the greatest line of all time.  Three Super Bowl rings also carry a lot of weight with the voters.  Only making the Pro Bowl four times during his career will hurt, though – if you're not considered the best when playing, how can you be considered the best retroactively?

12. Roger Craig, RB

Craig was the prototype for receiving backs like LeSean McCoy today.  He's still only one of two players to have 1,000 yards rushing and receiving in a single season, alongside Hall of Famer Marshall Faulk.  In my opinion, he's the most deserving of the three backs up for election this year.  He doesn't quite get my vote in the end, but he's a more deserving candidate than some give him credit for.

11. Kevin Greene, LB

Greene's candidacy boils down to one thing: third all-time in sacks.  To be fair, that's a really good thing!  160 total sacks are too big to ignore forever.  He's hurt by the fact that his main team, the LA Rams, no longer have any representation in the voting, and neither the Steelers, Panthers, or 49ers ever really considered him 'their' guy.

10. Jerome Bettis, RB

Bettis is the exact inverse of Davis, a player without super high peaks but who was a consistent contributor for over a decade.   I suppose that makes Craig the Goldilocks candidate – a decently high peak and a decently long career.  Still, when it comes to running backs, it will be hard for voters to ignore the sixth most rushing yards ever.

9. Tony Dungy, Coach

Six consecutive seasons of 12 or more wins and only one losing season in his entire career are Dungy's calling cards.  He did it with both a defensive-oriented team and an offensive-oriented squad.  He's the first African-American coach to win it all, which will help, too.  He's hurt by numerous early playoff exits and a suspicion that the Super Bowl was more Manning than Dungy, but he's got a solid record.

8. Eddie DeBartolo, Owner

DeBartolo is the most deserving contributor this season, as he's arguably the greatest owner in NFL history, and certainly the most constantly successful.  Helped turn the 49ers from an afterthought into an NFL powerhouse with 16 consecutive 10+ win seasons, and helped orchestrate a culture that NFL owners are still trying to emulate.  If there was a contributor category, DeBartolo would get my vote over all the coaches.

7. Walter Jones, OT

I'm well aware I'm fairly alone not putting Jones in the top-three of this class.  He's often considered one of the top five or so left tackles in the history of football, made the pro bowl nine times, went out on top, etcetera.  Hard to argue with his resume.

6. Tim Brown, WR

Can we get Brown into the Hall before the great '00s receivers start clogging the ballot, please?  He doesn't get my vote this year due  to the players at the top of the list (and the fact that I'm firmly on the Aeneas Williams bandwagon), but his 1,000+ receptions, his nearly 15,000 yard, and his 105 touchdowns firmly establish him with the top of his era.  Plus, he could return punts!  What more do you want.

5. Will Shelds, OG

This is where my offensive line vote goes this year, as opposed to Jones.  Twelve Pro Bowls and anchoring a very good Kansas City line for over a decade impresses me to no end.  Remember how good those Chiefs were at running the ball?  Marcus Allen, Priest Holmes, Larry Johnson?  The Chiefs rushed for over 2,000 yards in Shields' last three seasons, and then plummeted to less than 1,300 when he retired.  Give that man a tacky gold jacket.

4. Charles Haley, DE/LB

No man has won more Super Bowl rings than Haley has, being a part of both the 49ers' dynasty in the '80s and the Cowboys' dynasty in the '90s.  He's a little harmed by the presence of Strahan and Greene, both of whom racked up more sacks than Haley did, as well as his often brusque relationship with the same media members who now vote on his induction.  He's been a finalist every year since 2010, and probably will get in this year, though I'm not sure his stats quite live up to his reputation.

3. Michael Strahan, DE

I'm still baffled the single-season sack leader didn't make it in last season.  He's got a Super Bowl ring, he's been Defensive Player of the Year, he's in the top-10 all-time in sacks, he's got a positive reputation with the media; how did he miss?  There's no way he's kept out again – the only people more worthy of being elected than him either are not eligible yet, or are getting their first crack this season

2. Marvin Harrison, WR

Was his numbers not quite as impressive until Peyton Manning arrived?  Yes.  Does he have the single-season record for receptions, eight straight years with more than 1,100 yards and ten touchdowns?  Yes.  Does he have a Super Bowl ring?  Yes.  Was he the best wideout in the early part of the 2000s?  Yes.  Is he a first-ballot Hall of Famer?  Yes.

1. Derrick Brooks, LB

Without Brooks, the Tampa-2 doesn't take off.  Brooks also has a Defensive Player of the Year award and a Super Bowl ring to his credit, was arguably the leader of Tampa Bay when they beat the Raiders in the Super Bowl, made over 1,700 tackles, was named to the Pro Bowl 11 times… Brooks is the both the most deserving player in this year's class and the most likely to actually get elected.  It's nice when those come together.


What do you think?
We'd love to hear your comments and/or opinions. If you submit them here, other visitors can read them, rate them and comment on them. An e-mail address is not required.
From Ranking the NFL Football Hall of Fame Semifinalists to NFL Football Blog