Raiders & Redskins: QB Swap
By Ron Leyba

The NFL offseason has seen plenty of rumors flying here and there. There is plenty of time before the start of training camp so rumors are tiny morsels that fans can chew on until they get their football fix in the Fall. The latest such rumor to come down the pike is the Raiders working on a deal to get Kirk Cousins for their quarterback Terrelle Pryor. Neither QB is exactly setting the league on fire but they have their purpose. And in a talent starved league at their position, a player that has had even moderate success can make a great living being as backup.
The Raiders have a nasty habit of getting the bad end of all these trades (see Randy Moss coming and going there). But now that Al Davis is gone that could change a bit but his handpicked crew is still running things out there on the left coast. If I were a Skins fan I would not be giggling over that last statement. Your owner, Dan Snyder, is not a builder of champions. He brought in so many superstars in the early 2000's, that the team looked like a Pro Bowl roster. Unfortunately they played like a Pro Bowl team as well. They achieved nothing that many folks, including the owner, thought they should have given all the stars on the team.

These two franchises could do this trade with no big repercussions. The Redskins are set at QB even though Robert Griffen III had a bad season two. The Raiders have no clue what to do at the QB spot. So neither team will make or break its season based on this proposed move. Terrell Pryor still has huge potential in many people's eyes mainly because of what he did in college at Ohio St. His numbers do not reflect what he could be in the future though. Last year with the Raiders he had a QB rating of 69 after starting 11 games. That's a concern for sure.

He also threw 11 picks compared to only 7 touchdowns. You could flip that stat around and it would not be a good ratio, but the way it is in reality is horrific. Pryor is a threat to run the ball so passing numbers may not tell the whole truth and nothing but the truth. Mr. Pryor averaged about 50 yards a game in 2013. Either he is a very good runner or the Raiders have no running game and need him to run out of desperation. Probably a combo of the two.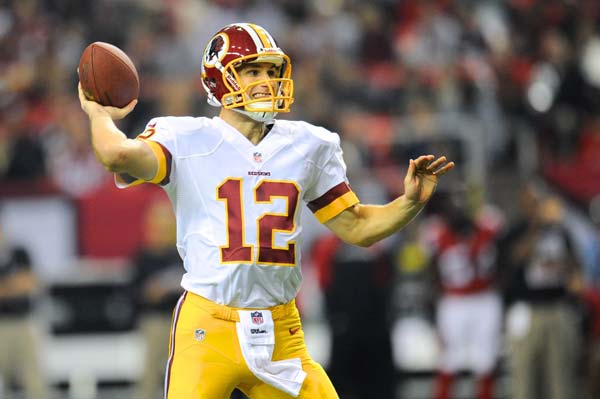 Now Kirk Cousins is a different kind of QB from Pryor. Better? Maybe not but definitely different. He is not going to get anything close to 50 yards rushing a game like Pryor is capable of doing. But that is not his game. As a matter of fact i don't know what his game is. In 2012 he had a QB rating of over 100 but that number fell to a dismal 58 for 2013. That is a big drop off and can be contributed to a few different theories.

First, Cousins played little as a rookie and there was no game film for defenses to study so he was a surprise to opposing teams. Second theory, he doesn't prepare as well as he would if he thought he had a chance to be the starter for a team. He is not going to unseed RG3 anytime soon so why study an extra 10 hours a week. My third theory is that Kirk Cousins is not that good. He has about two more years of throwing 4 touchdowns to 7 interceptions. Then if he cannot correct that ratio he will be  selling insurance like a lot of poor hacks who were good in college but simply could not cut it in the pros. No shame in that but some guys are just not good enough period.

It's hard to say which team this trade would benefit more. The Raiders and Redskins have a lot of work to do and neither guy is going to tip the scales toward a title run. This proposed trade would likely end up being a non issue unless some faceless draft pick ended up being a Tom Brady 6th round miracle that makes some coach look like a genius in 5 years. This trade would basically be like two unhappy couples trading partners and seeing where it goes just for the hell of it.

Sort of like that moronic TV show "Wife Swap".  The end result would be a two different unhappy couples with different parts. But if the teams are not benefiting from their current parts then why not switch it up. The definition of insanity is doing the same thing over and over then expecting different results. So change is not a bad thing in many cases.

The NFL is so lacking in real QB talent, teams will try anyone with a single digit on his jersey if they think there is a sliver of a chance that he might be the answer to their prayers. If you have a QB just laying around and you no longer want him, why not trade him for another possibility. The worst that could happen is that you get a QB that you eventually have to cut from the team. That is not a big deal in reality. It is better than waiting on the guy who you know for a fact is not the answer to your problem at QB.

If he were the answer your coaches would have known by now, since they have seen the guy on the practice field and in in the film room for innumerable hours. The Raiders have seen enough of Pryor to at least hold him out as bait in case they can catch a better fish. The Redskins have their QB1 so why not try to improve their team by trading a backup that is not big loss at this moment in time. The two teams want something better and whose to say both cannot get better with a simple trade of extra parts they have laying around.

For more NFL news, rumors and updates, visit www.FantasyFootballOverdose.com today.


What do you think?
We'd love to hear your comments and/or opinions. If you submit them here, other visitors can read them, rate them and comment on them. An e-mail address is not required.
Raiders & Redskins: QB Swap to NFL Football Blog