Quick Thoughts from the 2013 NFL Draft
Grading a draft the day after it happens is sheer folly; for all the words spilled about how great certain players are or are not, you can't really judge a draft for several years, as starting roles and the like shift and fall into place.  All we can do is look at value, and try to see which teams drafted wisely – which teams stayed true to their draft boards and which, as Mel KiperJr once put it, "don't seem to understand what the NFL draft is all about."
I don't have grades, for the aforementioned reasons, but I do have reactions. And here's some of them!

Buffalo Bills
Alright, raise your hands if you saw the EJ Manuel pick coming.  The Bills snookered us all, with their claims of looking into Ryan Nassib - the pick we all thought would make sense, due to his Syracuse connection with head coach Doug Marrone - ending up being only that much of a smoke screen.   The Bills drafted seven other players as well, but none of that will really matter in the long run – this draft will be judged solely based on Nassib's production. If he turns out like Colin Kaepernick or Russell Wilson – both of whom he's been compared to – then the draft was a success.  If, on the other hand, he's the next Blaine Gabbert or Jason Campbell – both of whom he's also been compared to – then it was a flop.  You have to give the Bills credit for two things here – the courage of their convictions, deciding Manuel was their guy in the face of all the experts and pre-draft hype ranking him around number six, and the wisdom to NOT pick him with the #8 pick, instead sliding down to the middle of the first round.

That being said – what a disaster of a pick this was, regardless of Manuel's success in the NFL.  If Manuel is a great quarterback, they'll live with it, but look at the status of quarterbacks in this draft – the other 31 teams all seemed to agree that this was very much a hands-off situation, and as late as round 4, only three quarterbacks had left the board.  You simply have to question the value – it was common knowledge that quarterbacks were going to fall, and unless they are 100% sure that Manuel's the next Hall of Fame quarterback, a much, much wiser strategy would have been to address their receiver need at #8 with Tavon Austin, or at #16 with DeAndre Hopkins, and take Manuel at #41 - no one was coming up to grab him.  No one was coming up to grab any quarterback.  And, if it turned out that, somehow, Manuel was the only coveted QB and someone DID make a move for him?  Are you really that sure Manuel will be better than Nassib, or Matt Barkley, or Mike Glennon?  They wasted a chance to get a real impact player immediately on a whim that only they had.  You have to crucify their sense of value.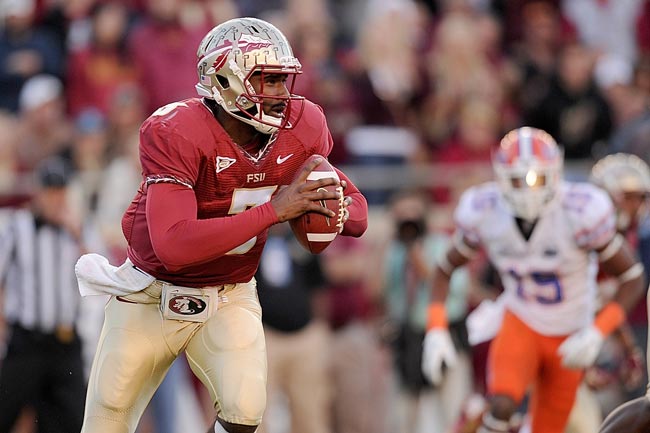 Tallahassee, FL, USA: Florida State Seminoles quarterback EJ Manuel (3) carries the ball against the Florida Gators during the first half at Doak Campbell Stadium. Photo Credit: Kevin Liles-USA TODAY Sports.


Worse, and this is more speculative, I don't even think Manuel's going to be a good NFL player - at least not right away.  He has mechanical issues that need work, his timing isn't up to NFL quality, and he played in an offense that didn't have the sorts of reads and progressions an NFL quarterback needs to make.   We've seen in the case of Tim Tebow how hard any mechanical issues can be to fix – not that Manuel's going to be as bad as Tebow is, far from it.  And, obviously, you'd expect the Bills scouting department to be aware of these things more than a random writer on the internet - I just question whether Manuel will be able to step in and do thing one this season.  Add that to the fact that they could have had their choice of anyone not named Geno Smith in round two, and I just hope the Bills know what they're doing, because they're not doing a good job at projecting and image of competency.  Maybe that's just another smokescreen.
Dallas Cowboys
While we're being negative, let's spend a minute talking about GM Jerry Jones, and his drafting acumen.  Last season, Cowboys owner Jerry Jones said that he probably would have fired GM Jerry Jones by now were they not, in fact, the same person.  Well, maybe it's time to do that now, because their pick of C/G Travis Frederick is easily the most head-scratching decision of the entire draft.  Yes, the Bills reached, too, but if they're right, they're going to have a star player at the most important position in football.  A star center doesn't do the same for your team.  Yes, the interior of the Cowboys line was their biggest need, and has been for years.  Yes, Frederick was the highest ranked center left.  But this was a player with a third-round grade, tops – a poll of other NFL teams had him as low as the sixth round!  I mean, yes, credit for trading down and taking him at #31 and not #18, but holy cow.  The Cowboys secondary is a wreck, too, and players like Matt Elam or Jonathan Cyprien, who went with the next two picks, would have been a big help for Dallas.  They didn't just take Frederick early – they lost the opportunity to pick another player that could help them as well.  Frederick almost assuredly would have been available with the Cowboys next pick and, if not, the likes of Larry Warford and Brian Winters were.  It's a baffling decision that shows a blatant disregard for the logic and flow of the draft.

To back that up, they used their next pick on a tight end!  Gavin Escobar looks like a more solid player, and I know the two tight-end set is all the rage in the NFL right now, but when you already have all-world tight end Jason Witten, and holes at half of your other positions, that's the sort of luxury pick a team just can't afford to make.  The rest of their draft wasn't actually that bad, but after the fumble of their first two picks, it feels like we can move Jones up into Al Davis' old slot as worst drafter in the NFL.

Baltimore Ravens
It's not all negative!  We can be positive about things too here, and I think the defending Super Bowl champions did a very good job in a very difficult situation – even more than most defending champs, they had lost quite a bit to retirement, free agency, and cap casualties.  Ozzie Newsome is an anti-Jerry Jones – finding value wherever it may be, while still covering his team's needs.  I don't think a single pick they made was wasted – Matt Elam will do well as Ed Reed's replacement in the secondary, and avoiding trading up in a safety heavy draft (I'm looking at you, San Francisco) was a wise move.  They got great line help in the third and fourth rounds with Brandon Williams and John Simon, but my favorite pick of theirs – and possibly my favorite pick of the entire draft – came a round earlier.

I love Arthur Brown, the inside linebacker from Kansas State.  He slid down draft boards due to a shoulder injury which kept him from really performing at the Senior Bowl or combine, but he leaps off at you on tape.   He's a bit undersized, but has tremendous range from sideline to sideline, and great athleticism.  Some people are comparing him to Ray Lewis, which is inevitable as a new middle linebacker for Baltimore, but I actually think a better comparison is with Navorro Bowman of San Francisco, with great passion and instincts; fast recognition time and great at finding paths to the ball carrier.  I love the pick.  I love this draft class.  I thought the Ravens would be in for some major regression in 2013 – and, let's be honest, after winning the Super Bowl, there is nowhere to go but down – but they've made some great moves this draft that will help staunch the loss of talent they experienced in the offseason.  Remainder of the AFC North, you may commence swearing at this point.


What do you think?
We'd love to hear your comments and/or opinions. If you submit them here, other visitors can read them, rate them and comment on them. An e-mail address is not required.