Projected 2011 NFL Hall of Fame Selections
My NFL Hall of Fame Ballot
Every year, the NFL sends a minimum of four and a maximum of seven players into the Pro Football Hall of Fame. In some years, there are barely enough candidates to hit the bare minimum but that is not the case this year. This year's ballot is actually loaded since there are a number of great players entering their first year of eligibility while there are several holdovers who deserve to be inducted. The new members of the ballot are: cornerback Deion Sanders, offensive tackle Willie Roaf, running back Curtis Martin, running back Marshall Faulk, and running back Jerome Bettis while tight end Shannon Sharpe, wide receiver Tim Brown, wide receiver Cris Carter, and defensive end Charles Haley are still waiting for their moments of glory. Knowing that, here is my own ballot listing the five players I would send into the Hall this year and why. Make sure to send in your own ballots through the comment box so we can compare!
My Choices:
1. Cornerback Deion Sanders
Sander's selection is a complete no-brainer. Nicknamed "Prime Time," Sanders was, hands down, the best corner in the NFL during the 1990s and can make a great case for "GOAT" status at his position. He was elected to eight Pro Bowls (1991-1994, 1996-1999) including six as an All Pro and was the NFL defensive player of the year in 1994 and the NFC defensive player of the year in 1993-1994. However, his greatness was more than just stats-based: at his apex he was a true difference-maker capable of elevating his team to a title. In 1994, he joined the San Francisco 49ers and helped them to their first and only Superbowl under Steve Young then, unsatisfied with their contract offer, he turned around, went to the Cowboys, and helped them win their last Superbowl of the decade. Winners and difference-makers like that are few and far between so "Prime Time" deserves instant induction.
2. Tight End Shannon Sharpe
The fact that Sharpe has not yet been inducted is one of the biggest travesties in the history of the NFL. Sharpe was absolutely dominant at his position over the course of his career and was elected to eight pro bowls and four All Pro berths. On top of that, he was an all-time great postseason receiver whose performances seem better every time you watch the tape. As John Elway's primary target and the only elite receiving option for the 2000 Ravens, Sharpe earned himself three superbowl rings. Do you see anything missing from that resume? I certainly don't.
3. Defensive End Charles Haley
Charles Haley is the definition of the X factor difference-maker. While casual watchers underestimated his impact throughout his great career, true fans and students of the game should know better. Haley may only have been elected to five pro bowls but he had an impact on almost every game he played and was one of the most positive forces for his team in the game. The evidence is in his five (yes I wrote five) Superbowl rings with two different iconic franchises: the San Francisco 49ers and Dallas Cowboys. In an era where we glorify selfish talents that never win anything in their careers (yes I'm looking at you T.O.), it's a shame that we don't always recognize and reward true winners.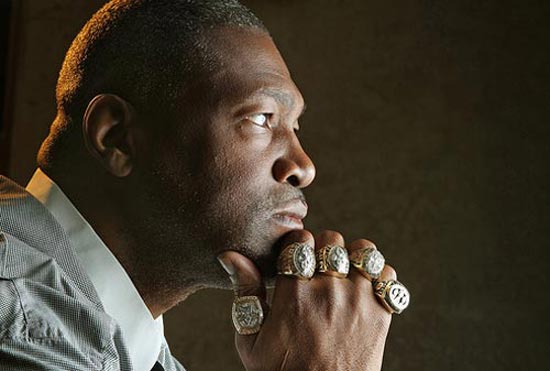 Thanks to Paul Moseley from Flikr.com for this great picture of Former Dallas Cowboy star Charles Haley.
---
4. Wide Receiver Tim Brown
Tim Brown had one of the longest, most durable, most consistent careers of any receiver in the history of the NFL. While no season truly pops out at you statistically, he was consistently good enough to make nine Pro Bowls and was top five at his position for over a decade career. Moreover, he career numbers don't lie and are Hall of Fame worthy: 14,934 receiving yards (2nd in NFL history), 1094 receptions (3rd All Time), and 100 touchdown receptions (tied for 3rd All Time.) Plus, on top of all that, Brown was a good locker room influence and a winner: his teams went to the playoffs several times and he went to the Superbowl with the Raiders in 2003. Therefore, while he is not a true slam dunk, I think he deserves to get it based on his overall contribution to the game.
5. Running Back Marshall Faulk
Marshall Faulk was not just a running back. He was a dazzling display of incredible athleticism and football ability. While the prime of his career was shortened by injuries, his accomplishments during that period rival those of any back in history. From 1995-2002, Faulk was the best runner in the league and formed the best offensive tandem in the league with quarterback Kurt Warner. As the leader of the "Greatest Show on Turf," he was a three-time NFL offensive player of the year (1999, 2000, and 2001), and was AP NFL MVP in 2000. He also went to two Superbowls (1999, 2001) and won it in 1999. As a winner and a dazzling talent, Faulk deserves induction.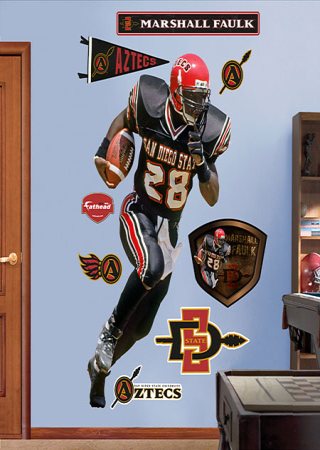 Thanks to Scott Gould from Flikr.com for this great picture of Running Back Marshall Faulk.
---
Just Missed the Cut But Should Make it Next Year:

Offensive Tackle Willie Roaf: Roaf was a dominant player and perennial Pro Bowler but he never won anything in his career. I would wait a year then let him in.
Running Back Jerome Bettis: "The Bus" was one of my favorite players but he was never the very best at his position. As a result, I don't think he deserves first ballot induction.
Running Back Curtis Martin: Martin's career statistics are extremely impressive but he never had a wow year. He will get in but I would give it a year.
Wide Receiver Cris Carter: He was a lesser version of Tim Brown; he should make it next year but was never truly dominant and did not make a Superbowl.
Well, I'm sure that many of you agree with me but, as always, I'm sure there is some disagreement. But we welcome that here at The Best Sports Blog! Send your own ballot in through the comment box and let's see how much support each player gets from the community!
---
---
What do you think?
We'd love to hear your comments and/or opinions. If you submit them here, other visitors can read them, rate them and comment on them. An e-mail address is not required.
---
From Projected 2011 NFL Hall of Fame Selections to NFL Football Blog | Sports Blog | NCAA Football Blog | NFL Football Archives | College Football Archives | MLB Baseball Blog | College Baseball Blog | MLB Baseball Archives | NBA Basketball Blog | NCAA Basketball Blog | NBA Basketball Archives | NCAA Basketball Archives | Fantasy Football | Fantasy Basketball | Fantasy Baseball | Soccer Archives | Olympics Archives | Stupid Athletes Archives | Other Archives | Football Forum | Basketball Forum | Baseball Forum | NFL Football Store | NBA Basketball Store | MLB Baseball Store | NCAA Football Store | NCAA Basketball Store | NCAA Baseball Store | Fatheads | NFL Football Tickets | NBA Basketball Tickets | MLB Baseball Tickets | NCAA Football Tickets | NCAA Basketball Tickets | NCAA Baseball Tickets |
---
Home Page
About Us | Contact Us | Site Search | Advertise | Terms of Use |
---