Breaking the NFL Records: Profiling Adrian Peterson and Calvin Johnson's Record Breaking Seasons
Two of the NFL's more significant records have been challenged this year by two of the NFL's biggest superstars. In Detroit, Calvin Johnson took down Jerry Rice's record for receiving yards in a season, and has an outside shot at passing the 2,000 yard mark with a good game in Week 17. In Minnesota, Adrian Peterson, coming off of a reconstructed leg, still has an outside shot to pass Eric Dickerson's record of 2,105 yards in a season, which has stood since 1984, as the NFL has gotten more and more pass-heavy. It's unusual to see two significant records like this be challenged in the same season – it would be like people the home run record and most hits in a season being challenged at the same time. After Drew Brees took down Dan Marino's passing yards record last season, the NFL record book is being rewritten right from the very top.
Moreover, unlike some of the single season records that have fallen, both Rice and Dickerson set their records in the modern era, in 16-game seasons – they really are apple to apple comparisons. It's not like when Dickerson broke OJ Simpson's record; Simpson did his 2,000 yard season in only 14 games, which is one of the more impressive feats ever done in the NFL. So, it seems like a safe thing to say that Calvin Johnson had a better season this year than Jerry Rice did in 1995, and that Eric Dickerson will have had a better season than Adrian Peterson does, unless Peterson proceeds to break the record in the last week. However, I think that's too simplistic – it's putting all the weight on one statistic, as good as it is. I'd argue that, no matter what happens with the various records, Rice and Peterson will have had better seasons than Johnson and Dickerson.
Let's start with Rice and Johnson, as Johnson has already broken the record, and has an outside chance at being the first ever to gain 2,000 yards in a season. How can I say the first person to every approach that number had a worse season than someone who ended more than a hundred yards short? Some people will say that Rice's '95 Niners were a better team than the '12 Lions, so Rice's yards were more important, and, thus, the season counts more, or something along those lines. That's not really looking deep enough into things, however. Mike Tirico, on Monday Night Football on Saturday, implied that many of Johnson's catches had come with his team hopelessly out of it, but that's not the case – Johnson only has 98 yards with his team down by two or more scores this year. The Lions haven't won many games, but it's not like Johnson has been racking up his yards against second stringers and prevent defenses.
The vast majority of his yards have been with the game still in the balance, albeit the Lions trailing. Plus, you can't blame Johnson for his team being worse. Jerry Rice had hall of fame quarterback Steve Young throwing passes to him, with a pro bowl tight end in Brent Jones also in the lineup. John Taylor, the receiver opposite from him, was about to retire, but the 49ers had young talent like JJ Stokes rising. And when Rice left the field, the #1 ranked defense in the NFL entered the field. Johnson's supporting cast isn't even in the same stratosphere – his offense stars people cut by Jacksonville and Seattle earlier this year. You can't point to the results of the team to say Johnson has been worse. So, what am I going on about?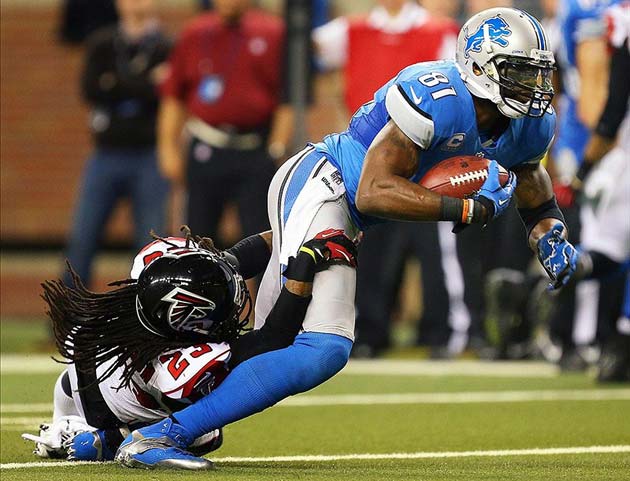 ---
You have to look a little deeper into the numbers to answer that question. First of all, if you like counting stats, note that Rice took down 15 touchdown passes in 1995, leading all receivers. Johnson will be a little lucky to get to half that number, much less double digits. On a deeper level, you have to look at how efficient they were getting their yards. Rice caught 70% of his passes in 1995 – it only took 175 passes for him to get his 122 receptions and 1,848 yards. Johnson's only at 61% --coming into Saturday's game (as I don't yet have the stats for numbers of passes thrown his way against Atlanta), Johnson had 174 passes to him, for 106 receptions, and 1,667 yards. Now, 61% is a fantastic number for a deep ball receiver – all of Johnson's stats are fantastic, which is why we can compare him to the greatest receiver to ever play the game – but it's far less than Rice's, and this is in a much less restrictive environment for passing.
Remember, it wasn't until 2004 when the rules on defensive pass interference and holding were tightened, with the five-yard bump rule more strictly enforced. Rice was allowed to be mauled more than receivers of today. Add in the increased reliance on passing in the past decade, and you'll see passing rise -- in 2012, the average team throws for more than 230 yards a game. In 1995, it was 220. It's not just a league-wide phenomenon, either. The '95 49ers were the best passing team by a wide margin, hitting 288 yards passing per game. That would put them fifth in 2012, with the Lions leading the way with 302 yards a game, with Matthew Stafford on pace to break the passing attempts in a season record.That's not all the effect of Johnson and Rice, that's the effect of the way the game has evolved over the past fifteen years. Rice's era was just harder to rack up huge yardage totals.
2012 is arguably not even Johnson's best season. Last year, he put up "only" 1,681 yards, but all those other stats we looked at were better, most notably 16 touchdowns, as well as more than 2 more yards per reception. Calvin Johnson is the best wide receiver in football today, a probable Hall of Famer assuming he doesn't break down in the next few years, and holder of one of the most significant records in NFL history, but Rice's numbers in '95 are still more impressive.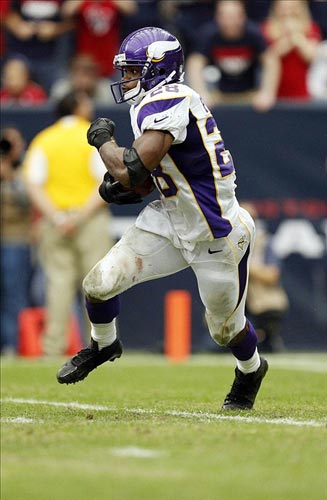 ---
As for Peterson and Dickerson? The full analysis is hard to get done right now, as we won't know if Peterson has broken the record for another couple weeks. But even if he doesn't get there, I'd argue putting up the kinds of numbers he's put up in 2012 is more impressive than Dickerson's '84 season. Even putting aside the issue of the torn ACL Peterson suffered – an injury some speculated could keep Peterson out for the entire year – look at the usage stats. Coming into week 16, Peterson had rushed 289 times for 1,812 yards -- 6.3 yards per attempt. It took Dickerson 379 carries to get his 2,105, for only 5.6 yards per attempt. If you had given Peterson as many carries as Dickerson had just through week 14 – a real possibility considering the ineptness of the Vikings' passing game – Peterson would already be past 2,000 yards, and would be essentially one rush away from breaking the record with a game to go. Peterson's also got a chance to catch Dickerson's 14 touchdowns. So, statistically, it seems Peterson's already had a better season than Dickerson was having.
And look at the environment! Both teams stunk in the passing game, but at least the Rams had a pro bowler in Henry Ellard to give the Rams some sort of passing threat. The Vikings rank dead last in the NFL this season, meaning Peterson has been facing eight and nine men in the box nearly the entire way. Moreover, the average team in 1984 rushed for 123 yards a game – in 2012, it's 116. They ran nearly four more times per game than teams do nowadays – and remember, that's the average. There's actually a wider gap between the More teams than ever before now are splitting carries, too – it's rare to find a team willing to pound the same running back over and over again. The entire philosophy behind running has gone in a direction that would prevent people from putting up numbers like Peterson is doing – yet, here he is. No one should be threating 2,000 yards in 2012. It should be a thing of the past, along with the single wing and people playing both ways. Dickerson's season is closer to the moon landing than it is today. And yet here Adrian Peterson is, on a reconstructed leg, threatening the rushing statistics of a previous generation. It's phenomenal, and a reason why Peterson should be the MVP, not just the comeback player of the year.
Johnson and Peterson are having fantastic seasons. Rice and Dickerson had fantastic seasons. It's not diminishing any of them to mention that they've all been great. Any team, in any era, would want to have them on their squad. The status of the record shouldn't be the sole determining factor in determining which player had the best season. Because of the evolution of the game since the '80s, I feel that, regardless of the status of the record book after this season, Jerry Rice and Adrian Peterson performed ever so slightly better than Calvin Johnson and Eric Dickerson. That being said, I'm rooting for Megatron to get to 2,000 yards, and Peterson to pass Dickerson's record, as records are meant to be broken. It's a fantastic achievement, and one that will be thrilling to watch over the last week of the season. But just as some people still consider Ruth's 60 or Maris' 61 the true season record, any record set needs to be considered in the context of its time.
---
What do you think?
We'd love to hear your comments and/or opinions. If you submit them here, other visitors can read them, rate them and comment on them. An e-mail address is not required.
---
From Breaking the NFL Records: Profiling Adrian Peterson and Calvin Johnson's Record Breaking Seasons to NFL Football Blog | Sports Blog | NCAA Football Blog | NFL Football Archives | College Football Archives | MLB Baseball Blog | College Baseball Blog | MLB Baseball Archives | NBA Basketball Blog | NCAA Basketball Blog | NBA Basketball Archives | NCAA Basketball Archives | Fantasy Football | Fantasy Basketball | Fantasy Baseball | Soccer Archives | Olympics Archives | Stupid Athletes Archives | Other Archives | Football Forum | Basketball Forum | Baseball Forum | Sports Trivia Questions | NFL Football Store | NBA Basketball Store | MLB Baseball Store | NCAA Football Store | NCAA Basketball Store | NCAA Baseball Store | Fatheads | NFL Football Tickets | NBA Basketball Tickets | MLB Baseball Tickets | NCAA Football Tickets | NCAA Basketball Tickets | NCAA Baseball Tickets |
---
Home Page
About Us | Contact Us | Site Search | Advertise | Terms of Use |
---