Previewing the NFL Game of the Week: New England Patriots vs. New Orleans Saints
There are very few hurdles Tom Brady has yet to clear in his Hall of Fame NFL career. He's won Super Bowls and MVPs, Comeback Player and Sportsman of the Year. He holds nearly every significant Patriots passing record in the book, and has led his team to more playoff victories than any other quarterback in the history of the league.
He had a chance to set another record this season – the one for most consecutive games with a touchdown pass. Last week, however, for the first time in 52 games, the Cincinnati Bengals kept Brady and the struggling Patriots pass offense out of the end zone.

The player he was trying to beat? Drew Brees of the Saints. It's somewhat fitting that Brady was unable to knock off Brees, because Brady has yet to beat Brees in his NFL career, ending up 0-3 against the star. The Saints passing offense is doing anything but struggling, and the defense is holding its weight this season, meaning that this matchup between future Hall of Fame quarterbacks is also a potential Super Bowl preview, and the most interesting game of Week 6.

New Orleans Saints (5-0) @ New England Patriots (4-1) – Sunday, October 13th, 4:25PM Eastern, FOX.
Last Week: The normally threatening Bears defense was unable to step up to the task of slowing down the Saints offense, as Drew Brees found holes all over the secondary, going 29-for-35 with a couple of touchdown passes. The main beneficiary of this passing attack was Jimmy Graham, who has been nearly unstoppable this season, bringing in 10 receptions for 135 yards without a single incomplete pass aimed his way. The short and accurate passing attack was enough for the Saints to continue their unbeaten ways, winning 26-18.

The Patriots were also unbeaten going in to week 5, but they had a different experience on their trip to the Midwest. Brady was hurried and harried all game long, sacked four times, hit twice more, and forced to hurry an additional eight times. When the Bengals sent pressure, Brady was only 4-for-10, with several key drops by Danny Amendola, Julian Edelman, and Brandon Bolden stifling momentum as they tried to drive for the win. They even had a first-and-goal from the one late in the fourth quarter, and couldn't punch it in for a touchdown. Add it all up, and you get the first loss of the Patriots season, going down 13-6.

Last Meeting: As mentioned earlier, Brady has never beaten Brees in their NFL matchups, and the 2009 game was no exception. Like this year, the Saints rolled into the game undefeated, sitting on an 11-0 record. Brady did manage to pass Drew Bledsoe for most passing yards in Patriots history in the game, but that was far overshadowed by Brees' passing proficiency. Drew Brees threw for five touchdowns, the most ever against a Bill Belichick-coached team, and 371 yards, finishing with a perfect passer rating of 158.3. The Patriots, still in the middle of their dynasty phase, were absolutely destroyed in the Superdome, as the Saints aerial assault spotted them to a 38-17 victory.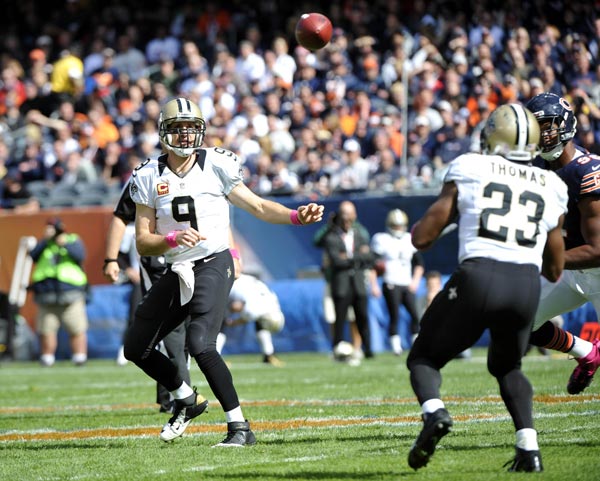 What's at Stake: The Saints have a fairly comfortable cushion atop their division, as the rest of the NFC South has combined for two wins. They even have a one-game cushion over the Seahawks for the #1 overall seed, so, win or lose, they're in fine shape. What's at stake, then, is their first 6-0 start since their Super Bowl season in 2009. The Patriots are also atop their division, but a loss could throw them back into a tie with the Jets, as well as potentially continuing questions about their ability to function as an offense.

This Time: The best news for Patriots fans is that Rob Gronkowski looks like he's finally going to play. We've heard that for the last three weeks, but this time, it appears to be for real. Dr. James Andrews appears poised to clear him, medically, and he's been practicing with the team, which is the closest we can get to confirmation out of the tight-lipped Patriots. It could not come at a better time, as the passing attack has been floundering without Gronkowski's sure hands. Their rotation of rookie receivers, Aaron Dobson, Josh Boyce, and Kenbrell Thompkins, have been underwhelming, at best.
All are catching less than half the passes thrown their way – Boyce, albeit in a small sample size, is only at 17% -- and all are marked as not only below average, but below replacement level by Football Outsiders. Julian Edleman and Danny Amendola, when healthy, have done just fine, but they don't have a game changer out there. Gronkowski's return basically shifts everyone else's responsibilities down one which is bound to help out, especially in the Red Zone, where Gronkowski shines. The Saints have done well guarding against tight ends this season, and Gronkowski may be limited in what he can do fresh off his injuries, but it'll still be a challenge to reign him in.

It's not just Gronkowski's absence that has caused New England's offensive troubles this season, though – with Shane Vereen and Stevan Ridley hurt, the run game has begun to sputter. Again, there's some good news coming – Ridley, who's been working through injuries to his knee and thigh, has been spotted back at practice, and could very well play against the Saints. It would be a huge boon – taking the air out of the ball and controlling the clock is the best way to slow down the Saints offense, and Ridley's been better than any of the other healthy options they have.
It also might help alleviate some of the pressure that Brady has been facing – Rob Ryan has been dialing up some interesting and exotic blitzes, and made Jay Cutler's life miserable last week. The Patriots need to find a way to slow that down; the last time they faced a Rob Ryan defense, Brady was sacked twice and intercepted once in the first quarter. They countered that by going to no-huddle and forcing the Cowboys to stay in their base defense. We'll see if they use a similar strategy to diffuse some of the pressure this week.

The Saints leading receiver doesn't play wide receiver. Neither does their second leading receiver, nor their third leading receiver. They attack not only the entire length of the field, but the entire width. That's made them second to only the Broncos in terms of their passing offense in the league this year, and it all starts with Jimmy Graham. He's gone over 100 yards in his last four games, tying the NFL record for tight ends, and he needs to be shut down. The Patriots struggled against Tony Gonzalez against the Falcons until they clamped down tight on him with double teams and intense jamming at the line, and they may try a similar strategy against Graham – however, Graham's younger and faster than Gonzalez is at this point.They may even need to keep their top corner, AqibTalib, on him, or risk getting burned.

The Saints have also gotten a lot of production out of the backfield in the passing game this season. Neither Pierre Thomas nor Darren Sproles have been much great shakes running the ball, but they are second and third on the team in receptions. I'm not sure there's a better back on short screen passes than Thomas; he caught all 9 of the balls thrown his way last week and earned 75 yards after the catch. Even if the Patriots do get pressure on Brees, the screen game will keep the Saints offense moving.

That doesn't mean getting pressure is a bad thing of course; in fact, it's the Patriots main hope of survival – be efficient on offense, control the clock, and don't let Brees have time to dissect the defense by having someone in his face constantly. With Vince Wilfork out, the ability of the Pats to do that is lessened, but not removed. Left tackle Charles Brown, especially, has struggled against the pass rush this season, only allowing Brees to be hit 3 times but giving up 14 QB hurries – he's someone the Patriots could target.
Jahiri Evans over at right guard has also been a bit worrisome, when he's been healthy enough to play, anyway. The Patriots haven't had anyone excel too much in the pass rush so far this season, but Rob Ninkovich has been getting a ton of QB pressures, and hits and sacks are sure to follow at SOME point, albeit probably not in this game – but even just hurrying Brees might be enough to slow the offense down.

Prediction: It'll be a tough challenge for the Patriots to stop the Saints, especially if the offensive struggles continue. Gronkowski and Ridley coming back are going to be a huge boon, however, and I think we'll see the uncharacteristically poor numbers coming out of this offense shoot up as they're actually able to catch the ball from time to time. I expect to see a lot of short, controlled, high percentage passes designed to keep the clock moving and control the pace of the game.

That won't matter if they can't slow down the Saints offense, but they have some experience doing this sort of thing. No, they're not the same team that famously frustrated Peyton Manning last decade, but I can see them, at home, doing just enough to keep Brees from going off. I think the Patriots will avoid their second consecutive loss and give Brady his first victory over Brees since they were in college.
Patriots 27, Saints 24


What do you think?
We'd love to hear your comments and/or opinions. If you submit them here, other visitors can read them, rate them and comment on them. An e-mail address is not required.
Return from Previewing the NFL Game of the Week: New England Patriots vs. New Orleans Saints to NFL Football Blog