Previewing the New York Jets on Monday Night Football
By Bryan Knowles
Week 5 is already underway, and we've already seen one of our last three undefeated teams go down, meaning out last chance for a game matching two undefeated squads will be in Super Bowl XLVII. But will anyone join the Cardinals in losing their first game this week? It deserves a look-see, at least. So, if you can peel your eyes away from Manning v. Brady XIII for just a moment, let's see what else the AFC has in store for us.
Houston Texans (4-0) @ New York Jets (2-2) – Monday, October 8th, 8:30PM Eastern, ESPN.
Last Week: I suppose you could say the Texans rolled. They had never gotten to a 4-0 record before, but certainly weren't going to let the hapless Titans stop them. Matt Schaub was a nearly perfect 20 for 28 passing, and Arian Foster added 86 yards and a touchdown on the ground, but it was really the defense's show, knocking Jake Locker out early and returning two interceptions for touchdowns – the Titans couldn't outscore the Texans defense, much less their high powered offense, as the Titans won 38-14. The Jets didn't, erm, quite have so much luck in their matchup against the 49ers. The most prominent backup quarterback in the NFL got shown up by the 49ers version of the Kaepernick-cat, as the Jets allowed three different 50 yard rushers on their way to being blown out, 34-0 – their third largest home shutout ever, and worse since the '80s.
Last meeting: In week 11 back in 2010, the 7-2 Jets hosted the 4-5 Texans, and it was happier times for Mark Sanchez. The Jets had been nursing a comfortable 20-7 lead going into the fourth quarter, when the Texans started taking off, scoring 20 points to jump into a late lead. However, the Jets had just come off of two consecutive overtime wins, so they knew how to play in clutch situations. With less than a minute left in the game, Sanchez marched the Jets 72 yards down the field, hitting Braylon Edwards with a long bomb before finding Santonio Holmes in the corner of the end zone for the game winning touchdown.
What's at stake: The Texans are riding high in the AFC South, already with a two and a half game lead over the entire division. A win would just keep up the status quo, but a loss would start to raise questions about the difficulty of their road so far, and if they can keep up with the Ravens in the race for the top seed in the AFC. The Jets are clinging onto a share of the lead in the AFC West, but with season ending injuries to DarelleRevis and Santonio Holmes in back to back weeks, they need a win here to get back on track – if it's possible for a season to be on the line in week 5, the Jets are there.
This time: Arian Foster and Ben Tate have to be licking their lips, eagerly anticipating this one. The Jets have let the Bills, Dolphins, and 49ers each run for more than 185 yards, and that number doesn't look to go down against a team with two backs the caliber of the Texans rushing attack. The news gets worse, however – although Alex Smith couldn't quite take advantage of it, Kyle Wilson, replacing Revis in the secondary, was torched on multiple occasions last week. Matt Schaub is a better deep-ball quarterback than Alex Smith (which isn't saying too much – I think half of this readership is a better deep-ball quarterback than Alex Smith), so Kevin Walter could have a huge day offensively. Really, the Texans should be able to pick their poison.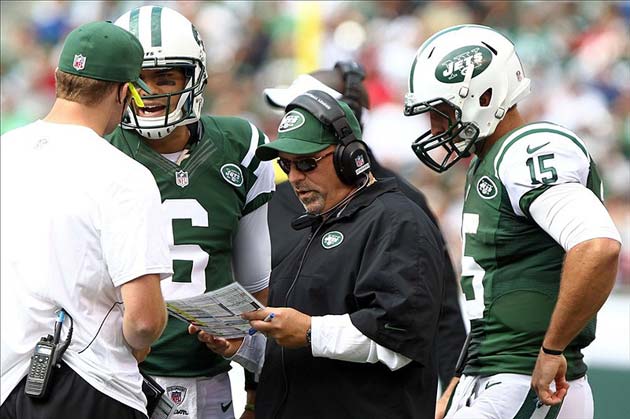 ---
If the Texans have one thing they're going to want to build on over last game, it will be their running defense. They allowed Chris Johnson, this year performing his impression of a cadaver, only with less elusiveness, to run for 141 yards. Admittedly, that was almost all in garbage time, when the game was well salted away, but it's not the sort of number they'd like to repeat. Shonn Greene may not be the greatest running back ever, but he's been much more effective than Johnson this year, so he might be able to find some lanes. The Jets better just hope that comes early, and not when they're already down three touchdowns.
But let's talk about the elephant in the room, one Timothy Richard Tebow. Tebow is not a good quarterback, but he has the reputation of a winner. He also has the benefit of playing the most popular position in sports today – backup quarterback on a struggling team. No one is showered with more praise and adulation than the guy backing up someone not getting the job done. Rex Ryan is still sticking with embattled Mark Sanchez, though. "I just know in my heart, right now, that this is not the time," Ryan said about the possibility of seeing Tebow start. "I think Tim is an outstanding player, and I think Mark is. Right now, I think Mark gives us our best opportunity to win."
And you know what? He's right. Well, at least about now not being time. Ignoring whether or not Sanchez is better than Tebow (he is), why on earth would you have your backup quarterback come in against a defense as ferocious as the Texans? If he gets creamed – which, seeing what the Texans have been doing all season long, seems more likely than not – now you've not only shown that your backup quarterback can't get the job done, but you've ruined the confidence of your starter. You've just lost Santonio Holmes for the season – you really think this is the best time to throw Tebow to the wolves? Starting Sanchez, on the other hand, gives you two outcomes. Either he surprises us all and fires off a great game, beating the Texans and becoming the savior of the Jets once again, or he gets clobbered and you can bring Tebow in against a rebuilding Colts team next week, which will give him the best chance of succeeding. No, you've got to stick with Sanchez for at least one more week, and then just wish you had signed a backup quarterback who is good at throwing footballs.
Prediction: The Texans have never beaten the Jets. Ever. The Jets have nowhere to go but up – they can't look as bad as they did two weeks in a row. It will be at home on a Monday night on a national stage, the chance to prove that the haters are wrong, and that Jets football is still number one. Can I really do it? Can I really talk myself into taking the Jets? Of course not.Texans, 24-14.
---
What do you think?
We'd love to hear your comments and/or opinions. If you submit them here, other visitors can read them, rate them and comment on them. An e-mail address is not required.
---
From Previewing the New York Jets on Monday Night Football to NFL Football Blog | Sports Blog | NCAA Football Blog | NFL Football Archives | College Football Archives | MLB Baseball Blog | College Baseball Blog | MLB Baseball Archives | NBA Basketball Blog | NCAA Basketball Blog | NBA Basketball Archives | NCAA Basketball Archives | Fantasy Football | Fantasy Basketball | Fantasy Baseball | Soccer Archives | Olympics Archives | Stupid Athletes Archives | Other Archives | Football Forum | Basketball Forum | Baseball Forum | NFL Football Store | NBA Basketball Store | MLB Baseball Store | NCAA Football Store | NCAA Basketball Store | NCAA Baseball Store | Fatheads | NFL Football Tickets | NBA Basketball Tickets | MLB Baseball Tickets | NCAA Football Tickets | NCAA Basketball Tickets | NCAA Baseball Tickets |
---
Home Page
About Us | Contact Us | Site Search | Advertise | Terms of Use |
---