Preparing for the NFL Draft: An Interview with University of Pittsburgh Star Brandon Lindsey
By Paul Grossinger
The lead-up to their NFL draft is one of the most enjoyably stressful moments of a college football players' career. But what is it like? How do players' prepare? What do you emphasize about your own career, abilities, and potential?
To find out, The Best Sports Blog sat down with former Pittsburgh Panthers star pass rusher Brandon Lindsey, a projected 2012 NFL draft pick, to discuss his own college football career, the NFL Combine experience, and what he will take with him as he transitions into professional football.
We've placed a selective transcriptof the interview's best parts below, so check it out and experience the NFL draft process from a players' point of view!
The Interview
Question: If you had 30 seconds, what is your case to an NFL executive for why they should draft you? What do you bring that no one else can?
Brandon: "I would tell them that they are going to get a high motor player. I am a hard-working guy who plays every play as hard as I can. I have no discipline problems: I want to be a role model player and show that you can do anything if you work hard enough. And I have experience playing in the 4-3 and the 3-4 so I will bring that versatility and always be willing to learn from the vets and the coaches to get better every day."
Question: What were your greatest on-field and off-field successes as a Pittsburgh Panther?
Brandon: "My best off-field was getting my degree in December. That can be hard to do with football but it was a priority for me. On the field, being productive and helping my team play well enough to go to consecutive bowl games for the first time in a while was very important. I will miss the college atmosphere at my games but now that I have my degree and experienced college football success, I'm ready to move forward to the NFL."
Questions: Who are the most important positive influences in your life? Did you also have some more negative experiences you needed to overcome?
Brandon: My parents are the most positive influence. They sacrificed a lot for my brothers and I; we wouldn't be where we are without them. I owe my success to their support from the beginning. Negatively, I didn't have discipline issues or bad influences or anything like that but it was hard not starting for the first half of my college career. I was extremely frustrated but then I talked to [then] coach Wannstadt and he put me in as a disruptive pass rusher and I did my best to take advantage of the opportunity. You really just can't give up."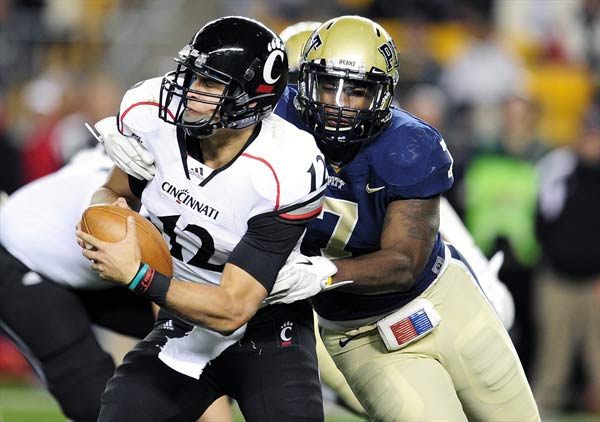 Pittsburgh Panthers linebacker Brandon Lindsey (7) sacks Cincinnati Bearcats quarterback Zach Collaros (12) during the third quarter in the Cincinnati Bearcats 26-23 win against the Pittsburgh Panthers at Heinz Field in Pittsburgh, Pennsylvania.
---
Question: What have you enjoyed most in the NFL pre-draft process? What is the most stressful part of it?
Brandon: The whole combine experience was great. Meeting everyone - the coordinators and division coaches - you don't know them till you meet them. I liked hearing what they had to say and also telling them how I thought I could be a big help to their teams. It's really stressful but you just get to explore so many opportunities and meet so many people, even former players, that it's really great.
Question: What is the most stressful part of the pre-draft experience?
Brandon: You just have no control. It's hard not knowing when you will be drafted or where you will end up. Or if you will be drafted at all!
---
What do you think?
We'd love to hear your comments and/or opinions. If you submit them here, other visitors can read them, rate them and comment on them. An e-mail address is not required.
---
From Preparing for the NFL Draft: An Interview with University of Pittsburgh Star Brandon Lindsey to NFL Football Blog | Sports Blog | NCAA Football Blog | NFL Football Archives | College Football Archives | MLB Baseball Blog | College Baseball Blog | MLB Baseball Archives | NBA Basketball Blog | NCAA Basketball Blog | NBA Basketball Archives | NCAA Basketball Archives | Fantasy Football | Fantasy Basketball | Fantasy Baseball | Soccer Archives | Olympics Archives | Stupid Athletes Archives | Other Archives | Football Forum | Basketball Forum | Baseball Forum | NFL Football Store | NBA Basketball Store | MLB Baseball Store | NCAA Football Store | NCAA Basketball Store | NCAA Baseball Store | Fatheads | NFL Football Tickets | NBA Basketball Tickets | MLB Baseball Tickets | NCAA Football Tickets | NCAA Basketball Tickets | NCAA Baseball Tickets |
---
Home Page
About Us | Contact Us | Site Search | Advertise | Terms of Use |
---