Position Battles for the Defending Super Bowl Champion Baltimore Ravens
All the coverage on positional battles this offseason seems to revolve around the quarterback position – will it be Sanchez or Smith in New York, will Matt Flynn hold onto the starting job in Oakland, is EJ Manuel ready for prime time.  But it turns out other positions also have battles – I know, I'm as shocked as you are.  It's not always the teams at the bottom of the standings, either – even good teams are struggling in OTAs, trying to figure out who will replace key starters at key positions.
You need look no further than the defending champs to see this in action.  The Ravens recently went to the White House for the annual celebration and photo op with the president.  Coach John Harbaugh said that "on behalf of all the Ravens, I want to thank Mr. President for hosting us all here today.  It's an unbelievable honor.  We are grateful, and I want you to know, we have plans to be back next year."

Well, that should read almost all the Ravens.  Although it was a fairly complete reunion, including both retired players like Ray Lewis and some who have joined other teams like Ed Reed, there were still key players missing.  AnquanBoldin was busy in San Francisco for minicamps, for example, as was Paul Kruger in Cleveland.

Then, of course, was Cary Williams – one of the Ravens starting cornerbacks last season.  He was thrust into the role of top corner when Ladarius Webb tore his ACL midway through the season, and at times, he struggled.  He did end up tied for the lead in interceptions, however, and come playoff time, he really shined.  He picked off both Andrew Luck and Tom Brady at key points in separate playoff games to help seal Baltimore's victories.  He impressed me enough to name him to the bench on my all-time Ravens team, with the obvious caveat that the competition is somewhat low due to the short history of the Ravens.

Williams is in Philadelphia now, developing new and innovative reasons to miss OTAs.  That means the Ravens will have to find new blood in their defensive secondary.  Now, they will be getting Webb back, so that will help, and remember – Williams wasn't exactly lights out in the regular season.  According to Football Outsiders, he was in the bottom ten in success rate, which measures whether or not a play makes reasonable progress towards a first down, yet in the top ten in yards after catch allowed.  The former stat is more meaningful than the latter, meaning there's a good chance that whoever replaces Williams will actually improve the Ravens' pass coverage.

There are two leading candidates for the #2 role – Webb is entrenched as the number one corner.  Option number one is the man who came in to start across from Williams when Webb went down, Corey Graham.  He ended up starting every game after week 9, and performed admirably.  If you go back up to that link for the top cornerback charting stats, you'll find Graham in the top-5 for both yards per pass allowed and success rate.  That means he covered people well, and even when he did give up a reception, he was a sure tackler, preventing the long gain.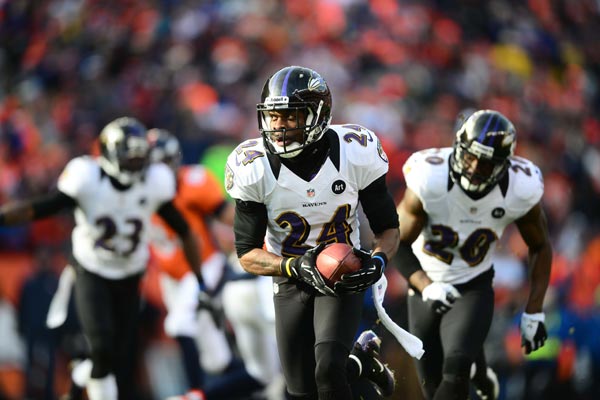 Considering he was a fairly random, under the radar signing, likely added more for his special teams skills rather than his coverage abilities, that's an incredible performance.  All the credit for Super Bowl success goes to the stars, but if players like Graham hadn't been able to step in and play well, the Ravens wouldn't have gone anywhere.  In the divisional round playoff game against the Broncos, Graham really exploded, picking off Peyton Manning twice, with one returned for a touchdown.  The second one happed in overtime and setup the game-winning field goal.

Graham's lacking in raw athleticism, though, and doesn't match up with number one receivers – he's really more fit for covering smaller players in the slot as a nickel corner.  His big plus is that he's a steady, consistent player – you know what you're going to get out of him at this point in his career.  He'll see plenty of time on the field this season, but maybe not as the starter, as he battles it out with Jimmy Smith.  Smith was taken in the first round of the 2011 draft out of Colorado, and is the athletic specimen that Graham is not.  He has great speed, is a solid tackler, and in college, showed the potential to be a potential shut-down corner.  However, his career to date in the NFL has been less impressive, yet to crack the starting lineup.  Last season, he missed time with a sports-hernia surgery, and then was replaced in the nickel package by Chykie Brown for the end of the season.
 
He did get back on the field in the Super Bowl, and was in coverage on the final two defensive plays, passes to Michael Crabtree.  There, he was able to use his physicality to prevent Crabtree from coming down with the game winning touchdown.  Some might argue that by "using his physicality", I actually mean "committing defensive holding and pass interference", but the end result was a victory for Baltimore, so they can't complain too much.

Smith has shed some weight this offseason, and is now fully healthy – injuries have slowed his development.  The Ravens still believe he can develop into a quality starting cornerback, although he has shown few signs of it in the past two years, only starting five games.  For most teams, this would be a sign to go with Graham – the more consistent player with the better history of success.  The Ravens, however, aren't most teams, and have never been afraid to take risks.  If I were running the team, Graham'd be my guy, but there's a reason I'm writing articles analyzing this stuff on the internet and not being GM for the defending Super Bowl Champions.  Smith's potential is why the Ravens grabbed him two years ago, and I think they'll roll the dice and see what a fully healthy Smith can do I the regular season – they can always go back to Graham if he doesn't work out.

Consider that one hole down, several more to go for the defending champs.  Somehow, I think they'll be alright.


What do you think?
We'd love to hear your comments and/or opinions. If you submit them here, other visitors can read them, rate them and comment on them. An e-mail address is not required.