Picking the Best Team for Anthony Davis
All 32 NBA Teams would love to have the Number 1 overall pick (most likely select Anthony Davis) in next month's NBA Draft. However, with this article I've decided to look at a few teams that would benefit the most from Anthony Davis being added to their roster:

4. Charlotte Bobcats: The Bobcats had two of the top 10 picks in last years NBA Draft as they decided to take Power Forward BismackBiyombo (7th overall pick) and Kemba Walker (9th overall pick). Kemba had a mixed rookie season as there were times that he looked like he was going to be a solid point guard (averaged 12.1 points and 4.4 assists per game) and other times that he looked confused on the court (averaged 2 turnovers while only averaging 27.2 minutes per-game).
Biyombo on the other hand had a slow start to his career (didn't play 25+ minutes in a game until February 4th) but as his minutes started to increase, so did his stats (averaged at-least 1.9 blocks per game the last 3 months of the season). I feel Anthony Davis would be a good addition to any NBA team, however, I'm not sure how he would fit in with this Bobcats roster. Charlotte would feature the smallest front court (Biyombo 6'9? and 6'10?) in the NBA but I'm sure the Bobcats would find a way to make it work. The Bobcats need a for someone to become the face of their franchise and Davis would instantly become the face of the Bobcats.

3. Washington Wizards: The Wizards are one of the two teams on this list that has a former number 1 overall pick as the teams point guard (John Wall, 2010 NBA Draft). Washington already features 2 All-Star caliber players on their roster (Wall and Nene) and if they were able to get Anthony Davis, they would feature an even better core. In addition to Nene and Wall, the Wizards have 2011 1st Round Pick (Jan Vesely), to go along with Kevin Seraphin, and Chris Singleton on their roster. With these players, the Wizards would be known as one of the best "up and coming teams" as they'd feature two of the best young players in the NBA to go along with a lot of other young players on their roster.

2. New Orleans Hornets: After the Chris Paul trade, New Orleans realized that they were a team that had to start over and enter the rebuilding stage. With the pieces they acquired from the Clippers (Eric Gordon, Al-FarouqAminu and Minnesota's 1st Round Pick), in addition to having an early 1st round pick and a lot of cap space this offseason, the Hornets are starting to look like a team that features a nice foundation. If New Orleans was able to win the NBA Lottery and acquire the number 1 overall pick, then they would feature a solid core of players (Eric Gordon, Al-FarouqAminu, Anthony Davis, and EmekaOkafor) while still having an additional first round pick and veterans Trevor Ariza and Jarrett Jack on their roster. The Hornets have a lot of different directions they can go in the next few years.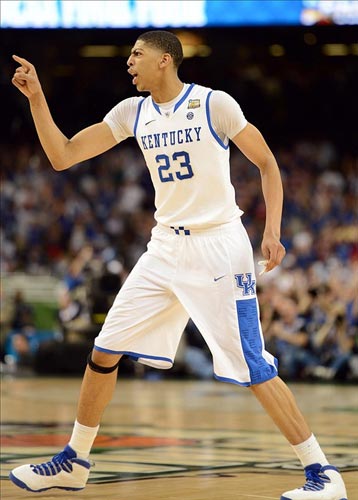 Apr 2, 2012; New Orleans, LA, USA: Kentucky Wildcats forward Anthony Davis (23) reacts during the second half in the finals of the 2012 NCAA men's basketball Final Four against the Kansas Jayhawks at the Mercedes-Benz Superdome. Photo Courtesy By: Bob Donnan-US PRESSWIRE.
---

1. Cleveland Cavaliers: Of all the teams in the NBA Draft Lottery, I feel the Cleveland Cavaliers would be the best fit for Anthony Davis. Within a 2 year span, the Cavs went from a Title Contender, to the worst team in the NBA, and then a team on the rise with 2011-2012 Rookie of the Year Winner, Kyrie Irving (who averaged 18.5 points and 5.4 assists per-game). From the start of the season, Irving showed that he was going to become a dominant player and leader for a Cavs team that wasn't sure what direction they were going in.
Along with Irving, the Cavs also feature Power Forward/Center (and fellow rookie) Tristan Thompson, Anderson Varejao, along with an additional first round pick from the Lakers. If the Cavs win the NBA Draft Lottery tonight and are awarded the Number 1 Overall Pick, then I feel they might look to trade fan favorite Anderson Varejao for more depth in their backcourt or try to acquire additional picks (as many teams would like to have a player like Varejao on their roster). If the Cavs were able to acquire the Number 1 pick in this year's NBA Draft, then the Cavs would be closing in on a Playoff Spot.
---
What do you think?

We'd love to hear your comments and/or opinions. If you submit them here, other visitors can read them, rate them and comment on them. An e-mail address is not required.
---
From Picking the Best Team for Anthony Davis to MLB Baseball Blog | Sports Blog | NFL Football Blog | NCAA Football Blog | NFL Football Archives | College Football Archives | MLB Baseball Blog | College Baseball Blog | MLB Baseball Archives | NCAA Basketball Blog | NBA Basketball Archives | NCAA Basketball Archives | Fantasy Football | Fantasy Basketball | Fantasy Baseball | Soccer Archives | Olympics Archives | Stupid Athletes Archives | Other Archives | Football Forum | Basketball Forum | Baseball Forum | NFL Football Store | NBA Basketball Store | MLB Baseball Store | NCAA Football Store | NCAA Basketball Store | NCAA Baseball Store | Fatheads | NFL Football Tickets | NBA Basketball Tickets | MLB Baseball Tickets | NCAA Football Tickets | NCAA Basketball Tickets | NCAA Baseball Tickets |
---
Home Page
About Us | Contact Us | Site Search | Advertise | Terms of Use |
---