Phil Jackson Deserved Better
By Dennis Berry

Phil Jackson Walks Away on Low Note
As time expired in American Airlines Arena, the home crowd cheered as the Dallas Mavericks defeated the Los Angeles Lakers 122-86. The win advanced Dallas to the Western Conference Finals for the first time since 2006. The end also brought the end of a couple of eras in the NBA.
The Mavericks ended the Lakers bid for their 17th overall NBA Championship. L.A. could have tied the Boston Celtics for most NBA Championships with winning the title this year. The Mavericks also end the Lakers' chance to three-peat.

The Mavericks may have also ended the coaching career of Phil Jackson. We cannot be 100% sure, but it appears that Phil Jackson has reached the end of his coaching career. At least that is how Jackson sees it right now.

"All my hopes and aspirations are, this is the final game that I'll coach," Jackson said. "This has been a wonderful run."

If it is indeed the end, the Lakers could have done more to send Jackson out better. The Lakers not only were swept out of the playoffs, the only time this has happened to a Jackson coached team, but two players put a black eye on Jackson's final game.

The actions of Lamar Odom and Andrew Bynum in the fourth quarter of game four were uncalled for. With 9:06 to play in the fourth quarter, Odom was ejected for pushing Dirk Nowitzki on screen. The push was intentional and Odom was ejected for it.

Then, less then a minute later, Mavericks guard JJ Barea drove the lane for a lay up. Bynum did not even attempt to block the shot; instead he threw his forearm into Barea, knocking Barea to the ground for a hard landing. Bynum was charged with a flagrant two foul and immediately ejected. He then took off his jersey as he walked off the court.

Yes the Lakers were getting humiliated on the road and frustrated by being blown out; however, there was no need for those fouls to occur. In the case of Bynum, it was almost thuggish behavior that really tarnished Jackson's last game as a head coach. It is one thing if you are a 7'center and want to foul a 6' point guard hard to send a message to not come back down the lane. It is another thing to take out a defenseless player who is in mid-air going for a lay up.

Barea was on the floor for a few minutes after making an awkward, hard landing. He was lucky to have not been seriously injured following Bynum's actions.

What remains to be seen is how the NBA will handle these two cases. In the case of Bynum, you would have to believe that a fine and some sort of suspension will take place to start the 2011-2012 season. For Odom, while as not as serious as Bynum's, his actions were also uncalled for and could warrant action for the NBA.

These actions only dampen what could have been the finally game for Jackson, who has spent 20 seasons as a head coach in the NBA. He has won over 1,600 games. He has coached two teams, the Chicago Bulls and L.A. Lakers, to 11 NBA championships.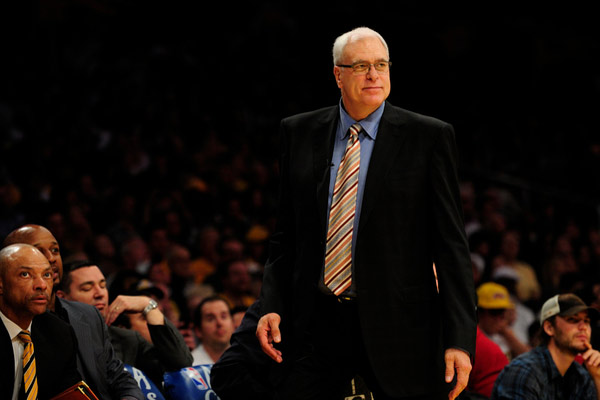 Jackson has coached some of the greatest players in the game. Some of the more notable being Scottie Pippen, Karl Malone, Kobe Bryant, Shaquille O'Neal, and Michael Jordan. Some like to knock Jackson's success, saying that he has only coached the best players and that is why he has won.

Isn't the reason any coach wins is because of his players?

Jackson should receive the credit for being able to get the best players to buy into a team- first philosophy. When he was in Chicago Jackson had to get Jordan to turn into a team player, instead of trying to do it all on his own. During the second three-peat, he had to not only manage Jordan and Pippen, but also had to keep Dennis Rodman under control for Chicago to win.

In Los Angeles, Jackson was able to find a way to get Bryant and O'Neal to work together to win three straight titles. Then he would return and help Kobe learn, just like Jordan, to be a team player.

He could have retired after winning his 11th title last season. He came back to try and get his fourth three-peat title. It was just simply not to be. Instead his final game as head coach was a 36 point blow out. He had to watch two of his players get ejected because they made poor decisions and acted out of frustration.

Phil Jackson deserved to walk away from the game better than this.

After a bad ending in LA, Will Phil Jackson Return to Coaching? Could he wind up back in NY, coaching the Knicks?


What do you think?

We'd love to hear your comments and/or opinions. If you submit them here, other visitors can read them, rate them and comment on them. An e-mail address is not required.