Peyton Manning and His March on the Record Books
We're running out of records for Peyton Manning to earn.On Thursday night, in front of the national television audience watching the start of the 2013 season, Manning threw seven touchdown passes, tying a record last set in 1969. He shares the record with five other men, including two Hall of Famers in Sid Luckman and George Blanda.
Even more impressively, Manning started off slightly below average, at least by his lofty standards – he was only 11-for-19 for 160 yards and 2 touchdowns as the Broncos went into the locker room down 17-14. It was in the second half that he exploded – only 100 people have thrown for as many touchdowns in a game as Manning managed in the second half of last night's game. "Our execution was better in the second half," Manning said. "We had some mistakes early -- things that weren't indicative of some guys -- that were slowing us down, but we improved our execution as the game went on."

He hooked up with four different receivers, throwing passes both deep and short, to both sides of the field – this wasn't a matchup he was exploiting, unless that matchup was "Peyton Manning versus the Ravens defense". He hit multiple-time Pro Bowlers like Wes Welker and unheralded newcomers like Julius Thomas. It was a master class in how to throw the football.

Let's just say my pick of Manning for MVP looks solid after 1/256th of the NFL season.

Was it the best game ever by a quarterback? Well, perhaps we shouldn't go quite that far – YA Tittle threw for more yards in his seven-touchdown game, and also was interception-free – but it's on the shortlist, considering it comes against the defending Super Bowl champions, who looked anything but Super on Thursday night. It doesn't make up for the heartbreaking playoff loss last season, but it's at least a step in the right direction.

Seven touchdowns represents about three games of work from Manning, too – obviously, he's not going to throw for seven touchdowns each and every year, but a start like that brings records into play, so it's worth taking a look at the single-season record for touchdowns, currently held at 50 by one Tom Brady in 2007 – the 16-0 year. Brady had one fantastic game, too, on his way to breaking Manning's old record – a six touchdown performance at Miami – and threw at least 3 touchdown passes in 12 of the 16 games.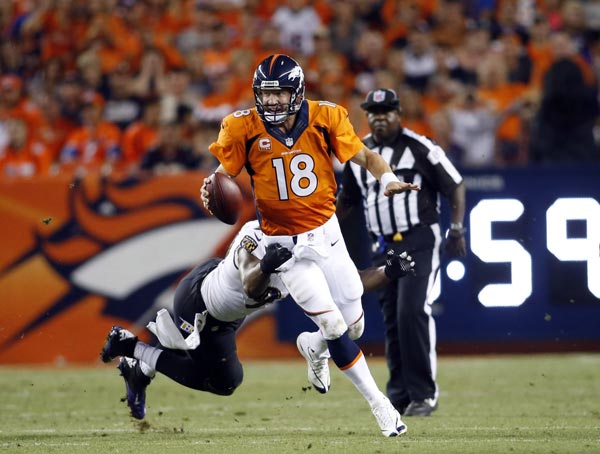 Manning's old record of 49 TDs, set in 2004, also had a six touchdown game on Thanksgiving, and Dan Marino's record of 48, set back in 1984, saw him put up a five-spot in the opener in Washington. To seriously challenge the record, you need not only consistency, but also at least one big highlight reel night like this one. He's got his highlight-reel performance; how might it look over the course of the season?

Well, at seven touchdowns a game, that's 112 touchdowns, so Manning should break the record in the Broncos eighth game, and…
…alright, let's look a little deeper.

Last season, Manning threw for 37 touchdowns, while the average NFL team threw for just under 24.Let's plug those numbers in to the 2013 season – Manning threw about 1.56 times as many touchdowns as your average quarterback. Compare that number to the average number of passing touchdowns given up by each team on the Broncos schedule, multiply the numbers together and add the seven touchdowns from week 1, and you end up with 47 touchdowns exactly. That at least puts Manning in the ballpark and, considering he was still recovering from multiple neck surgeries in 2012, there's reason to believe he could up his numbers more.

In addition, look at the pace the Broncos were running against the Ravens – the teams combined for 155 plays, when the average in 2012 was just 128. In a game that was effectively over halfway in the third quarter, Manning still ended up throwing the ball 42 times. With the running game being a three-headed monster, Manning could easily approach the 679 times he threw the ball in 2010 – the only time he's topped 600 in his NFL career. He's got a great set of receivers – arguably his best since the Harrison/Wayne days in Indianapolis – and is still very much on the top of his game. Add in a weak schedule – I project a whopping four of Denver's opponents to finish with a winning record, including the Ravens – and the sky is the limit for Manning's numbers this season.

Should you expect 7 touchdowns a game? No, of course not. But Manning and company will be terrifying this year, unless you're a Broncos fan.


What do you think?
We'd love to hear your comments and/or opinions. If you submit them here, other visitors can read them, rate them and comment on them. An e-mail address is not required.