No Trust? No Football
Yesterday, my friend Alex came up with an excellent explanation of the ongoing football lockout. "The NFL and its players," he said, "are like polar-opposite conjoined twins: they are attached to one another irrevocably and need one another to survive but they share no love or trust. In fact, they have totally different motivations and needs and each desperately wishes they could thrive without the other but they can't."
That strikes me as the perfect analogy for the NFL and its players: they need one another to survive but neither wants to admit that perfectly obvious fact. Sure, the lockout is about money; dividing up the ever-growing revenue pie has become increasingly difficult. No doubt, there is a strong vein of entitlement and greed as well; players feel like they spill their blood on the field and should get the lion's share of the revenue while the owners feel that since they actually "own" the league, they are entitled to the majority of the revenue. But, really, the ongoing lockout is about trust or the lack of it.
For the last week or more, all football fans have been treated to an endless barrage of press and reports suggesting that the end of the lockout was imminent. Despite my initial skepticism, I must admit that when the owners voted 31-0 to accept the new Collective Bargaining Proposal, I thought that the lockout would soon be over. But then, the players, feeling prodded and pressured into a fast agreement, rejected it soundly. Why? Timelines aside, the new agreement contains provisions that are more or less along the lines that the player's negotiators previously said they would accept. But money was not the primary issue here: the players rejected the proposal because they have no trust in the owners. Refusing to acknowledge their codependency on the owners for their collective welfare, the players balked at ending the lockout and instead backed off negotiations.
Trust is a two way street so fault for that failure lies with both sides. As Don Banks so aptly put it in his SI column, "the players and their leadership need to stop being so ridiculously paranoid and dead certain that the owners are trying to screw them. And the owners and their leadership need to stop being unaware of the fact that the players never react well when they feel they are being pressured into a particular decision or timetable." The owners tried to get an agreement quickly in order to meet their own schedule, which spooked the players. At the same time, the players spent more time dwelling on the owner's pace of negotiations than they did on the agreement itself. That lead to collective failure; the owner's behavior pushed the players to reject an agreement that meets most of their demands. So, as fans, what are we to make of this?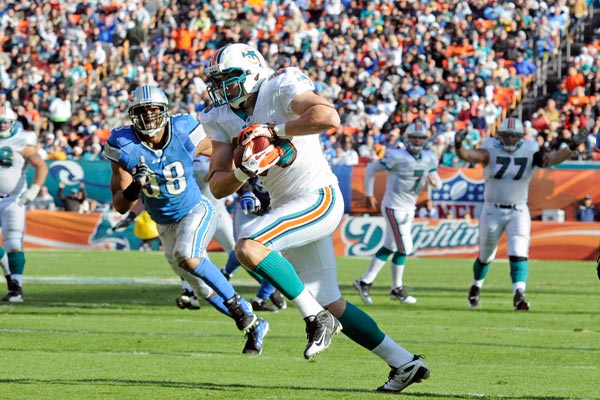 Miami Dolphins tight end Mickey Shuler (86) runs against the Detroit Lions in the Lions' 34-27 victory at Sun Life Stadium, Miami, Florida.
---
Fans should be caught somewhere between amusement and angry contempt. The lockout may be a sorry chapter in football history but it is certainly amusing. NFL football is profitable and growing at an exponential rate yet millionaire players and billionaire owners cannot seem to agree on how to divide an ever-growing ten billion dollar revenue pie. If the greed involved in the dispute were not so disgusting, it would be a prime source of dark amusement for every one of us watching. But, since we love the game of football and every day of the lockout keeps us further away from watching our favorite sport, onlooker's amusement gives way to angry contempt. As fans, we collectively created that ten billion dollar pie by going to games, watching on television, and buying football gear. How can these two sides fail to realize that we the fans created their vast pile of wealth and we can just as easily take it away? How can these two sides not understand their own codependency and create a mutually beneficial, symbiotic relationship that allows them to make money and lets us enjoy football?
The answer, sadly, is that the two sides cannot get to that point of happy symbiosis because they don't trust one another. They are equal twin partners in the enterprise we call football but neither side accepts that; both sides want to show their dominance and prove that they don't need the other to succeed. But the reality is that, like Alex said, they are conjoined twins whose survival depends on one another. In order to thrive again, they will need to find a way to trust one another enough to come to an agreement that works for everyone. If they don't, it's not just their own mutual trust they will lose; the fans trust in them will be gone. The moment that happens, there won't be any revenue left to argue over anyways. Let's hope the owners and fans can both understand thatmessage and trust that the real threat to their success doesn't come from one another. It comes from the amusement and angry contempt of all football fans watching this mess we call, "the lockout" and waiting anxiously for it to end.
Here's our NFL Lockout Summary
---
What do you think?
We'd love to hear your comments and/or opinions. If you submit them here, other visitors can read them, rate them and comment on them. An e-mail address is not required.
---
From No Trust? No Football to NFL Football Blog | Sports Blog | NCAA Football Blog | NFL Football Archives | College Football Archives | MLB Baseball Blog | College Baseball Blog | MLB Baseball Archives | NBA Basketball Blog | NCAA Basketball Blog | NBA Basketball Archives | NCAA Basketball Archives | Fantasy Football | Fantasy Basketball | Fantasy Baseball | Soccer Archives | Olympics Archives | Stupid Athletes Archives | Other Archives | Football Forum | Basketball Forum | Baseball Forum | NFL Football Store | NBA Basketball Store | MLB Baseball Store | NCAA Football Store | NCAA Basketball Store | NCAA Baseball Store | Fatheads | NFL Football Tickets | NBA Basketball Tickets | MLB Baseball Tickets | NCAA Football Tickets | NCAA Basketball Tickets | NCAA Baseball Tickets |
---
Home Page
About Us | Contact Us | Site Search | Advertise | Terms of Use |
---