No Bull, Chicago Could Go Far in the Eastern Conference
- By Lorenzo Tanos

You look at the Chicago Bulls' numbers and they are anything but sexy.  As of this writing, the Bulls are dead-last in the NBA in scoring, averaging just 93.0 ppg and bringing to mind memories of Mike Fratello's slow-breaking Cleveland Cavaliers from the  mid-'90.  However, the team is delivering where it counts the most – on the defensive end – and are holding opponents down to just 92 ppg and 43 percent shooting from the field, both second-best in the league.  With that in mind, can the Bulls go far in the Playoffs with a lineup that, once again, features franchise point guard Derrick Rose on the sidelines?
As the fourth-best team in the East with a 41-32 record (the Brooklyn Nets are fifth, and are at 39-33), the Bulls have a good chance of getting home court advantage in the Playoffs, and it's in no small part due to Tom Thibodeau's coaching.  He's just the type of coach who could succeed both in the regular season and in the postseason, and that's because he puts a premium on defense, to say little of his skills as a tactician.  And he's got a lineup with three All-Defensive Team candidates – at center, there's Joakim Noah, at forward, there's Sixth Man of the Year candidate Taj Gibson, and at the wing position, Jimmy Butler can shut down his man and pick up a ton of steals.

This is a team that has the right mindset and the right attitude, and just to make one thing clear, they have some tough competition in the East in the form of the higher-seeded Miami Heat and Indiana Pacers, or even the faster-paced (and very surprising) Toronto Raptors.  That said, the Bulls, even without D-Rose, have a fighting chance to make it to the Eastern Conference Finals, or at least come close, and it's more than just because they know how to play "D" and have a coach who preaches it.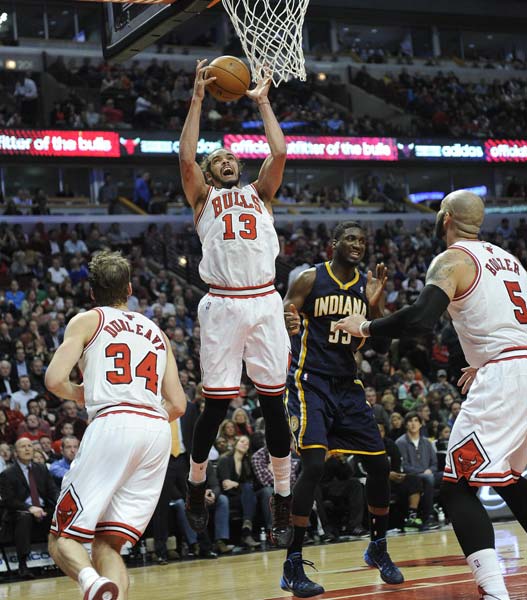 Like the Indiana Pacers before Paul George's emergence as a franchise player, the Bulls without Rose are a no-superstar lineup.  They're a throwback to the Larry Brown-era Pistons in the sense that no one stands out as "the man" – among current players, the resurgent D.J. Augustin is the top scorer with 14.5 ppg, and he's done a bang-up job filling in for Rose, even if he's in a timeshare with Kirk Hinrich.   Speaking of Hinrich, he'll never be the superstar some expected him to be following a brilliant four-year college stint at Kansas, but he's a glue guy for the Bulls at this point, and a valuable source of leadership.

Carlos Boozer (13.8 ppg, 8.4 rpg) seems to be slipping a bit, but Gibson (13.3 ppg, 6.9 rpg, 1.4 bpg) is emerging as a threat on both ends, especially on defense, and big things may await him going forward.  Noah (12.4 ppg, 11.1 rpg, 5.2 apg, 1.5 bpg, 1.2 spg) is simply one of the NBA's best defenders and most versatile centers.   Mike Dunleavy (11.0 ppg) supplies the threes, and so would Butler (13.0 ppg, 5.1 rpg, 2.0 spg, though his shooting numbers are considerably down this season; when he's on, "Jimmy Buckets" is a great threes-and-D type of player.

Yes, the Miami Heat are still the favorites in the East, provided the erstwhile oft-injured Dwyane Wade can get healthy.  They have star power and the reigning NBA MVP (who, as pointed out previously, now has "four quarters and then some" in the postseason), for what it's worth, and the Pacers now have a standout guy in Paul George.  But it won't be a surprise at all if the Bulls claw their way to the Eastern Conference Finals – and maybe all the way to the NBA Finals if everything falls into place.


What do you think?

We'd love to hear your comments and/or opinions. If you submit them here, other visitors can read them, rate them and comment on them. An e-mail address is not required.
No Bull, Chicago Could Go Far in the Eastern Conference to NBA Basketball Blog