NFL Season Previews: The NFC West
2012 Standings:
San Francisco 49ers (11-4-1)
*Seattle Seahawks (11-5)
St. Louis Rams (7-8-1)
Arizona Cardinals (5-11)

The most important game in the 2013 NFL season is, of course, February 2nd, 2014, in East Rutherford, New Jersey – Super Bowl XLVIII.

The third and fourth most important games in the 2013 NFL season might well be September 15th in Seattle and December 8th in San Francisco, as the 49ers and Seahawks renew what might be the single best rivalry in football at the moment.
The second most important game in the 2013 NFL season might well be the near-inevitable rematch in the playoffs between these two giants out west.

Jim Harbaugh and Pete Carroll have put together two of the most exciting, powerful, and from top-to-bottom talented teams in football. It may be early, but, barring training camp injuries or unexpected massive regression, I fully expect the winner of the 49ers-Seahawks battle to end up representing the NFC in East Rutherford in February.

The teams mirror each other so much, it's almost ridiculous to discuss them separately.Both have a big-time college coach who has made the transition to the pros without missing a step – at least this time, in the case of Carroll. Jim Harbaugh managed to turn Alex Smith into one of the top quarterbacks in the NFL, and then was confident enough to risk a mid-season quarterback change to Colin Kaepernick, who was even better. Pete Carroll gambled on a third-round rookie, considered too small by most, who only went on to tie Peyton Manning's rookie record for touchdowns.

Kaepernick and Russell Wilson were both among the best quarterbacks in football last season, both are young, and both, most importantly, are dirt cheap – both made my all-budget team thanks to still being on mid-round contracts, which allows their teams to spend money on adding players around them. They're both still developing and getting better, too, which is scary to think about. Wilson could learn to get rid of the ball quicker, as he was sacked 33 times, often from extending the play with his legs rather than throwing the ball away. Kaepernick can learn to add some touch to his throws, as he suffered from a little bit of early-year John Elway syndrome, trying to throw the ball through everyone. Both are going to only get better, which should send shivers down everyone else's spines.

Both will have to do it this season without their planned #1 targets, however. Michael Crabtree tore his Achilles tendon, and is out for at least six months – if everything breaks right, he might come back at the end of the season, but he won't be the same player he was in 2012 this year. He'll be replaced by AnquanBoldin, who the 49ers traded for early this offseason. Days later, the Seahawks traded for Percy Harvin, but just as training camp opened, he discovered a slight hip tear, which required surgery – if everything breaks right, he might come back at the end of the season, but he won't be the same player he was in 2012 this year. It seems only too fitting that both teams would be without their top receiving talent at the same time.

Both defenses feature the best unit in the NFL – the 49ers linebacking corps and the Seahawks secondary. Patrick Willis, Navarro Bowman and Aldon Smith all made the All-Pro team last season, and Ahmad Brooks was nearly as good. Together, they are nearly unstoppable, especially when they have Justin Smith creating havoc in front of them. Those five players have set a new record – no team before has had back-to-back seasons with three first-team All-Pros in their front seven, but the 49ers managed it. The Seahawks counter with the best back four in football. Richard Sherman talks a big game, and plays even bigger, and Brandon Browner would be the #1 cornerback for half the teams in the league. Kam Chancellor thumps as the strong safety, and Earl Thomas shuts down everything deep. None of the four players are perfect, but they complement each other so well – each can do what it is they do best because they know they've got all-world players all around them.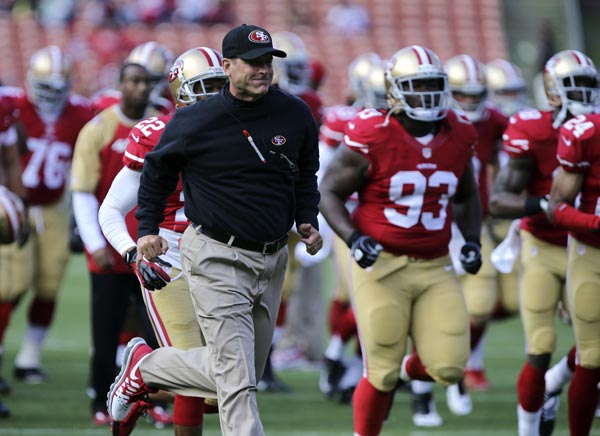 Both teams bring bizarre and unusual formations to the table, as well. Jim Harbaugh is a mad genius on offense, and no other team in football uses as many personnel groupings as the 49ers. They were one of three teams in football to not use a three-wide receiver set as their top formation, and between the pistol, the defensive players as blocking backs in the goal line offense, the six- and seven-men offensive lines, and the wild pre-snap shifting, no team gives defensive coordinators more nightmares than the 49ers. Pete Carroll's defense is a strange hybrid of the 3-4 and 4-3 systems, mixing and matching techniques and skillsets from the two defenses – check out this breakdown from the excellent Seahawks blog Field Gulls.Both teams therefore get more out of their players than other teams might, because they're constantly re-writing what can and cannot be done to fit their players unique skill sets.

Yet, the 49ers and Seahawks combined to go 1-2-1 against the St. Louis Rams last year. Perhaps even more impressive, the Rams only lost three games by 10 or more points – they very rarely were out of any matchup. As such, many observers have pegged the Rams as their surprise team this year, and in almost any other division in football, I'd agree – the Rams have a lot of young talent that's getting ready to mature and become a top team. Their front seven is the key to their success – Chris Long and Robert Quinn both hit double-digit sacks last season, and James Laurinaitis is one of the best young linebackers in football. Their adding Alec Ogletree to their front seven, too, so they're just going to get better.

On offense, they've added Tavon Austin to Sam Bradford's receiving corps, but losing Danny Amendola makes it, at best, a one-for-one trade in 2012. The loss of Steven Jackson hurts, too – the remaining running backs in camp have a combined 529 rushing yards. Needless to say, that level of inexperience doesn't bode well for immediate production, no matter how talented they all are. Football Outsiders went searching for similar teams in their database, and found four: the 1991 Cardinals, 1993 Patriots, 2001 Browns, and 2002 Ravens, who combined to go 23-41. There is just too much youth and inexperience, especially in this division, for the Rams to be considered serious contenders this year – but, hey, the '94 Patriots, '02 Browns, and '03 Ravens all found their way to the playoffs. Wait until next year, Rams fans.

I wish I could be that optimistic about the Arizona Cardinals, but they're still knee-deep in their own rebuilding process, a process that has to start over now that they've discovered Kevin Kolb is not the answer. Enter Carson Palmer, who's also not the answer, but at least changes the question from "can anyone complete a pass?" to "who can we get to lead this team into the future?" Palmer won't be taking the Cardinals to the Promised Land, but at least he might be able to get the ball within twenty feet of Larry Fitzgerald, so that's an instant improvement.

Unfortunately, Palmer won't be contributing to the run game, where the Cardinals are turning to the plodding, fumble-happy Rashard Mendenhall to provide a semblance of a rush attack behind a disaster of an offensive line – Levi Brown is arguably the worst left tackle in football, and first round pick Jonathan Cooper, even if he develops as he should, can't play all five positions on the line, and will suffer some growing pains. Bobbie Massie, presumably, is improving, but had the second-most blown pass blocks among right tackles last season, so there's plenty of room to improve. Even if they all take a huge step forward, that might get them up to league average.

As for the defense, it actually held up quite well as the Cardinals started 4-0 last season, but injuries to the likes of Darnell Dockett and Calais Campbell hurt. While they'll be back at full strength this year, the secondary is decimated – other than Patrick Peterson, every single starter from last year is gone, and their replacements may not be any better. There are just too many holes here for them to be competitive.

As for that second most important game in the 2013 NFL season, I can't see anyone marching into Seattle in January and knocking off the home team, boosted by that boisterous 12th man crowd. Nor can I see anyone heading into San Francisco, in the last game in Candlestick Park, and sending the 49ers packing. That makes the NFC West race crucial, and we're lucky enough to get to watch two of the best teams in the NFL battle it out all year long.


What do you think?
We'd love to hear your comments and/or opinions. If you submit them here, other visitors can read them, rate them and comment on them. An e-mail address is not required.