NFL Season Previews: The NFC South
 2012 Standings:
Atlanta Falcons(13-3)
Carolina Panthers (7-9)
New Orleans Saints(7-9)
Tampa Bay Buccaneers(7-9)
Oh, this is going to be fun.

There may not be a division in all of football as talented, from top to bottom, as the NFC South is this year. Unlike some divisions, where the champion seems a fait accompli, or where two quality teams look to battle it out, the NFC South looks to be a dogfight all the way, with all four teams being able to point to something that indicates that they're going to be the champion – even more impressive, considering the Falcons clinched everything by week 13 last season. This year, that won't happen, and I expect this race to come right down to the final day of the regular season. Can the Falcons become the first team in the history of the division to win back-to-back divisional titles? They'll face stiffer competition this year.
The Falcons were a drive away from the Super Bowl last season, so any look at the division has to start with them. Since the Falcons completely finished rebooting from the Michael Vick era, bringing in Mike Smith to coach the team and Matt Ryan to lead it, the Falcons haven't experienced a losing season and have hit double-digit wins four times. Ryan gets a lot of blame for Falcons failures in the postseason past, but that's an unfair burden on the quarterback – Ryan's become everything the team could have hoped for when they took him out of Boston College, and he's going to deserve every penny of the massive extension the Falcons are working on right now. Last year, he had his best season ever, leading the NFL in completion percentage and throwing for more than 4700 yards, aided by the ageless Tony Gonzalez, Julio Jones, and Roddy White. The run game looks to get a bump up this year, too, as Michael Turner is being replaced by Steven Jackson, who still has a season or two in the tank, for a winning team this time.

The defense is what will be the most interesting – Mike Nolan's D was phenomenal at the beginning of last season, exemplified by the demolition of Peyton Manning in week 2, forcing him into three interceptions and generally making him look confused and unsettled. There's some changes coming this season, though, as John Abraham is out for financial reasons, replaced by OsiUmenyiora, and they've got rookies slotted for two of the top three cornerback roles. The defense was declining anyway towards the end of last season – possibly, they're exotic fronts were beginning to be puzzled out     -- but it was still a big boost for what hadn't been a strength of the team – the question is if they can keep it up two years in a row, despite the changes. If there's anything to worry about this season, it's the boost in schedule strength – last year, they only beat two playoff teams, while this year, they play the tough NFC West and get games against the Packers and Patriots, to boot. Still, they're hoping for more of the same this year.

The Saints, on the other hand, are hoping 2012 just disappears entirely, fading like a bad dream. Trying to use last year to predict the Saints performance is tricky, because of Bountygate – losing Sean Payton for the year caused a ripple effect down throughout the entire franchise. Just look at the drop off offensively, where Payton specializes – their DVOA dropped from 33.0% all the way down to 11.9% -- still good for ninth in the league, but a huge drop. Drew Brees led the league in interceptions, which is partially due to the loss of the offensive mastermind behind the system, but more so due to the fact that the defense was so horrendous Brees and the offense basically had to score 30 points a game just to have a chance, which lead to a lot of high-risk throws, which leads to interceptions. I'm expecting the offense to bounce back almost entirely.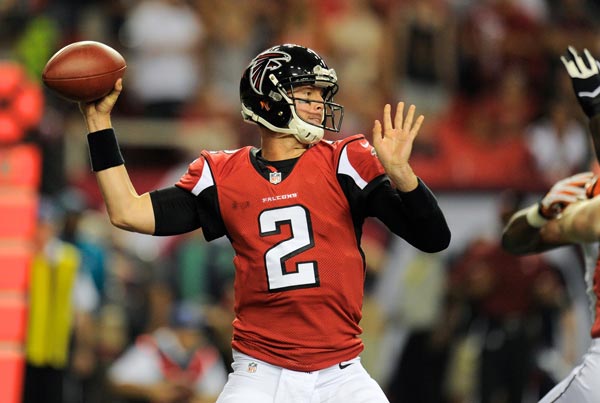 The defense is another matter. They set the record for most yards allowed in a season – although that's somewhat mitigated by the fact that this is the most offensive age in NFL history. The defense was that of a team much worse than the 7-9 record, a credit to how good the Saints offense is. The Saints haven't exactly had a history of having a punishing defense, but they can't continue to be that bad and expect the Saints to go anywhere – that's why they brought in Rob Ryan to be the new coordinator. Ryan's the calmest of the Ryan brothers, which is a little like calling the Atlantic the driest of the oceans.

Ryan put together fantastic defenses in Oakland, though his stretches in Cleveland and Dallas were less impressive. He'll be tasked with trying to find some way to pressure quarterbacks – they only recorded 30 sacks last season, and haven't added any talent. A switch to a 3-4 is their answer, as well as a boosted secondary, including first round draft pick Kenny Vaccaro. Perhaps just having some stability after 2012's lost season will help some, too. The Saints are only going to go as far as their defense will let them, but any improvement at all will see them be contenders again – and really, how much worse could they be?

As for the Panthers, it's no secret – I like Cam Newton. I like Cam Newton quite a bit – I think he's one of the top dozen quarterbacks in the NFL, with boatloads of potential. I think he's a singular player, who's still developing – although he struggled some, along with the rest of the team, in the first half of the season last year, his numbers over the second half boomed – his QB rating in November and December hit the 90s, and his 14 to 2 touchdown to interception ratio was top-notch, coupled with five more touchdowns on the ground. That should continue to improve as he enters his third season.
He could use another target out there besides Steve Smith, but he's handling it alright – and really, what team couldn't use more talent. Their defense has the potential to be super-stingy, a must in a division as offensively loaded as this one, with a front seven that's developing into a superstar unit, led by Luke Kuechly. Of course, that's just the front seven – the secondary needs an influx of talent, and quickly. Still, I would have a lot of optimism for this team, if it wasn't for one thing.

Stop me if this sounds familiar – a talented young team underperforms due to ex-Bear player failing at gameday management. No, the Panthers aren't poised to be the next 49ers with or without Ron Rivera, but Rivera's poor gameday management is well documented – check out the Football Outsiders Almanac for detailed analysis of some of these poor decisions, highlighted by a punt on fourth-and-nothing against Atlanta, leading to Atlanta scoring the game-winning field goal. Decisions like that have led for people calling for his head and point out that it cost them games – though others point out that if the defense had done their job, it wouldn't have been an issue. That's kind of the crux of the Panthers season – will their talent on the field be enough to make up for sub-optimal coaching? If not, we'll see the Panthers with a new coach this time next season, with Rivera following former GM Marty Hurney out the door.
Lot's of NFL betting experts will be putting odds on that:  Click to view.
Tampa Bay is the one team in this division that is led by their defense. In one aspect of the game, they had a top-3 defense – teams just couldn't run against them. They led the league, allowing only 3.5 yards per carry. With a stuff rate of 32.8%, they're the best team Football Outsiders has ever charted – nearly one third of the time, runners don't make it past the line of scrimmage. The front seven is loaded with run stoppers – Gerald McCoy, Adrian Clayborn, Da'Quan Bowers, and Lavonte David – and attempting to beat them on the ground was a fool's errand. The problem is, they play in a division with a future hall of fame quarterback, a top quarterback entering his prime, and one of the most dynamic young players in the league – and they did not have the pass defense to stop them. At all.

They gave up more yards through the air than any other team in football last season – with no pass rush to speak of, only racking up 76 sacks over the past three seasons, leading to no safety net for their secondary, which was poor to begin with. Offensively, it was the same story – they were fine on the ground, led by Doug Martin, but they threw too many interceptions, and that has to lay in the hands of Josh Freeman, who has thrown 63 picks in his four seasons in the league. Improvement in the pass game is a must if the Buccaneers are going to contend.

Defensively, new talent is there that will help. DarrelleRevis brings instant shutdown bonefides to the secondary, as does all-pro safety DashonGoldson. Add them to young talent, including Mark Barron, Eric Wright, and Jonathan Banks, and the Buccaneers secondary promises to be much improved – not that it could have been much worse, mind you. It's a young defense, too, so there could be some improvement just from players having more experience. Offensively, Freeman's going to get more help on his offensive line, getting Carl Nicks and Davin Joseph back from injury, so it's up to him to be more consistent and lock down those turnovers – even if that means removing some of the boom from his arm. If the Buccaneers can join the 21st century with a pass game, they'll surprise quite a few people. If not, it's back to the cellar for them again.

There's reason to hope for all of the teams chasing Atlanta, be it youth movements moving forward, high-priced defensive free agents, or just the return of the highest paid coach in the game. It should be interesting this season, watching if anyone can clip the Falcons wings.


What do you think?
We'd love to hear your comments and/or opinions. If you submit them here, other visitors can read them, rate them and comment on them. An e-mail address is not required.