NFL Season Previews 2013: The NFC North
2012 Standings:
Green Bay Packers (11-5)
Minnesota Vikings (10-6)
Chicago Bears (10-6)
Detroit Lions (4-12)

In 2012, the NFC North was the division of records. Calvin Johnson broke Jerry Rice's record for receiving yards in a season, and Adrian Peterson would have done the same to Eric Dickerson's rushing record had the Vikings not wanted to, you know, win the last game of the season and advance to the playoffs. Blair Walsh hit ten field goals from 50 or more yards out, shattering a record held by Morten Anderson and Jason Hanson. Matthew Stafford threw the ball more times than anyone else in history, becoming the first man to attempt more than 700 passes in a season.
Another record nearly set was the record for most games lost due to injury.  Alright, maybe they don't officially record that statistic, but the Green Bay Packers certainly came close to shattering it.  They led the league with 108.1 Adjusted Games Lost, which adjusts the number of injuries based on importance (i.e., starters versus backups) and quality (i.e. Probable versus doubtful). Their linebacking corps alone was shattered, losing more games than seven other teams had for their entire roster combined.  And, hey, despite all that, they still finished 11-5, won the division, and could have gone further had Colin Kaepernick and the read option not had them running around like tops.

The Packers are good, is what I'm saying here.

More so than any other team in football, the Packers are going to get better just by random chance – at some point, they've got to stop suffering long-term injuries to key players, right? They were 30th in the league in 2010, too, so you could be excused for thinking there was some sort of trend – but they were league average in 2011. I think this is mostly random fluctuation, so there's no reason to expect the Packers to be banged up again, which means look out.

The one area where they've actively tried to improve by adding players is in the running game.The passing game is tops in the NFL, with Aaron Rodgers being the ideal franchise quarterback and a flotilla of talented receivers, but the Packers haven't had a thousand-yard rusher since 2009. Enter Eddie Lacy and Johnathan Franklin, a potential thunder-and-lightning running game combination. Imagining that offense with a run game is almost terrifying, but for a run game to really kick off, they're going to need to have their offensive line step up their level of play. The line couldn't get any push in the run game last season, though there's a bit of a chicken-and-the-egg conundrum there – did the running game stall because the line didn't get a push, or did the line have to put up with poor running backs? Regardless, they weren't any good in the passing game either, letting Aaron Rodgers get sacked 51 times. There's no new talent there, either – the only change is the retirement of Jeff Saturday.That means the players from last year are simply going to have to play better.

If they don't, this team is...well, it's still going to the playoffs. It just may not be a Super Bowl contender.

But, hey, the NFC North is good enough to have more than one playoff team – and just because the Packers are the favorites doesn't mean they're going to waltz away with the division crown, either.  You have to remember, yes, the Chicago Bears missed the playoffs last season, but they were 10-6, and only lost via tiebreaker.  Ten win teams shouldn't panic too much, playoffs or no playoffs – it's so rare for a team that successful to miss out, and with a couple random breaks bouncing their way, they often make the playoffs the next season.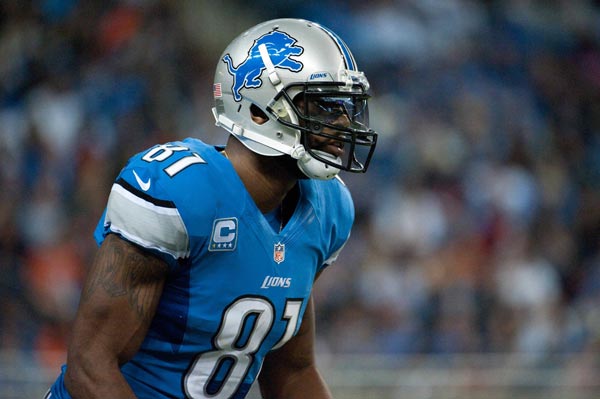 The Bears will, as always, be led by their punishing defense, which was ranked first in the league last season by Football Outsiders. Yes, they lost Brian Urlacher to retirement, but let's be honest, he wasn't the same player he once was, anyway. That still leaves their defensive line and secondary intact. Julius Peppers is a terror from every angle, rushing the quarterback, while you'd swear Henry Melton must line up in the backfield, as disruptive as he is. You can't throw deep on Charles Tillman – despite playing in a division with Calvin Johnson and Aaron Rodgers, only 20 deep balls were even attempted towards him, with seven of them being complete. Those are just the stars – the defense is deep. Consider it Lovie Smith's last gift to the franchise.

Because Lovie's out and Marc Trestman is in! I have a lot of faith in Trestman and his strange, Canadian ways; it's Jay Cutler's ability at the most important position in football I question. No one's doubting Cutler's arm strength, it's his decision making that's been questionable. Can Trestman turn him around? Trestman's gotten a lot out of Steve DeBerg, Bernie Kosar, Rich Gannon, Steve Young, Scott Mitchell, and Jake Plummer giving him a bit of a reputation of a "quarterback whisperer". If he can help simplify the game for Cutler and get him back to the level he was playing at when he was in Denver, this offense is going to take off. Adding Martellus Bennett to give Cutler another non-Brandon Marshall outlet will help there, as well. Trestman also likes using his running backs in the passing game, hence why we're advising taking every Bears running back possible in PPR leagues.

If Cutler improves, and the new additions on his offensive line gel and give him some more protection, this is absolutely a playoff team. Trestman's experiment on offense should be intriguing to watch.

No one defines "intriguing to watch" like Adrian Peterson did last season. He did the impossible, coming back from a torn ACL and nearly demolishing every rushing record on the books. How can we not believe anything he says? He tells us he's going to rush for 2,500 yards? Sure, why not! He's going to become the first player ever to rush for back-to-back 2,000 yard seasons?  Going to break Emmitt Smith's all-time rushing record in five years? Would you doubt him? He ran for 150 yards a game while actively suffering from a hernia injury – the man is impossible.

The Minnesota Vikings can't just sit back and count on Peterson to continue shattering every rushing record, though.  I mean, they barely, and I mean just barely, squeaked in the postseason when Peterson was insanely out of this world – what happens if he ticks back to just very, very, very good?  Let's say he puts up the second best season he ever has – the 1700 yard season he showed back in '08.  That's not going to be good enough, by himself, to lead the team into the playoffs, and the team's only gotten worse around him.  The loss of Percy Harvin will hurt – if there's anything that can help a young quarterback develop, it's losing your number one receiver.  Greg Jennings is reliable but old, and Cordarelle Patterson is an unproven rookie.  With that cast, I'm not sure Christian Ponder can improve even to league average, much less a real playoff-quality passer.

They've got a tough defense, don't get me wrong – Jared Allen's always good for double digit sacks, and he'll be joined by veteran Kevin Williams and rookie Sharrif Floyd to create a pretty menacing pass rush. They're going to need to be great, though, as Antonie Winfield is gone, off to Seattle. They drafted Xavier Rhodes to replace him, but there will be a tough learning curve – and, again, in a division with the Packers and Lions, a passing learning curve is going to hurt. No, I don't see the Vikings repeating their success from last year – unless Adrian Peterson reveals himself to be from Omicron Persei 8 and rushes for 3,000 yards. Hey, would you not believe it?

I don't know what happened to the Detroit Lions last season. Not a clue. They had improved in win total year after year under Jim Schwartz, leading to a 10-6 season and a playoff berth... and then they came crashing down to 4-12 last season. This wasn't a 4-12 team, but maybe it was too early for them to really be a 10-6 team, either. Perhaps the true talent level lies somewhere in between – it's so hard to tell in a short sample size of 16 games what a team should 'truly' be, but points scored and points allowed painted the Lions as a 6-10 team last season – not great, but not as bad as their record indicated.

There has to be a lot of bad luck involved – how else can you explain Calvin Johnson breaking the single-season receiving record, and yet only scoring five touchdowns? Perhaps adding Reggie Bush to the backfield and getting Nate Burleson back from an injury will help provide the team with some other option in the passing game – and it's not like Matthew Stafford was bad last season, throwing for nearly 5,000 yards.

The problem on offense, I think, is the offensive line, as they lost Jeff Backus and GosderCherlius in the offseason, and I'm not really sure if they have anyone to replace even their modest level of production. They've got some unproven rookies (Larry Warford) and some career backups (Corey Hilliard and Jason Fox) vying for starting roles, and I just am not sure how that's all going to gel together.

On defense, there was a talent drain, too, losing Cliff Avirl, Kyle Vanden Bosch, and Lawrence Jackson. They've still got NdamukongSuh and Nick Fairley, possibly the best interior duo in the league, but they're often victims of penalties. True, the majority of those penalties are the 'playing too hard' type rather than the 'lining up wrong or other boneheaded mistakes' type, but the penalties still hurt. The secondary is a bit piecemeal, though Glover Quin was a nice pick up to go alongside Chris Houston and rookie Darius Slay...

...I just don't know. There's talent there, but there was talent there last year, too, and look where that got them. They need a lot of unproven pieces to work out to return to a winning season, and while every single one of them is capable of doing that, asking every gamble and risk the Lions have taken to pay off seems like a lot. I'm just not sure I see them going anywhere this season.


What do you think?
We'd love to hear your comments and/or opinions. If you submit them here, other visitors can read them, rate them and comment on them. An e-mail address is not required.