NFL Season Previews 2013: AFC North
2012 Standings:
Baltimore Ravens (10-6)
*Cincinnati Bengals (10-6)

Pittsburgh Steelers (8-8)
Cleveland Browns (5-11)
There are plenty of divisions that want to call themselves the best in football, either from having one of the best teams in the league or by having one of the most competitive races for the divisional crown, or anything in between.  However, to claim that particular crown, they have to at least pay homage to the AFC North.  It's not just that they have the defending Super Bowl champions, though that helps.  It's the fact that each of the last five seasons, the division has claimed at least one wild card slot, as well as having two of the last five Super Bowl winners.
No, their regular season records rarely break into the stratosphere, but that's partially because they beat up on one another throughout the year – hard to get 12 wins when you're playing against other playoff-caliber teams so often.  It looks like 2013 will be much of the same thing, as three teams will be fighting for playoff spots, with their biggest obstacle being the fact they have to play one another.
No look at the division can start without acknowledging the defending champions – they earned that status with an absolutely insane postseason run.  While they were a solid playoff team throughout the regular season, they found a second and third gear that transformed them into Super Bowl Champions with a four-game run that saw them playing way above their regular-season heads.  However, the Ravens look to be a team somewhat in transition this season, moreso than most championship teams of recent years.
The defense saw a huge talent drain this offseason – Ray Lewis, Ed Reed, Paul Kruger, Cory Williams, Bernard Pollard, Dannell Ellerbe, and others are all out of the picture.  Lewis and Reed, especially, have been synonymous with Ravens football for so long that it will be very odd to see the team lining up without them.  The offense wasn't spared, either – AnquanBoldin, Matt Birk, and Vonta Leach all have left town, and on the first day of training camp, Dennis Pitta dislocated his hip and might miss the entire season.

All champions suffer a degree of turnover, of course, as players who had excellent seasons suddenly find teams willing to hand over big bucks to try to reproduce the championship run.  Even considering that fact, however, that's a lot of turnover for any team to handle in one season.  The story, then, is that this has to now be Joe Flacco's team – he parlayed his playoff run, arguably the best ever, into the most expensive contract in NFL history.  The question, then, would be if the five years we have of above-average, if not great, quarterback play, outweigh four games of near-perfection.  Has Flacco taken a step forward, or is it a sample size issue?

Only, that's a bit over-simplified.Last year, for the first time, the Ravens actually were led by their offense, as they ranked 13th in offensive DVOA and only 19th in defensive DVOA, and that's the side of the ball that suffered the least from the talent drain in the offseason.Flacco's not going to put up his postseason numbers on a regular basis, but I think his run of success is an actual step forward, as opposed to a small-sample-size mirage. Besides, the offense relies just as much, if not more, on Ray Rice, and he's not going anywhere, and while the loss of Boldin would have hurt in the playoffs, he was just average in the regular season – Torrey Smith and Jacoby Jones may be able to provide just as much production there as they continue their upward trends. On defense, yes, they will be worse – you don't lose that much talent and get better, but it wasn't the total evisceration that some media outlets have reported.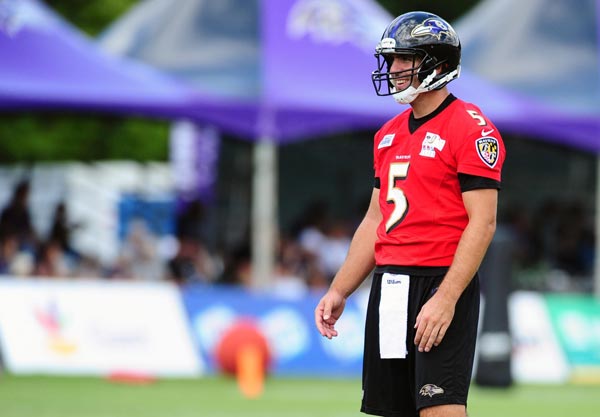 They added Elvis Dumervil after the Broncos lost him in fax-gate, and HalotiNgata is still around and fantastic. They've got a great influx of rookie talent, too – I think Arthur Brown, their second round rookie linebacker, is going to be fantastic, and I think Matt Elam can contribute at a solid level right away, too. No, this won't be the 2000 Ravens defense, but they don't need it to be to get back to the playoffs. Besides, they have arguably the best off-field staff in football, with coach John Harbaugh and GM Ozzie Newsome. I trust that they have some idea what they're doing, and, as such, they have to be considered the favorites.

Do you remember the last time the Pittsburgh Steelers were bad?  I don't just mean average, like last year when they slipped to 8-8, but actually bad.  They haven't gone to a full rebuild mode in decades – they occasionally slip backwards a half step, retool by getting rid of some older players and using a higher draft pick, and then find themselves right back in playoff contention.  They haven't missed multiple playoffs in a row since 1998-2000, which is a quite impressive run.

The Steelers saw themselves fall to mediocre last season, and so they made some moves to preserve freshness – Rashard Mendenhall and Mike Wallace were allowed to leave the fold.  Mendenhall's fumbles will be replaced by the much more sure-handed Le'Veon Bell, a second round pick out of Michigan State, while Wallace's deep drops can hopefully be improved upon by the talent already on the roster, Antonio Brown and Emmanual Sanders.

More crucial, perhaps, will just be players staying healthy.The offensive line suffered a rash of injuries last year – David DeCastro missed most of the year with a dislocated kneecap, Marcus Gilbert suffered a knee injury, and MaurkicePouncey played through the year with a variety of injuries. Outside of the line, Ben Roethlisberger's always good for missing a game or two via injury. Troy Polamalu hasn't been able to stay on the field for an entire season for years now, and he's aging anyway – and that was a theme that goes throughout the defense, with players like Casey Hampton, Brett Keisel, James Harrison, Ryan Clark, Larry Foote, and Ike Taylor all playing a lot.
Hamtion and Harrison are gone, but the rest are all penciled in as starters and key contributors – it's a process, slowly replacing the old players with new young talent. This is a process the Steelers, as a franchise, have gotten down to a science, however, and they'll be back to good sooner rather than later – the question is if they'll stay healthy and productive enough this season to challenge the top of the division.

Another franchise that's had a fairly consistent process for the last two decades are the Cincinnati Bengals – the process being a bad front office not putting together teams that are able to compete. Thankfully for Bengals fans, it looks like those days might actually be over now, as they made back-to-back playoff appearances for the first time since the Ken Anderson era, and three-out-of-four for the first time since....well, since ever.Yes, they lost to the Texans in the wildcard round both of the last two seasons, but this is a higher plateau than they've reached in history, and if their momentum seems to have sort of stalled for the moment, this is a more interesting place to be than seasons of 6-10 mediocrity.
They've gotten here via building through the draft and making wise personnel choices, which just feels so wrong to say about the Bengals – owner Mike Brown is notorious for being frugal to a fault, up to the point of it being a fairly big news story that the Bengals hired two scouts. It does seem like the days of the Bengals selecting busts like Akili Smith is far in the rear-view mirror now – bringing in successful young talent will change that perception rapidly.

And do the Bengals ever have some exciting young talent.AJ Green is the best young receiver in football, bar none. In most league environments, Andy Dalton would be considered a promising young second-year quarterback; it's not his fault he's playing in the midst of one of the greatest young quarterback revolutions of all time. He'll have more weapons this year besides Green; rookie TE Tyler Eifert projects as an Aaron Hernandez-type, which sounded a lot better before the events of this offseason, and fellow rookie Giovani Bernard is going to take some of the pressure off of BenJarvus Green-Ellis, and eventually supplant him as the starter.
That's the potential for an explosive offense there. On defense, they've got more young, solid pass-rushers than they know what to do with, led by Geno Atkins, Michael Johnson, and Carlos Dunlap. Their secondary is getting younger, too, as last year's first rounder, Dre Kirkpatrick, looks to be healthier and should be a starter. This is a team filled with talent that is likely only going to get better and, for once, the future looks bright in Cincinnati – and with a few breaks, the present might look as bright as well.

When doing previews like this, you can't go deep into depth on every aspect of a team, so you end up looking for a small sample or story that helps reveal greater themes. Sometimes that's the development of a star rookie, sometimes that's players aging, sometimes it's health, sometimes it's a history of success. Nothing on Earth can quite sum up what it's like supporting the 2013 Cleveland Browns like the story of Scott E. Entsminger, a life-long Browns fan who passed away this offseason.He was a musician, who every year would send a song to the Browns, offering advice how to run the team. He also requested six Browns pall-bearers, so the Browns could let him down one last time. That about says it all, right there.

The Browns couldn't have listened to Entsminger's advice, however, because, unlike the Bengals, they have one of the busiest front offices in the league, all going through a state of flux this offseason. Owner Jimmy Haslam has been investigated by the FBI. They've got a new head CEO in Joe Banner, a new GM in Michael Lombardi, a new team president in Alec Scheiner, a new assistant GM in Ray Farmer, and a new head coach in Rod Chudzinski, all bringing in their new ideas on how to run the team. The only thing around the Browns that isn't new is their quarterback. Brandon Weeden's numbers, for a rookie, really weren't that bad – he completed 57.4% of his passes for 3385 yards, and a 14/17 TD/INT ratio could be corrected.

The problem is that Weeden's already turning 30; by the time he's able to work out the kinks in his game and contribute as an NFL veteran, he'll already be declining physically. He's a product of the old regime, and this new regime isn't going to be able to go anywhere with the old quarterback. Hopefully some of these new front office people will be using their scouts to find new answers in the 2014 draft, because until they figure out a better solution, there will be one more thing about the Browns that is old – their record will once again feature double-digit losses, letting down all Browns fans one more time.


What do you think?
We'd love to hear your comments and/or opinions. If you submit them here, other visitors can read them, rate them and comment on them. An e-mail address is not required.