NFL Previews: Evaluating the 2013 Preseason Games
The fourth preseason game, more than anything else, is about avoiding injuries – starters spend most of the time on the bench, most of the game is played by the 20 or so players who found themselves looking for work come Saturdays cut-down day, and the networks refuse to broadcast any of it nationally.

That's not to say there weren't some important roster battles coming down to the wire, though. Here's some quick thoughts based on Thursday night's action:
The Raiders quarterback situation remains a mess. Terrelle Pryor amazed in week 3, but in his final chance to win the job against Seattle, he ended the night 3 for 8 for 31 yards and an interception. He did make some plays with his legs, picking up 48 yards on the ground, but all-in-all, he failed to impress. He was doing the dreaded jump-pass a lot, almost Tebow-esque. He is dangerous outside the pocket, but he's not going to beat anyone with his arm. At least he's been more entertaining than Matt Flynn, who didn't play with a sore arm. Pryor's won the job at this point, and I suppose it's better to be entertainingly bad than run-of-the-mill bad, but it's going to be a lost season in Oakland – your 2014 starting quarterback is more likely to be Teddy Bridge water than either Pryor or Flynn.


Speaking of Tebow, after throwing for a grand total of -1 yards in his last two games, Tim Tebow got one final chance to impress in a Patriots uniform, and he showed a little of the late game magic that made him a national sensation during his run in Denver. He was only 6-for-11 passing for 91 yards, but that included two touchdowns, including one with only ten seconds left on the clock to lead the Patriots to a 28-20 victory. It's fitting, however, that this was his last hurrah – he was unceremoniously dumped onto the waiver wire on Saturday, just as Brian Hoyer was last season.  Tebow simply doesn't have the mechanics to play quarterback in the NFL, and we'll likely never see him in the NFL again.  Few others have received as many chances as Tebow has, and his run has finally come to an end.


The 49ers entered preseason nervous about their wide receiving corps, and, while there's still an alarming lack of experience, the performance of their young corps has to sooth some anguished nerves. Next to AnquanBoldin, ex-Dolphins receiver Marlon Moore has provided solid, if unspectacular, production in limited reps, and third-round rookie Quinton Patton has greatly impressed, catching 6 passes for 89 yards and two touchdowns, including a 43-yard dash against the Chargers on Thursday night. Patton, who was unable to even participate in the first two preseason games due to a broken finger, has quickly become a favorite target of Colin Kaepernick. "He's a great player," Kaepernick said. "I'm looking forward to seeing what he can do for us. "With Michael Crabtree and Mario Manningham out for at least half the season, Patton will have every opportunity to contribute early and earn a significant role with the offense.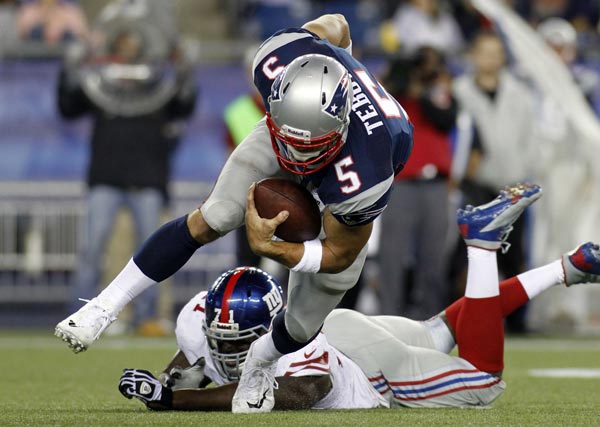 In Denver, the running back situation was in full focus. For the Broncos, both Knowshon Moreno and Montee Ball got the night off, resting them for week one. The third of the three-man competition, Ronnie Hillman, got the start, which raises questions – why was he playing in the meaningless finale, when so many starters were sitting out? He had struggled in the previous games with fumbles, so perhapsit was an attempt to get his confidence back to high levels – or perhaps those fumbles have relegated him to a third-down role, at best. On the final Week 1 depth chart, Hillman was listed at the top, with Ball and Moreno behind him.  Don't be surprised, however, if one of the other two end up with more carries when all is said and done.


Across the field, Ryan Williams was on the bubble, after near countless injuries have seen him spend more time on the trainer's table than the playing field. This preseason, he had missed the first two games with yet another knee injury. With only 25 yards on 9 attempts on Thursday night, he didn't exactly sparkle on the stat-sheet, but that's slightly misleading – a one-yard touchdown plunge deflates his yards per carry, and a six-yard loss on a series of blown blocks further lowered it. He showed no ill-effects from the knee injuries, and his performance prompted Cardinals coach Bruce Arians to announce, in the post-game press conference, that they would keep Williams on the final 53-man roster – five running backs is a lot, but that's what Arizona is going with to start the season.


The Giants were unable to avoid injury in their final performance – Andre Brown fractured his left leg; the same leg he fractured last season. Even if it is a "tiny crack", as Brown claimed, that's still a major chunk of the season lost yet again. He's anticipating avoiding surgery, which could imply a return in six weeks or so, but that's obviously very preliminary at this point, and a trip to the IR/designated for return list seems probable. That eliminates any real threat to David Wilson, who has racked up 7.46 yards per carry this preseason without fumbling – what really torpedoed his value last season. He has every opportunity to break out in a big way in 2013.

Enough of the preseason, however. The countdown has begun to Thursday's opener between Denver and Baltimore. Finally, we are ready for some football.


What do you think?
We'd love to hear your comments and/or opinions. If you submit them here, other visitors can read them, rate them and comment on them. An e-mail address is not required.