NFL Hypocrisy: Bears - Vikings Icebowl
When I sat down to write this article just after the game, I felt sick. I had no idea how I wanted to begin. There were so many different angles to approach it from; none of them positive. At first, I wanted to write that, "I love sports and have loved them since I was a kid. But games like this make me want to abandon them altogether." Then I changed that to, "This game was a travesty: an unwatchable testament to corporate greed and hypocrisy." Next I wanted to simply start with, "That game was sad."
Ultimately, I couldn't decide what to open with because this game was a failure from all angles and perspectives. It was a failure from a football standpoint since the game was a sloppily played, penalty-filled extravaganza. There was nothing pleasing to the eye whatsoever and, even without considering higher value considerations, it was an embarrassing display of football. It was also a systematic failure and the attitude change it symbolized shows a lot about how football has changed in the last half century.
Shopping for a Brett Favre Jersey
I called this game a modern day Icebowl. In truth, however, that is hardly fair to the classic original. The original Icebowl was an unsafe game played in hellish conditions but times were different. The NFL was not a mainstream behemoth so the game was played where there were resources present; more options were not available. Heating coils were not invented so, like it or not, players had to deal with the hard surface and their hardiness is still admired to this day. Now, forty years later, we live in a different era with highly advanced technology. Yet, wholly unnecessarily, the Bears-Vikings game was played in the exact same conditions as the iconic Icebowl. The question is: why?
There are now professional football stadiums all over the country. This was a Monday Night Game so every other professional stadium was available for use. Even some college stadiums in warm weather could have been appropriated. Yet, the Bears and Vikings were forced to play in the outdated University of Minnesota Stadium on a field that was described by Vikings punter Chris Kluwe as, 'hard as concrete.' Why? They played on that field because the NFL wanted to make sure it was a Minnesota home game and the Vikings didn't take a huge revenue loss. It's that simple: it was an issue of money.
Money. Football has always been lucrative but money was not always the only concern for the National Football League. A long time ago, the NFL cared about its product. It cared about its players. But, as we can see, those days are long gone. The explosion of commercialized revenue from the game has changed priorities. Football is an eight billion dollar per year business and only one thing matters: the bottom line.
We've got your Brian Urlacher Jersey
The NFL would like you to believe that is not true. Every week now, the NFL comes up with new rules about concussions. The emphasis is on "player safety" and "preserving player health." However, players, writers, and fans alike are rightfully skeptical. How can the NFL be truly concerned with safety, they argue, when it is pushing so hard for an eighteen game season? There are more injuries now than ever and, evidence suggests, an eighteen game season could cut short many player careers. Yet, despite this, the NFL continues to simultaneously promote it while spouting on about player safety. The reality is, however, that the NFL's apparent hypocrisy is simply a cover. NFL officials are not playing a double game at all; they just care about the bottom line even though they try hard every day to convince fans otherwise. That's the reality.
The question, of course, is whether or not that will stay the case. Commercialism has taken over the NFL; that much is clear. But is that forever? Perhaps not. This modern day Icebowl was caused devastating injuries. Brett Favre came back and lasted less than two quarters. Safeties Madieu Williams and Major Wright had concussions. Jay Cutler was bleeding profusely by halftime. Player after player went down with injuries and fans were horrified. Is this what it will take to change the NFL's focus? For the sake of football, and its players, let's all hope not.
Here are some shots of a more normal Bears - Vikings game -- last year's 2009 Match-up at Soldier's Field in Chicago.
Read why the NFL needs to get a grip on its concussion problem and make football safer.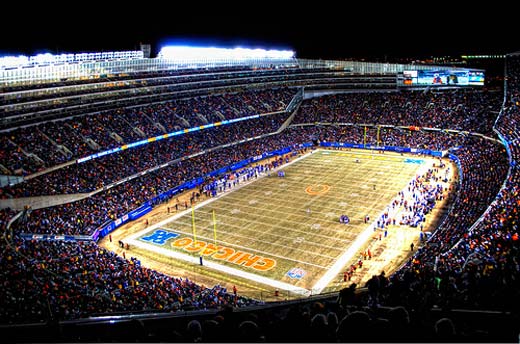 Bears-Vikings Monday Night Football at Soldier Field in 2009. Bears Win!
Thanks to ShutterRunner at flickr.com for the picture.
---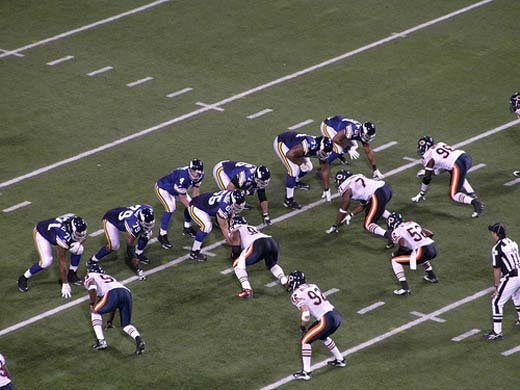 Farve vs Izzy at in 2009.
Thanks to two stout monks at flickr.com for the picture.
---
---
What do you think?
We'd love to hear your comments and/or opinions. If you submit them here, other visitors can read them, rate them and comment on them. An e-mail address is not required.
What Other Visitors Have Said
Click below to see contributions from other visitors to this page...

---
From NFL Hypocrisy: Bears - Vikings Icebowl to NFL Football Blog | Sports Blog | NCAA Football Blog | NFL Football Archives | College Football Archives | MLB Baseball Blog | College Baseball Blog | MLB Baseball Archives | NBA Basketball Blog | NCAA Basketball Blog | NBA Basketball Archives | NCAA Basketball Archives | Fantasy Football | Fantasy Basketball | Fantasy Baseball | Soccer Archives | Olympics Archives | Stupid Athletes Archives | Other Archives | Football Forum | Basketball Forum | Baseball Forum | NFL Football Store | NBA Basketball Store | MLB Baseball Store | NCAA Football Store | NCAA Basketball Store | NCAA Baseball Store | Fatheads | NFL Football Tickets | NBA Basketball Tickets | MLB Baseball Tickets | NCAA Football Tickets | NCAA Basketball Tickets | NCAA Baseball Tickets |
---
Home Page
About Us | Contact Us | Site Search | Advertise | Terms of Use |
---