NFL Holdout Problem
Holdouts have been a problem for the NFL since the advent of free agency twenty years ago. Every year, at least one major player refuses to suit up because he feels that his current contract is undervalued. However, in recent years, more and more players have held out each offseason and, without a cap, last summer saw more holdouts than ever before. Because it is a growing and chronic problem, and one that is still very misunderstood, football fans subjected to partial or (in Vincent Jackson's likely case) full seasons without their stars have a right to know why they occur, who is at fault, and how they can be eliminated in the future.
Holdouts are, strictly speaking, the player's fault. No team has ever pushed an impact player out of camp, a la Jamaal Tinsley, for non-disciplinary reasons. Holdouts, therefore, are a tool that players use to squeeze teams into increasing their pay and giving them long term deals with huge chunks of guaranteed money. However, that is really a deep oversimplification: in many cases it is the owner's behavior and contractual mistreatment of a player that precipitates the holdout. The question is: where is the line?

Unlike NBA stars (two paydays on average) and MLB players (who seem to live forever), NFL stars are likely to get only one major payday in their careers. Unless they are a top first round pick, NFL stars work under small rookie scale contract for four years before they are eligible for free agency.

| | |
| --- | --- |
| This means that the average NFL player will be twenty five or twenty six (or in the case of those players whose restricted free agency was eliminated by the uncapped year: twenty eight) before they have an opportunity to earn a massive contract. Because NFL players begin to decline in their early thirties (late twenties for running backs) stars earn, at most, one big payday. That is, of course, unless the star plays the holdout card a la Darrelle Revis, and accelerates the timetable for their first large contract. However, the holdout process is exceptionally difficult because owners rarely want to cave to player demands, would prefer to see them serve out their contract, and often like to make an example of players who choose to hold out. NFL fans saw this happen to two Chargers players-wide receiver Vincent Jackson and left tackle Marcus McNeill-in the offseason: Jackson will likely miss the entire year, McNeill will play for four hundred thousand dollars, and the Chargers are likely to miss the playoffs. | Thanks to Jeffrey Beall at flickr.com for this great picture of Wide receiver Vincent Jackson. |
Contract disputes in football are more acrimonious than those in other major sports because they are so tenuous. Very little is actually set in stone. As overall numbers have gotten larger and larger, more and more veteran players beginning to decline see their contracts "renegotiated" in the offseason or are cut entirely. For example, former Chargers Hall of Fame running back Ladainian Tomlinson signed a massive deal in the 2006 offseason after rushing for 1700 yards and 26 touchdowns and leading the Chargers to a 14-2 record. However, after the first two years of the contract, Tomlinson's guaranteed money was all paid out and the Chargers forced him to re-negotiate the contract (as opposed to being cut) in the summer of 2008. He was flat out cut a year later and is now in a Jets uniform.

| | |
| --- | --- |
| NFL teams do not sign "Tracy McGrady" contracts that guarantee seven years and one hundred million dollars and would laugh if any player even suggested that they should receive Barry Zito money. Albert Haynesworth's 2009 contract, which was for a then-record seven years and 105 million, had just over forty million dollars (about 3-4 years of the contract) in actually guaranteed money. While forty eight million dollars is nothing to sneeze at, middling NBA forward John Salmons received a contract for five years and forty million in the offseason. The reason for this, of course, is that the risk of injury is so high in the NFL that such contracts would be totally uninsurable. Denver defensive lineman Elvis Dumerveil showcased this point when he went down for the year less than a week after signing a mammoth five year extension. | Former Chargers Hall of Fame running back Ladainian Tomlinson warming up during the 2008 season. Thanks to SD Dirk at flickr.com for the picture. |
Nonetheless, from the player's point of view, NFL standouts are woefully underpaid because their sport thoroughly out-earns both football and baseball but top NFL stars ultimately receive a lot less. Not only are their contracts for less money overall, only the guaranteed money matters and, beyond that point, owners can renegotiate player contracts or cut former stars with impunity.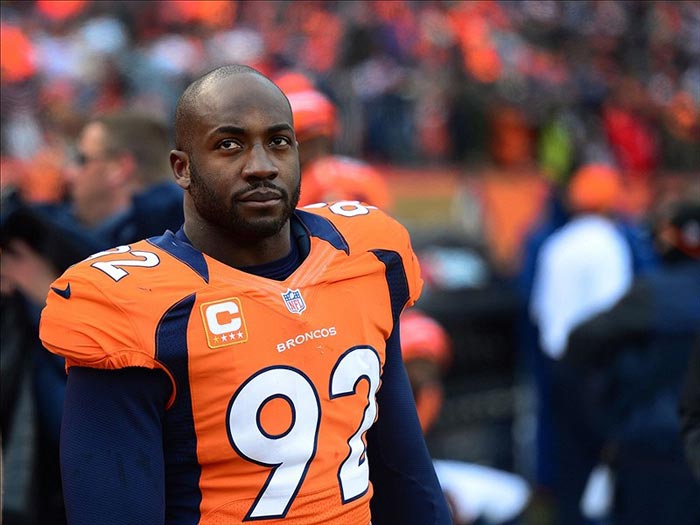 Jan 12, 2013; Denver, CO, USA; Denver Broncos defensive end Elvis Dumervil (92) against the Baltimore Ravens during the AFC divisional round playoff game at Sports Authority Field. Photo Credit: Mark J. Rebilas-USA TODAY Sports.


The reality is that holdouts are a product of the current collective bargaining agreement (CBA) and significant reforms will need to be inserted into the next CBA to prevent future holdouts. The first needed reform is a top to bottom overhaul of rookie scale contracts that drastically lowers the payouts to top picks and balances that out by increasing the payouts to players drafted in the first few rounds. There is no reason that a college player-however highly touted-should receive forty million dollars in guaranteed money before ever playing a down. As fans know, college players often prove to be just hype and need to prove that they are not the next Ryan Leaf before receiving that kind of money. Moreover, such redistribution help out with an owner's bottom line (clearly not having a twenty million dollar cap hit for a new rookie will make a huge difference) and allow them to keep longstanding veterans and pay players in free agency. It will also allow players in the late first, second, and third rounds to receive enough money that their contracts are "fair" even if they become stars, which should mean that fans sit through less Chris Johnson and Darrelle Revis-esque holdouts.

Ultimately, this may the perfect year to fix the holdout problem. With the current, problematic CBA gone, owners and players need to come to a table (once everyone wraps their heads around how devastating a lockout would be) and come up with a new agreement that meets everyone's needs. Fixing the holdout would help both players and franchises so, hopefully, the issue will be addressed and fixes implemented. The silent losers of holdouts are fans and both NFL owners and players would be wise to remember their importance to the game itself and their own bottom lines. After all, without fans, there would be no holdouts….and no contracts at all.

What do you think?
We'd love to hear your comments and/or opinions. If you submit them here, other visitors can read them, rate them and comment on them. An e-mail address is not required.
What Other Visitors Have Said
Click below to see contributions from other visitors to this page...

Why? When other people need it more. Not rated yet
It's hard to think about a player making millions upon millions of dollars to play a game. When everything boils down, it's just a childhood game. Yet, …