NFL Free Agency Preview: Offense
With NFL free agency looming just around the corner, teams are beginning to line up for the best of the best—whether you're the Oakland Raiders, with nearly $60 million of space to play with, or the Dallas Cowboys, already nearly $30 million in the hole, these players are sure to catch your eye.

We're starting with the top available offensive free agents, with the defensive group to come soon.
Quarterback—Josh McCown, Chicago
With a dearth of experienced starters available, the top signal-caller available this offseason is likely McCown, who played brilliantly in relief of Jay Cutler in the middle of last season.  He completed 66.5% of his passes, and threw 13 touchdowns, compared to only one interception, and earned a total of 8.2 yards-per-attempt.  It was a fantastic performance for McCown, who was last a regular starter for Oakland back in 2007.

Chicago would love to have him back, as he's a great safety net.  The feeling is apparently mutual—he says he can envision returning to Chicago even if another team gave him a starting opportunity.  He'd be the best backup quarterback available, for sure, but we'll see if he can keep that rhetoric up when offered the opportunity for one last run in charge of a franchise.

Running Back—Ben Tate, Houston
Arian Foster's regular backup for the Texans, Tate's been a prolific running back himself over the years.  He lost his chance at a starting role when he lost his rookie year to injury, letting Foster take over, but he's very talented.  He is a bit more injury prone than you'd like—see that rookie injury, for example—and probably is best as a main part of a rotation, rather than as a single focus.

Tate's almost assuredly gone—Houston isn't an enticing spot for a free agent to sign, and with Foster still under contract, Tate will probably look for a chance for a bigger payday and a larger role.  The Giants, Falcons, Browns—the list of potential suitors probably laps half the league.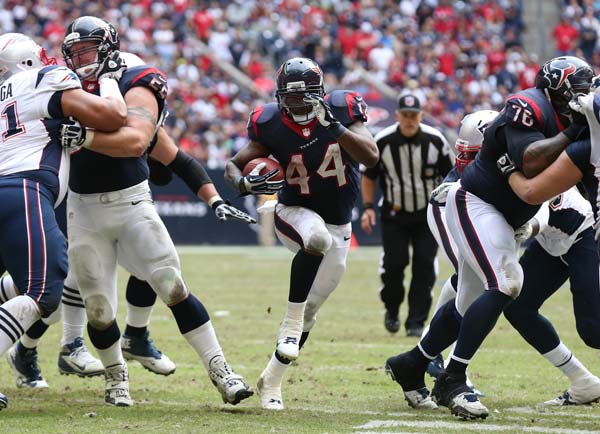 Fullback—John Kuhn, Green Bay
You may remember Kuhn filling in at running back in an emergency role, but he's far more comfortable as a solid blocker and occasional pass catcher.  He's nearing the end of his career, turning 32 in September, but the fan favorite is still a valuable player in short-yardage and pass-blocking situations.

Kuhn has said he wants to come back to Green Bay, and they'd be interested in having him return, as well—probably for something around the veteran's minimum.  It's a solid match between player and team, one I wouldn't expect to change.

Wide Receivers—Riley Cooper, Philadelphia and Eric Decker, Denver
Cooper, of course, hit the headlines last offseason with his racial tirade, but once the furor from that died down, he performed very well.  With Jeremy Maclin missing most of the season due to injury, Cooper more than doubled his career numbers. A big target who can come down with lobs in the air, Cooper is an interesting player for a team to take a flyer on—not much of a career track record, but showed plenty of promise this year.

The big question with Eric Decker is whether or not his production was a product of getting to play with Peyton Manning.  That undoubtedly helped boost his numbers a bit, but remember—Decker produced when his quarterbacks were Kyle Orton and Tim Tebow, too.  He's a legitimate top receiver in the league, if a tier or two down from the tippy-top of the league.  The Broncos are letting Decker test free agency, where he'll probably price himself out of a return to Denver.

Tight End—Jimmy Graham, New Orleans
There is no chance that Graham will leave the Saints this offseason.  Zero.  With Rob Gronkowski suffering from injury after injury, Graham is the best, and most consistent, tight end in football.

Or is he a tight end?  Graham spends more than half his time split out wide, which would make him a wide receiver.  If the Saints can't come to an agreement with Graham, they'll have to use the franchise tag on him—and the difference in the tag number between a tight end and a wide receiver is somewhere around $4.5 million—a significant gap.  It could be a long, dragged out fight between team and club to try to figure out where Graham will end up.

Offensive Tackle—Eugene Monroe, Baltimore and Jared Veldheer, Oakland
Monroe went from Jacksonville to Baltimore this season in a rare in-season trade; it was an odd move, giving up one of the top left tackles in the league for fourth- and fifth-round draft picks.  He immediately improved Baltimore's line play, and could well be re-signed.  Missing the two mid-round picks makes Baltimore more likely to sign Monroe; they don't have as much ammunition to draft his replacement.

Veldheer had only a short cameo at the end of the season for Oakland; a triceps tear kept him out three-quarters of the season.  The Raiders, oddly, are taking contract negotiations slow, annoying Veldheer.  He wants to stay in Oakland, but without a little more urgency, you could see him test the market.  The Raiders have the most cap room in football, though, so if they want Veldeheer, they can have him.

Offensive Guard—Travelle Wharton, Carolina and Geoff Schwartz, Kansas City
Wharton didn't start 2013 as a starter, but immediately improved Carolina's line when he slid in for Amini Silatolu, ending up as the third-rated left guard in Pro Football Focus' ratings.  He's a bit up there in age, but showed dominant blocking ability.  He's due for a significant pay raise, and could really end up anywhere—Carolina'd love to have him back, but they have Silatolu coming back from injury, and probably will be priced out of Wharton as a reserve.

Schwartz is another guard who didn't start the season in the starting lineup, but excelled once given the opportunity, supplanting Jon Asamoah.  He's looking for a long-term deal, after two years straight of one-year deal, and he'll probably get it.  I see him staying in Kansas City for a while to come.

Center—Alex Mack, Cleveland
At only age 28, Mack's still in his prime, and is one of the best in the league.  We saw on the opening play of the Super Bowl how important a great center can be!

Mack's expected to test the market, with the Jaguars, Bears, and Bengals all listed as possible suitors.  Whoever gets him will have to give up a pretty penny; Mack, the top-rated center in Pro Football Focus' rankings, is likely to beat Jahri Evans' deal to be the highest-paid interior lineman in football.


What do you think?
We'd love to hear your comments and/or opinions. If you submit them here, other visitors can read them, rate them and comment on them. An e-mail address is not required.
NFL Free Agency Preview: Offense to NFL Football Blog