NFL Free Agency 2013 Preview
With the NFL Combine winding down, all eyes can now turn to the next important date on the NFL's offseason calendar.  No, not the draft in April – the beginning of the league year on March 12th, and the beginning of Free Agency it brings with it.  At 4:00 PM Eastern Time on March 12th, all 2012 contracts are over and done with, and players not under contract can begin shopping their services around the league.
As a preview for it, we're going to go position by position and list the top free agent, as well as where they're likely to end up and for how much.  We're not counting probable trades here (such as Alex Smith of the 49ers), nor salary cap casualties – only players who are not under contract for 2013, and thus can be openly acquired.

This article will look at the offensive side of the ball, with defense coming later in the week.

QB Joe Flacco (Baltimore)
This year's QB class pales to last year's offerings, when you had Drew Brees and Peyton Manning signing new contracts, as well as a solid second-tier of Matt Flynn, Alex Smith, and Jason Campbell.  There's only one quarterback of note out there – and it just so happens to be the reigning Super Bowl MVP, someone who just put up the greatest postseason in NFL history by a quarterback not named Joe Montana.  Let's be clear here – Flacco isn't going to hit the open market.  The Ravens are going to hand their quarterback a very large pile of money, so the real drama is how much he's going to end up making.  His agent has been very clear – he wants Flacco to be the highest paid quarterback in all of football.  Now, 2012 may have been Flacco's best year, but in my opinion, he's never put up a truly great season – but every single year in the league he's been a very good QB, and that's the kind of consistency you need out of your leader on the field.  If the two sides can't work out a long term deal by March 4th, the Ravens will almost certainly slap Flacco with the exclusive franchise tag, at a cost of almost $20 million.  Flacco's going to end up with a much-deserved huge payday.

RB Reggie Bush (Miami)
I can hear your eyes rolling from here, but it was Bush or an aging Steven Jackson – there's only a two-year difference between the two players, but those are two very important years in the lifespan of a running back.  Plus, with Jackson almost assured to stay in St. Louis, Bush's fate is more interesting.  With the Dolphins apparently stonewalling Bush, avoiding contact, rumors have popped up about him moving on, possibly to Atlanta or Detroit.  Bush's managed to stay healthy the past two years and still offers a lot of versatility in the receiving game.  Still, with a player with an injury history like Bush, I'd be wary of giving him too large of a contract – his best fit would be on a team with a bruising power back to be used in a rotation, not someone who can carry the load by himself.  That makes me doubt his effectiveness with Atlanta, with Michael Turner likely on his way out.  I think if the Lions manage to free up enough cap space, you'll see Bush headed to Detroit this offseason.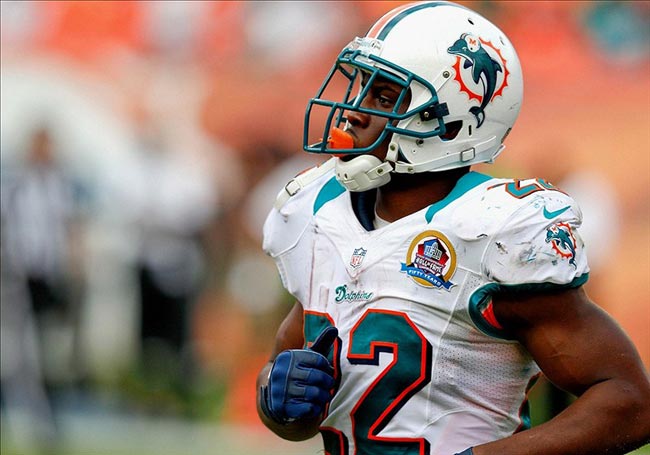 Dec 16, 2012; Miami Gardens, FL, USA; Miami Dolphins running back Reggie Bush (22) during the second half against the Jacksonville Jaguars at Sun Life Stadium. The Dolphins won 24-3. Photo Courtesy By Robert Mayer-USA TODAY Sports.

FB Jerome Felton (Minnesota)
Fullbacks are a dying breed, but they still have their place in the NFL – like Felton, who got a one year experimental deal from the Vikings last season, and then helped pave the way for Adrian Peterson's 2000 yard season.  Peterson averaged 3.9 yards more per carry when Felton was in front of him.  I don't expect the Vikings to screw up a good thing – they'll bring Felton back in order to keep AP's engine running smoothly.

WR Victor Cruz (NY Giants) [Restricted Free Agent] and Mike Wallace (Pittsburgh)
The history of the league is filled with one year wonders – players who came out of nowhere, put up a huge season, and then were solved by opposing coaches.  Not so with Cruz – after coming out of nowhere in 2011, Cruz put up a similarly solid season last year, going for over a thousand yards and helping carry the offense when Hakeem Nicks went down.  He's a restricted free agent, and the Giants are expected to place a first-round tender on him – meaning a team would have to give up a first round pick for them to get Cruz.  As exciting as he's been, he's not worth that to most receiver-needy teams, so he'll be a Giant in 2013 – like Flacco, the question is if it will be a one-year deal or a long-term contract.  A holdout is not out of the question, but both sides want Cruz to play in New York for the long term, so I'd expect that to happen eventually.

The best unrestricted free agent at the position is Mike Wallace – he's got absolutely blazing speed, but has an unfortunate tendency to drop passes at key points.  Still, for teams looking for a deep threat, it'd be hard to do better than Wallace – and the Steelers are likely to let him go.  Rumors are the Dolphins will be making the biggest run at Wallace – though their experience trying to draw top-flight free agents has been abysmal under GM Jeff Ireland.  The real deal breaker might be his contract demands – rumors have him looking for $12 million a year, which seems extraordinarily high for a player of his caliber.  All it takes is one team to disagree with that, however, so stay tuned.

TE Tony Gonzalez (Atlanta)
Gonzalez would be 37 in the 2013 season – and still would easily be among the top in the game.  All through last season, Gonzalez insisted he was "95% sure" he would be retiring, but the Falcons have been hammering on that last 5%, and ESPN reported last week that he was beginning to waver – he still is missing that Super Bowl ring, after all, and the Falcons were so close last season.  With injuries to Jimmy Graham and Rob Gronkowski, Gonzalez was the best tight end in football last year!  I know he's said he was retiring, but I think he's got too much good football left, and the Falcons are in too good of a position, for him to retire now.  One more run with Atlanta looks to be in the cards.

OT Jake Long (Miami) and Andre Smith (Cincinnati)
The interesting X-Factor with Long is not his talent, which is undeniable, but with his health.  Injuries to his triceps, biceps, lower back, and knee have cost him some of his productivity.  When healthy, though, there's no one in the league better, and he swears up and down that he's fully recovered now.  He's ALSO saying he won't accept a home-town discount – he's seeking about $10 million annually, and the Dolphins seem to be at about $7 million.  The Dolphins have made multiple offers, but Long's holding fast.  With that gap, I could easily see Long moving on – for a franchise-quality left tackle, someone will pony up the $10 million.

On the right side of your free-agent offensive line, you can slot in Andre Smith.  He shines in the run game, absolutely dominant, and he's not exactly a liability against the pass, either – though there's a reason he plays on the right, not the left.  HIS red flag is his off-the-field incidents – on January 17th, Smith was arrested for trying to bring a loaded gun into an airport in his luggage.  That's not exactly the headline you'd want your star free-agent signing to bring with him.  The Bengals have called this a case of a "smart guy that got involved in a dumb situation", and likely will slap him with the franchise tag – though rumors have circulated that if they do that, Smith won't sign a long-term deal.  With a lot of young talent needing to be locked into contracts over the next two years, the Bengals juggling of the salary cap could get very tricky.

OG Louis Vasquez (San Diego) and Andy Levitre (Buffalo)
The Chargers can ill-afford to let Vasquez go.  He was the one rock solid member of an otherwise shaky line, and he's been referenced as their top priority.  At only age 26, he could demand quite a large contract for a guard – he's rumored to be asking for $6 million a year.  The Chargers will likely have to give him what he wants, because if they don't, the Colts have said they'll likely make a run at him.  It makes sense – lots of Chargers brass has made their way over to Indianapolis, including VP Jimmy Raye, so they'd know Vasquez's talent better than most others.

Andy Levitre is the other top guard in this year's market – an average run blocker, he excels when it comes to protecting the quarterback.  Plus, he's even shown some ability to play tackle, though guard is where he best lines up.  Unlike many of the other names on this list, he's made it clear that he's going to test the open market, and the Bills seem less likely by the day to resign him.  With Buffalo likely having to use the franchise tag elsewhere, there will be a bidding war on Levitre, and he'll rack up a nice payday, possibly with Detroit.

C Brian De La Puente (New Orleans) [Restricted Free Agent]
We wrap up our look at the offensive side of the ball with De La Puente, a former undrafted free agent signed by the Saints as an afterthought behind big-name-free-agent Olin Kreutz in 2011.  When that bombed out, they turned to De La Puente, and for someone with absolutely no pedigree coming in, has done a really quite remarkable job.  No one's going to break the bank for De La Puente, but it's a weak position this year – no Scott Wells, Nick Hardwick, or Chris Myers to tip the scales – but I could see the Saints locking up De La Puente with a well-deserved long-term contract without much financial risk – a nice result for De La Puente who bounced around through four other teams in two years trying to find somewhere to stick.
What do you think?
We'd love to hear your comments and/or opinions. If you submit them here, other visitors can read them, rate them and comment on them. An e-mail address is not required.